UK police 'charged' with misusing anti-terrorism procedures at border crossings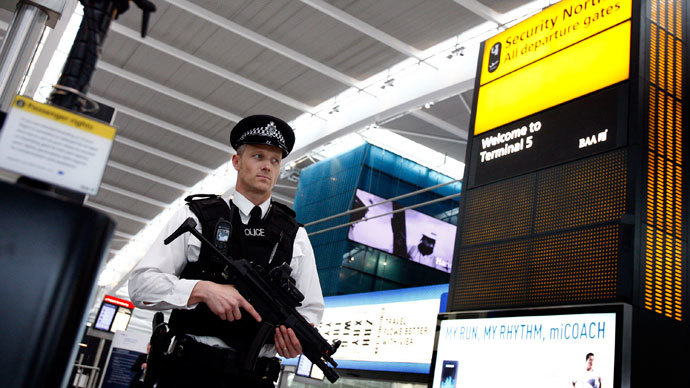 Scotland Yard came under fire for abusing harsh anti-terror laws at border crossings, British media report. It now faces charges over its refusal to hand over the results of inquiries into the misuse of these practices when questioning people.
Scotland Yard has seven days to hand over the findings of some 18 outstanding complaints against the force, after repeatedly refusing to investigate. The discussion has been on-going for months and questions why officers stop some people by using a tactic that is specifically associated by rights groups with indiscriminately targeting differing ethnic groups.
The Independent Police Complaints Commission (IPCC – Britain's police watchdog) currently has another seven complaints on its hands regarding other forces, but Scotland Yard so far has been the only one which hasn't cooperated fully.

One instance of the so-called Schedule 7 law being invoked was to stop David Miranda, the partner of Glenn Greenwald, the Guardian journalist who has been relaying whistleblower Edward Snowden's NSA revelations to the world.

Miranda's seizure led to a find of thousands of classified documents and the opening of a criminal investigation, but the case also shone a light on the use of the Schedule 7 law by the police. It allows a passenger to be detained for up to nine hours without 'reasonable suspicion'.

When the force was asked in February to look into its possible misuse of the powers, it took two months to get them to comply. However, it then backtracked and refused to hand over the results of their internal investigation.
"We have written to them again this week reminding them of the obligation and given them seven days – or we will take the matter to court," an IPCC spokeswoman told the Independent.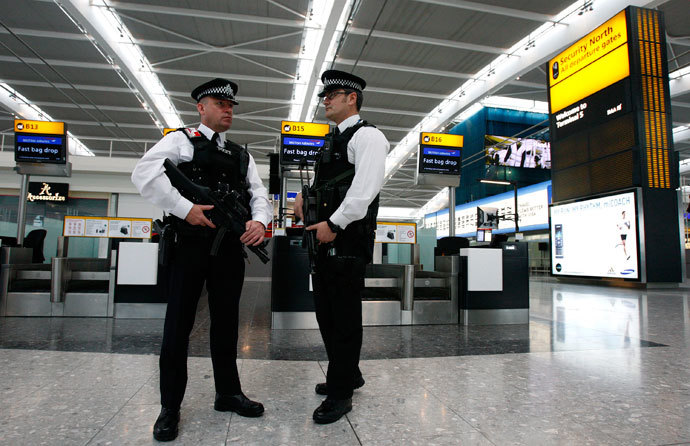 The complaints have resulted in 43 cases over the last two years. Apparently, anti-terrorism officers were expected to stop at least two passengers during each shift, which was revealed in papers submitted to an employment tribunal.

This practice resulted in officers being forced to reach monthly targets, a former counter-terrorism officer at Heathrow, Kevin Maxwell, told the Independent. He went on to recount how, despite the frequent stops, they would seldom last for more than an hour, as that would require additional paperwork to be filled out. Britain's Home Office says that only 3 percent of detentions lasted longer than 60 minutes, while most took under 15.
Maxwell's claim that ethnic and racial profiling was frequently used by his colleagues on the force was not accepted as substantial enough by the tribunal. Nonetheless, he said that if these checks are not done by the book, "it can undermine the integrity of the anti-terrorism system."
Despite the Home Office confirming that Schedule 7 powers should not be used at random, the Metropolitan Police never agreed to detail its procedures for stopping passengers to the watchdog.

Numerous rights groups, including Amnesty International, have complained that the abuse of the practices undermines the principle of fairness.  
The government is planning to reform the law, which might include a reduction of detention time from nine to six hours in future.
You can share this story on social media: