​Scrotally unacceptable! Banksy mural defaced by crude phallic doodle (NSFW)
Published time: 13 Oct, 2014 13:50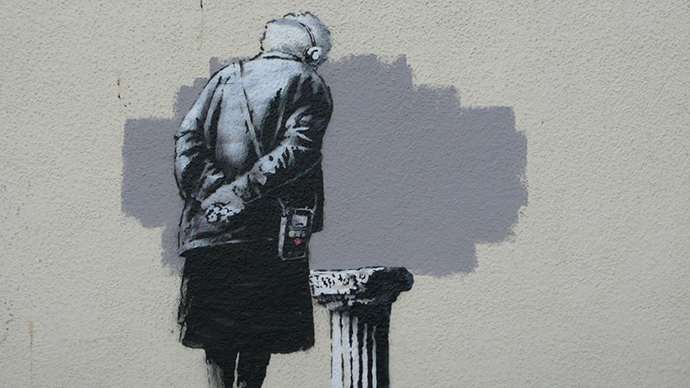 UK police are investigating a possible case of art vandalism, as a mural created by world famous street artist Banksy, potentially worth £300,000, was defaced with an image of male genitalia
The Banksy artwork, displayed on a wall in Folkestone, Kent, shows an elderly woman examining an empty plinth. Although Shepway Council had placed a transparent plastic panel over the mural after identifying it as a genuine Banksy, the unidentified vandal managed to remove the protective cover to add the crude image.
"Kent Police was called at 8pm on Sunday 12 October to a report of criminal damage in Rendezvous Street, Folkestone," a police spokesperson said.
Phallicism! #Banksy in Folkestone vandalised #Lol! (Picture: Gareth Fuller/PA Wire) pic.twitter.com/HIn9i9D490

— Sally (@BanksysTeddy) October 13, 2014

"It was reported artwork on a wall had been painted on. Officers attended the scene and enquiries are ongoing."
The image was part of a Folkestone art showcase held earlier this year, which attracted a number of high-profile celebrities including Yoko Ono, the widow of Beatles star John Lennon.
Shepway District Council said it would work with the owner of the building to ensure it remained undamaged.
This is not the only time Banksy street art has been defaced, however.
In April, vandals tried to cover a Banksy mural with white paint. The piece in Cheltenham depicts two spies attempting to "snoop" on a telephone box.
Earlier this month, another Bansky artwork ridiculing anti-immigration sentiments was removed by Clacton-on-Sea's local council, after it received complaints from residents saying the piece was "racist".