​House of Drones: UK Lords examine evidence on 'unlawful' surveillance aircraft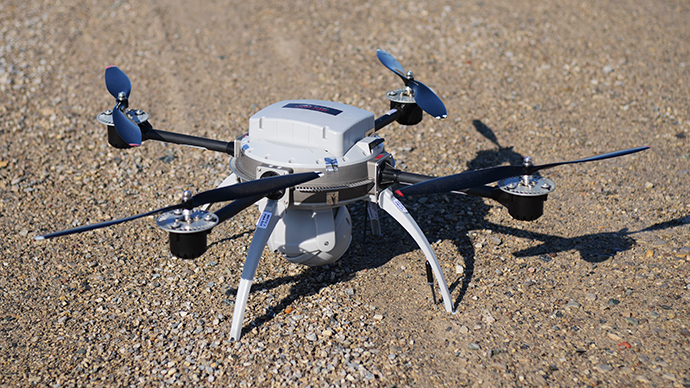 The UK's House of Lords is accepting evidence on the civil use of drones following statements from one of Britain's leading lawyers, suggesting that the government's usage of the technology for surveillance is "probably illegal".
Government officials from the Department for Transport and the Department for Business, Innovation and Skills will submit evidence and answer questions relating to their use of drone technology for commercial use, as well as its role in providing national security.
The inquiry will be conducted by the House of Lords EU Sub-Committee on the Internal Market, Infrastructure and Employment.
It follows the publication of legal guidance from Jemima Stratford QC, published in the Independent on Sunday. Stratford, who was commissioned by the All-Party Parliamentary Group on Drones (APPG), warned that the use of drones was "unlawful" and interfered with the right to privacy under the European Convention on Human Rights.
"We consider, on balance, that is a disproportionate interference with an individual's right to privacy for the security services (or any other government department) to retain and use surveillance data, without any safeguards concerning its use, storage or destruction," the guidance reads.
The guidance also adds that existing legislation, including the Regulation of Investigatory Powers Act (RIPA) does not adequately cover the full scope of drone use, especially in civil society.
"There are notable holes in the regulation of civil drones at both EU and national level as Jemima Stratford QC's advice shows," Labour MP Tom Watson said last week.
"The public needs reassurance that new hard laws to protect privacy and safety are in the pipeline."
While drones are known for their use in military operations, particularly in Afghanistan and Pakistan, they have increasingly been implemented for civilian use. Several UK police forces have gained licenses to use drones for surveillance operations, while the department for Environment, Food and Rural Affairs has also disclosed its use of drones.
Information gathered by drones is governed by RIPA and the Data Protection Act. However, the APPG argues that advances and accessibility of drone technology demands new restrictions and legislation to be put in place.
The view is in line with the European Commission in Brussels, who are considering the introduction of tougher standards on drone use in regards to privacy and data protection in civilian capacity. The ideas being mooted by the commission include "mandatory privacy assessments and a central database that allows citizens to find out if their information is being monitored".
If new legislation passes in the European Parliament, it may force the British government to adopt similar changes in its own judiciary.
However, a Home Office spokesman dismissed any future changes in the government's position on drones.
"We believe existing legislation provides an adequate framework for regulating surveillance by remotely piloted aircraft systems," he said.
You can share this story on social media: