#RecognisePalestine: UK parliament to vote on historic motion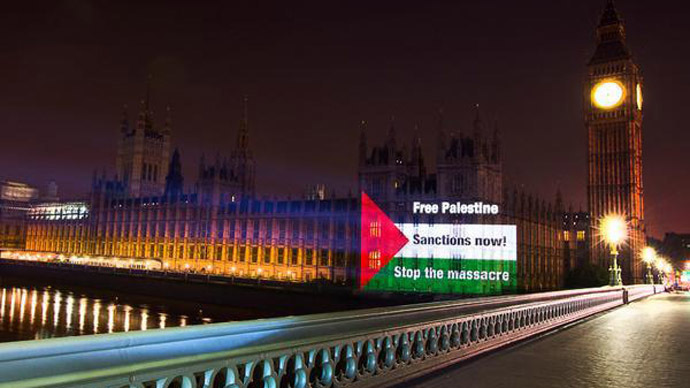 British MPs will vote on Monday on an historic motion to symbolically recognize Palestine as an independent state. With Labour instructing its MPs to vote in favour, the non-binding motion would increase pressure on PM David Cameron over the issue.
Even if lawmakers vote in favor of the motion for the UK government to recognize Palestine as a state, British foreign policy towards Palestine won't change, David Cameron's spokesman said.
"I've been pretty clear about the government's position and it won't be changing," Cameron's spokesman told reporters ahead of the debate. He said Cameron would abstain in the vote as well as other UK ministers.
Proposed by the chair of Labour Friends of Palestine, the back-bencher's motion also has the support of Liberal Democrat MPs. A number of Conservative backbenchers will also lend their support, despite the party's large pro-Israel constituency.
The motion states: "This House believes that the Government should recognize the state of Palestine alongside the State of Israel."
The vote follows Sweden's successful vote to recognize Palestine as a state – the first EU country to do so, despite opposition from the Israeli government.
We deserve to live like human!!! Raise your voice!! Big vote in #UK tomorrow to #RecognisePalestine !! @ImranHSarkerpic.twitter.com/SMTHchcQyf

— Solidarity Gaza (@GazaGlobal) October 12, 2014
However, even if the motion is carried, it would not commit the UK government to officially recognize Palestine – a move that is against the government's policy.
"It's against the government position, but it's not an attack on them as such, we just feel that now's the time to shout out loud that this should be done," Labour MP Grahame Morris, who is sponsoring the debate, told Reuters.
"Not only is statehood the inalienable right of the Palestinian people, but recognizing Palestine will breathe new life into a peace process that is at an impasse," he added.
Currently Britain does not classify Palestine as a state, but claims it would support such a measure if there were an Israeli-Palestinian peace agreement.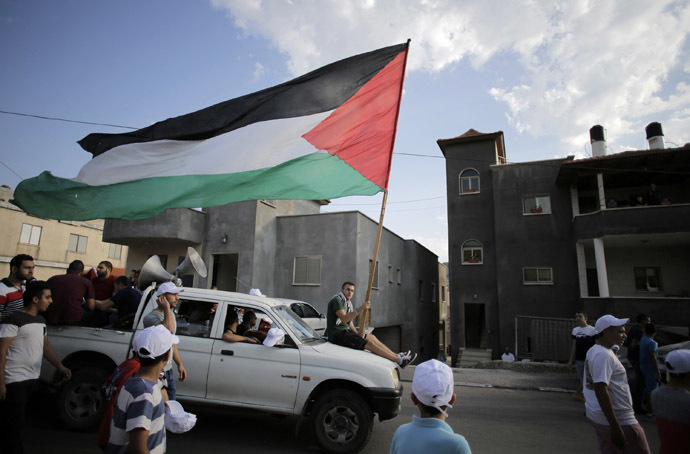 The British government has long been cautious of recognition due to its diplomatic relationship with Israel, as well as ongoing disputes over the proposed borders of an independent Palestine.
Both pro-Palestinian and pro-Israeli groups have lobbied MPs in an attempt to influence Monday's vote, with pro-Palestinian groups claiming more than 140,000 supporters have contacted their MPs urging them to vote in favor.
On my way to Parliament. Will be voting to #RecognisePalestine this evening.

— Simon Danczuk (@SimonDanczuk) October 13, 2014
Back to the House of Commons today and I will Indeed be voting to #RecognisePalestine alongside state of Israel

— Jonathan Ashworth MP (@JonAshworth) October 13, 2014
Wow! That's now over 500 constituent emails on Palestine. Tomorrow I will be passionately & positively voting for motion #RecognisePalestine

— AnasSarwar (@AnasSarwar) October 12, 2014
Meanwhile, pro-Israeli groups, including Israel Advocacy UK and the Zionist Federation, have collected around 2,000 signatures, petitioning MPs to vote against the motion.
"To grant Palestinians statehood at this premature juncture sends a harmful message that negotiations can be circumvented and dialogue ignored, rewarding intransigence over compromise," the petition reads.
Zionist Federation chairman Alan Aziz told the Jewish Chronicle that the motion was "divisive" and "impractical".
.@shashj@EylonALevy@SayeedaWarsi Premature recognition sends message that negotiations can be bypassed, thus undermining chance for peace

— Yiftah Curiel (@yiftahc) October 6, 2014
@IAUK1@David_Cameron@Ed_Miliband@nick_clegg@Number10gov@CFoI@_LFI do not vote for recognition of Palestine unless negotiated peace.

— Heavypebble (@LizLightstone1) October 5, 2014
The debate comes in the wake of Israel's bloody military campaign Operation Protective Edge, in which over 2,000 Gazans and 50 Israelis lost their lives, and thousands more were seriously injured.
"We continue to believe that negotiations toward a two-state solution are the best route to meeting Palestinian aspirations in reality and on the ground," a Foreign Office spokesman said in a statement.
While Palestine is not recognized as an official member state at the United Nations and other global bodies, it was upgraded to a "non-member observer state" in 2012, despite strong Israeli, American and British opposition.
You can share this story on social media: