1st UKIP MP expected in historic Clacton by-election
Published time: 9 Oct, 2014 15:12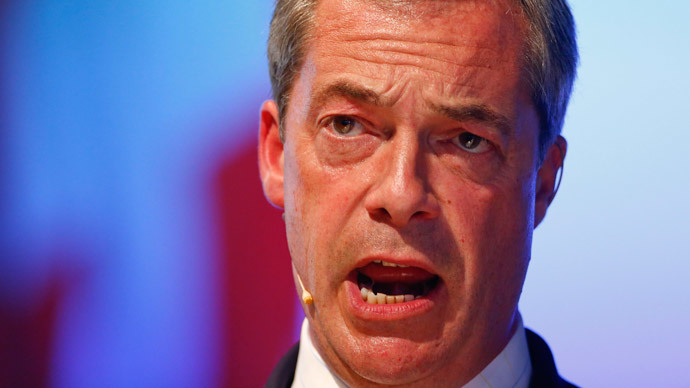 A revolution may be underway in the British parliament today, as voters are widely expected to elect the country's first UKIP MP during a pair of highly anticipated by-elections.
Voters in Clacton-on-Sea, Essex, near London, are likely to give a large majority to Douglas Carswell MP, who secured the seat in the last election as a Conservative. However, the high profile Tory defected to the anti-EU party in August, and has endeavored to win again, this time under the banner of UKIP.
Clacton: 2010 election result v latest Ashcroft poll http://t.co/jsfq1hGWYapic.twitter.com/COGgkzEQSk

— Guido Fawkes (@GuidoFawkes) October 9, 2014
Polls have placed Carswell at 56 percent in the constituency, while his former Conservative colleagues have drifted to a distant second place at 24 percent. According to pollsters, Carswell could secure up to 6,000 more votes than his main rival, obtaining one of the biggest landslide victories in by-election history.
Carswell's victory would mark a shattering disappointment for UK Prime Minister David Cameron, as he attempts to rally public support behind his ruling Conservatives ahead of next year's general election.
As are Survation. pic.twitter.com/ynIz8Qk4m1

— Britain Elects (@britainelects) October 6, 2014
UKIP, which has surged in opinion polls in recent months, under its controversial and charismatic leader Nigel Farage, is also expected to perform well at the Heywood and Middleton constituency by-election in Lancashire, northwest England. The vote was triggered by the death of local Labour MP Jim Dobbin.
While Labour is expected to hold the seat, UKIP is predicted to run a close second, having capitalized on sensitive issues including immigration and the Rochdale child grooming scandal.
What yesterday's Panelbase Westminster poll suggested: LAB - 34 MPs (-7) SNP - 18 (+12) LDEM - 4 (-7) CON - 3 (+2) pic.twitter.com/IxQYJjgKU5

— Britain Elects (@britainelects) October 3, 2014
Tory activists have not campaigned especially hard in Clacton, and Cameron has admitted that his party are the "underdogs" next to UKIP. The PM risks humiliation if a UKIP candidate is elected to parliament. He once referred to Farage's party members as "fruitcakes," "loonies" and "closet racists".
However, Cameron has said that holding onto the next by-election seat, in Rochester and Strood, is "vital". Earlier this month, the constituency's MP Mark Reckless became the second Conservative to defect to UKIP, triggering a by-election that is likely to take place later this year.
Cameron will not be the only person hurt by Thursday's result. The Liberal Democrats, the party led by Deputy Prime Minister Nick Clegg, is likely to finish behind both UKIP and the Green Party, adding further electoral misery to the party as it languishing in national opinion polls.
On Wednesday, Clegg addressed the Liberal Democrat conference and called UKIP's policies "seductive and beguiling" but lacking substance. He also urged voters not to indulge in the "us-versus-them" approach that he attributed to UKIP's political success.