RT London ad campaign rejected and redacted as 'politically motivated' (UNCENSORED)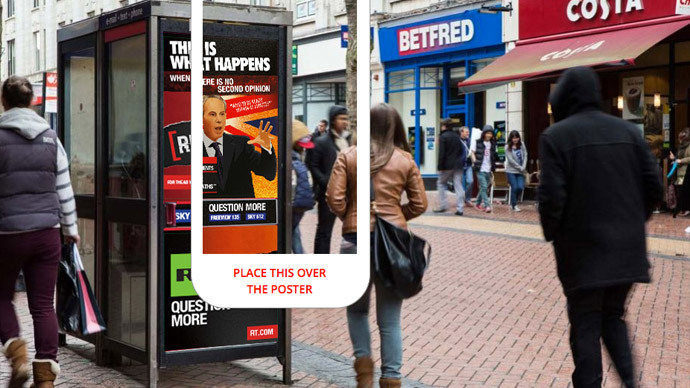 RT ads were rejected for outdoor displays in London because of their "political overtones." Though posters had to be redacted, the original images could still be seen on them, with the help of a special mobile app.
The censored posters, part of RT's international "Second Opinion" ad campaign, were supposed to feature ex-US President George W. Bush and the former UK prime minister Tony Blair, but will instead show an empty space with a word "redacted" over it.
SEE MORE at secondopinion.rt.com
London outdoor advertising companies have refused to allow the original images to appear on the city's telephone booths and underground stations, citing the Communications Act 2003, which prohibits political advertising.

"RT's slogan is 'Question More' and our advertising campaign has been calling exactly for that – to ask yourself a question of how would events develop, if the world media reported on different points of view," said RT's editor-in-chief, Margarita Simonyan, reacting to the refusal to place the company's advertising posters in London. "It's sad that some people do not want these issues to be raised at all."
The theme of the "Second Opinion" campaign is the Iraq war, and the politicians on the posters are the ones who launched the 2003 invasion of the country. The ads recall the fact that no weapons of mass destruction were found in Iraq, while the war launched under the pretext that Iraq possessed them led to more than 140,000 civilian deaths.

The RT ad campaign kicked off in August 2014 in New York and Washington, attracting the attention of many media outlets.

It was described as "provocative" by The Huffington Post, which added that it was "a serious dig at the way the US media reported on the Iraq war."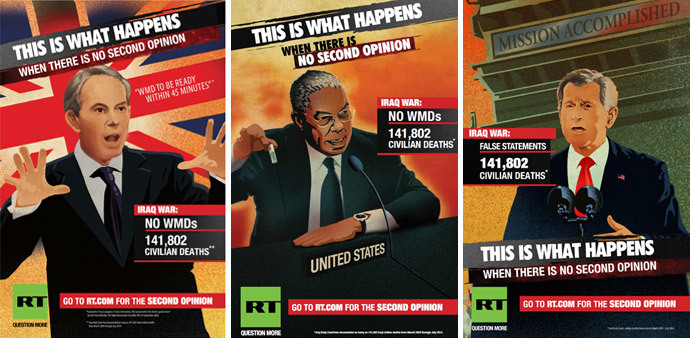 "[With these ads RT] tries to persuade New Yorkers to view it as an alternative to American channels," The New York Times wrote.

In the US, the ads appeared in the form of wild postings.

In London, the redacted posters can be viewed in full with the help of RTplus, an augmented reality mobile app. Having downloaded the application, people in the city will be able to scan the redacted image and see the pre-censored original ad.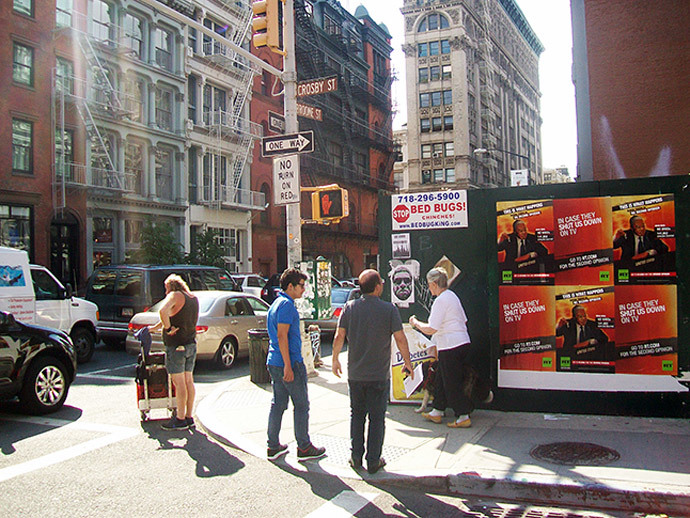 You can share this story on social media: