​2 British jihadists returned to ISIS in Turkey prisoner swap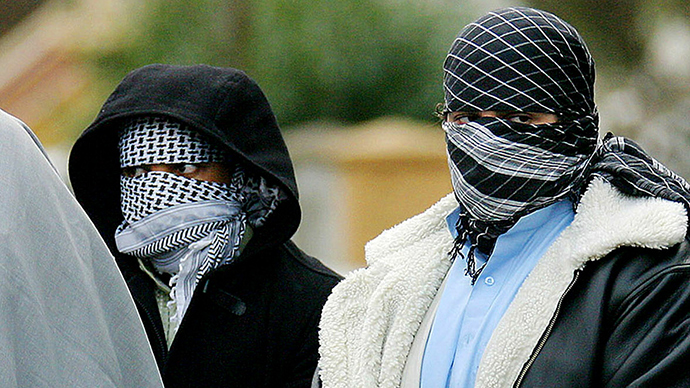 Two British jihadists were reportedly handed back to Islamic State (IS/ISIS/ISIL) militants in a prisoner swap deal with the Turkish government. They were among 180 jihadists exchanged to secure the return of 49 Turkish diplomats captured by ISIS in May.
According to reports leaked to the Times, the Britons returned to the IS were Shabazz Suleman, 18, and Hisham Folkard, 26. ISIS sources confirmed their identities, together with the identities of up to 10 other EU citizens that were transferred under the deal.
Other Western fighters identified included citizens of France, Sweden, Macedonia, Switzerland and Belgium.
The 49 staff members of Turkey's consulate were captured when the IS took the Iraqi city of Mosul earlier this year – one of the first major cities taken by the militia since it formed.
While little is known about the British fighters, it is believed Suleman entered Syria via the Turkish border while on holiday in Turkey earlier this year. He had previously traveled to Syria in an aid convoy.
Suleman was confirmed missing last week, while fellow pupils at his school, the Royal Grammar School in High Wycombe, said that he has expressed support for the 'caliphate' previously.
Folkard's Roman Catholic father was in contact with his son in August, and believes he may have gone to fight in Syria with his older brother, Omar. However, the father told the Times that he "hardly knew either of them."
"Their mother took them away. When she let them go to Yemen to study Islam I cut them off completely," he said.
Borders between Turkey and Syria serve as the main access point for foreign fighters entering Syria, although a number of British fighters are also crossing into Turkey escape the jihadist group.
Up to 100 British jihadists may be 'stranded' in Turkey, with many Britons seeking entry to Pakistan and Bangladesh to avoid potential prison time if they return to the UK, according to the Sunday Times.
Other foreign fighters are attempting to cross into countries where they have familial roots, including Egypt, Algeria and Libya.
According to the report, many of the foreign fighters have become "disillusioned" with the IS, finding themselves fighting other Islamist groups such as Al-Nusra Front and the Islamic Front, rather than government forces of Bashar Assad.
"We understand there's around 100 British jihadists who are waiting in limbo in Turkey before they can make their way to countries like Pakistan and Bangladesh and Algeria – countries where their parents were born and where they have the family support they need to settle in," a Whitehall official told the Sunday Times.
"The choices for these jihadists have become very limited – they don't want to return to Syria because they would most likely be killed for defecting and they can't come back to Britain without the prospect of being locked up."
Some British jihadists have also expressed regret for joining ISIS and have called on the British government to adopt a "de-radicalization program" for individuals returning to the UK.
"We came to fight the regime and instead we are involved in gang warfare. It's not what we came for, but if we go back [to Britain] we will go to jail," one fighter told the Director of the International Centre for the Study of Radicalisation (ICSR) professor Peter Neumann.
Other jihadists have said they would be punished if they left ISIS, with five disillusioned Britons reportedly being stripped of their weapons and held in "punishment centers" in Raqqa, Syria, last month.
You can share this story on social media: