​'Iraq III No!' Anti-war activists call London protest against UK airstrikes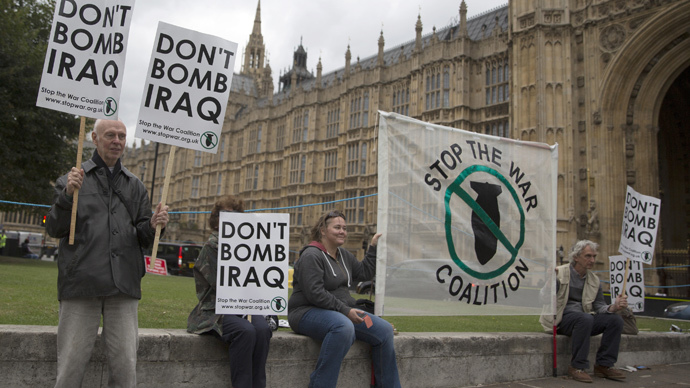 Anti-war activists will descend on London on Saturday to protest against British airstrikes on Islamic State (IS, ISIS/ISIL) positions in Iraq.
Groups including the Stop the War Coalition plan to march through London, past Downing Street, to voice their opposition to the UK's military intervention, which began after winning parliamentary approval last week.
Following ministers' overwhelming support for airstrikes against the militants, the Royal Air Force (RAF) dispatched seven Tornado fighter jets to Iraq as part of an international US-led coalition, which includes a number of Arab states.
"We're protesting because it's an absolute disgrace that this is the third intervention in Iraq in under 25 years," Chris Nineham, a national officer at Stop the War Coaltion, told RT.
"All history, experience, and evidence shows that all interventions will just cause more violence, and any idea that this will curb the IS tide would be laughable," he added.
On its event page, Stop the War argued that past Iraq wars had "helped create the current chaos" and that the intervention is "driving the country to a brink of a break up."
Stop the Bombing of Iraq - Don't Attack Syria National Demonstration Sat 4th Oct 1pm http://t.co/XYfGnRtV3Ypic.twitter.com/DwD0XIAc3m

— Stop the War (@STWuk) October 3, 2014
"Cameron's new war has built-in mission creep. Discussions are already underway for Britain to join the bombing of Syria, and there are growing calls for boots on the ground," the statement adds.
Over 1,000 people are expected to participate in the London march, including British comedian and social activist Russell Brand and British musician Brian Eno.
"Bombing won't work – it is going to make matters worse," Brand told Stop the War. "It will lead to ground troops going in. That will make matters worse. These kind of operations always make things worse. These are the real lessons from history."
You can share this story on social media: