​UK Chancellor Osborne attacks 'anti-free-market movement'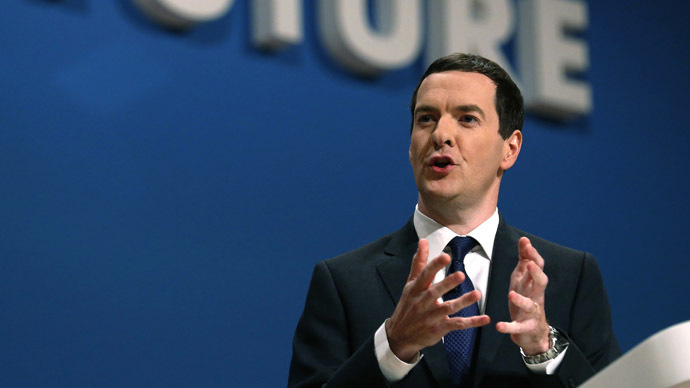 For the first time since before the fall of the Berlin Wall, Labour Party policies and trade unions are threatening Britain's future as a pro-business, free-market economy, Chancellor George Osborne told business leaders on Friday.
Seven months ahead of the UK's general election, Osborne said Britain is facing a stark choice between a Conservative government that supports businesses, or a Labour government that would pose a threat to the wealth-friendly environment build by the Tory-Liberal Democrat coalition.
Osborne criticized trade unions and charities in his speech. "You have to get out there and put the business argument," he told the audience at London's Royal Albert Hall. "Because there are plenty of pressure groups, plenty of trade unions and plenty of charities and the like that will put the counter view."
"It is, I know, a difficult decision sometimes to put your head above the parapet, but that is the only way we are going to win this argument for an enterprising, business, low-tax economy that delivers prosperity for the people and generations to come," he added.
On Friday, Germany's Reunification Day, Osborne said the idea that political parties put national economic interest before opportunist advantage is now "up for grabs" for the first time since 1989, when the Berlin Wall fell and East and West Germany reunited.
"There is a big argument in our country...about whether we are a country that is for business, for enterprise, for the free market. For the first time in my adult life that is up for grabs," Osborne told business leaders at the Institute of Directors annual convention in London.
Speaking about the country's economic recovery, Osborne said: "The fastest growing areas of economic activity in our country right now are the North West of England, the North East and Yorkshire." He added that Britons are beginning to feel the benefits of returning prosperity.
The chancellor also stated that the weakness in the eurozone is "probably the greatest immediate economic risk" to the UK, and urged businesses to look elsewhere, to areas like Asia and South America. Some 40 percent of Britain's exports go to the eurozone.
"Too many of our small and middle-sized businesses have felt daunted about entering into export markets. That's not the case for small and medium-sized companies for example in Germany," he said.
His comments come as the government braces for a wave of national public sector strikes this month by civil servants, council workers, and NHS staff. The Trades Union Congress (TUC) is coordinating a national demonstration under the slogan "Britain Needs a Pay Rise," set to take place October 18.