​Ex-BNP leader Nick Griffin ousted by far-right party for 'lies and harassment'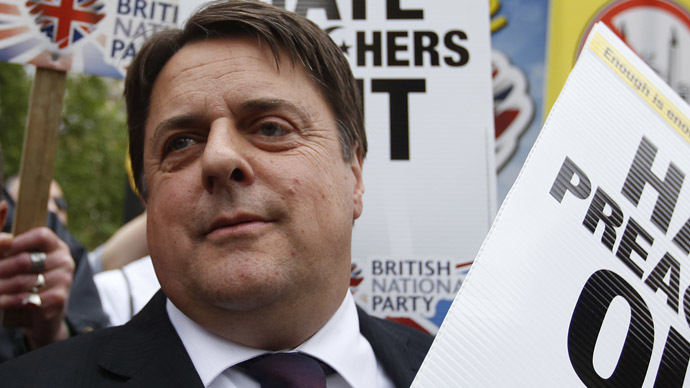 The UK's far-right British National Party (BNP) has expelled its former leader after accusing him of conspiring to "destabilize" the party by "telling lies" about expenses and allegedly "harassing" its members.
In a blogpost published on Wednesday, the BNP said that Griffin had 'brought the party into disrepute' during his public appearances and statements, and personally targeting party members through emails in order to 'embroil' the party in 'factionalism'.
"This has been a difficult decision to make and not one taken lightly," said BNP conduct committee member Clive Jefferson in the statement. "Although we all appreciate that Nick has achieved a lot for our Party in the past, we must also remember that the Party is bigger than any individual."
"Nick did not adjust well to being given the honorary title of President and it soon became obvious that he was unable to work as an equal member of the team and alarmingly his behavior became more erratic and disruptive."
Griffin took to social media an hour and a half after the comments were published to hit back at the statement.
"Breaking news! I've just been 'expelled' without trial from the #BNP! That'll teach me to tell a member of staff he's a 'useless, lazy t**t'" he tweeted.
Breaking news! I've just been 'expelled' without trial from the #BNP! That'll teach me to tell a member of staff he's a 'useless, lazy twat'

— Nick Griffin (@nickjgriffinbnp) October 1, 2014

He also accused the party of playing "plastic gangster games" to undermine him.
Griffin had been leader and chairman of the BNP for fifteen years, but left his executive role in July this year after losing his seat in the European Parliament.
Under Griffin, the party enjoyed its biggest electoral successes, winning two seats in the European legislature in 2009. However, both seats were lost in the European elections of May this year.
Cambridge educated Griffin has frequently drawn the ire of party members for being gaffe-prone, most notably on BBC Question Time in 2010, when the former National Front activist admitted he had shared a platform with former Klu-Klux-Klan (KKK) member David Duke.
Griffin has a long documented history of association with far-right groups, including the neo-nazi National Front, an organization known for racially motivated attacks across the UK. The former BNP leader was handed a suspended prison sentence in 1997, convicted for "inciting racial hatred".
Griffin also faced criticism for his handling of party funds. In January this year he was declared bankrupt because of a failure to pay off his spiraling legal debts.
Additionally, an investigation conducted by BBC Panorama in 2011 accused Griffin of "falsifying invoices" submitted to the Electoral Commission in order to hide the extent of the party's debts.
Support for the party has waned since the last general election in 2010, notably since the rise of other right-leaning tendencies, including Nigel Farage's United Kingdom Independence Party (UKIP) and the English Defence League (EDL).
The BNP is currently led by Adam Walker, who was struck off as an ICT teacher after describing immigrants as "savage animals" on his social media page, while he was teaching.
He was given a suspended sentence in 2010 after chasing down three boys aged between ten and twelve in his car and slashing their bicycle tyres with a knife.