Arrests, clashes as EDL marches through London in anti-Sharia law protest (PHOTOS)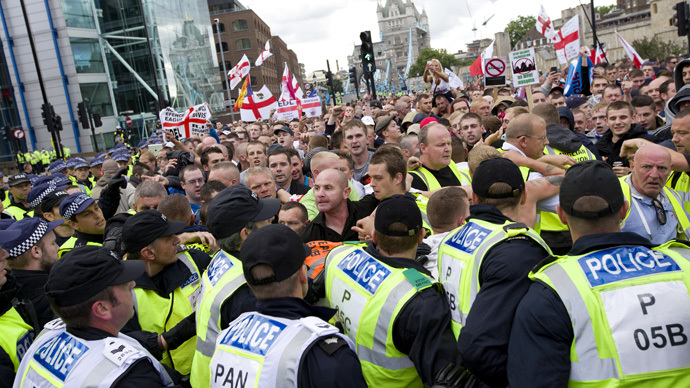 Clashes broke out in London after anti-racist protesters confronted the English Defense League (EDL) during a Saturday march near Tower Bridge. Police arrested over 160 people, used batons, and kettled demonstrators in an attempt to contain the violence.
Roughly 600 EDL supporters tried to march to the East London Mosque on Whitechapel Road on Saturday, despite the fact that marchers were previously banned from entering the London Borough of Tower Hamlets, where the mosque is located. The EDL believes the area has become "subject to Sharia law."
anti-EDL protesters blockading the western end of Whitechapel Road pic.twitter.com/t8Q1kWXfsC

— UAF (@uaf) September 7, 2013
EDL protesters were stopped approximately 600 meters away from the mosque. Demonstrators attempted to break police lines by throwing flares and using placards.

More than 160 people were arrested on Saturday, police said.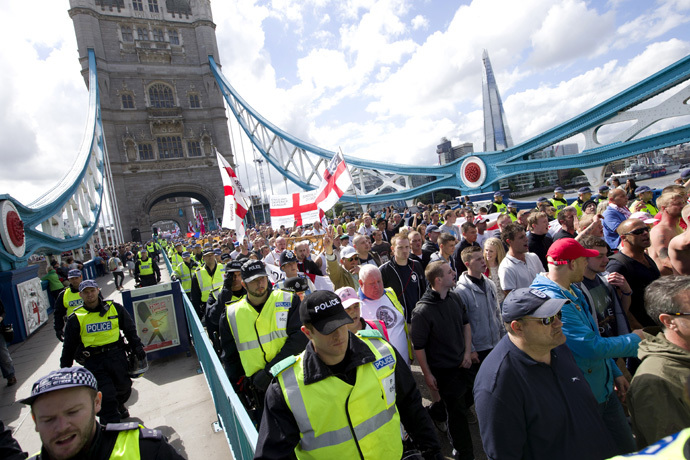 The far-right group, which describes itself as a human rights organization, believes "Sharia needs to be tackled at a global as well as national level."

Earlier this week, police announced that marchers would be barred from entering the "heart of Tower Hamlets" and would face strict control amid fears that the protest would cause "serious public disorder." The group challenged the decision in High Court, but lost the battle when a judge ruled that the march's route was "unnecessarily provocative."

The rally started south of Tower Bridge around 1pm local time. Protesters marched while shouting, "England" and "I'm English until I die." Saturday's demonstration included members of similar groups from Poland, Finland, and Germany.

The turnout was not as large as expected – it was initially estimated that between 1,000 and 2,000 people would take part.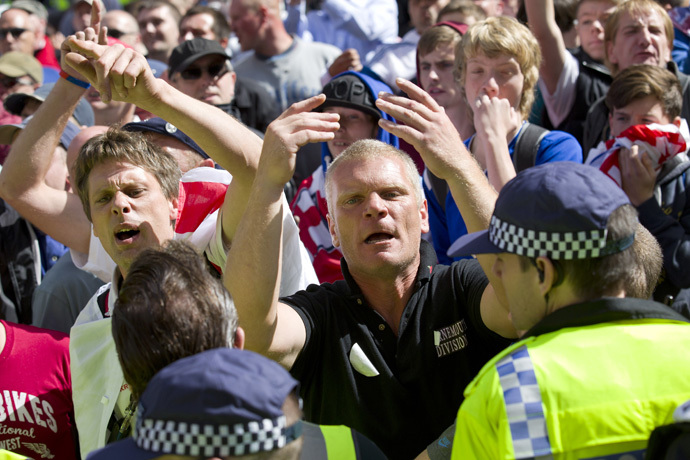 Meanwhile, an anti-fascist protest took place near the EDL rally, with participants waving Unite Against Fascism (UAF) and Hope not Hate banners. The event, which received a larger turnout than the EDL protest, was one of the biggest anti-fascist demonstrations to take place in recent years. 
EDL have been sent home without seeing foot in Tower Hamlets. We're now getting ready to march through Whitechapel. pic.twitter.com/G8k94JKOuh

— UAF (@uaf) September 7, 2013

Mosques across England have tightened security following the killing of Drummer Lee Rigby in Woolwich last May. After the murder, the number of reported Islamophobic attacks in the country rose dramatically. The EDL has been accused of exploiting the murder of the British soldier in order to garner support. 
Police holding back hundreds #EDL supporters near Tower Bridge - UAF supporters about 100m away pic.twitter.com/Cm3GpxTyfc

— Philippa Thomas (@PhilippaNews) September 7, 2013