Shocking Woolwich attack: LIVE UPDATES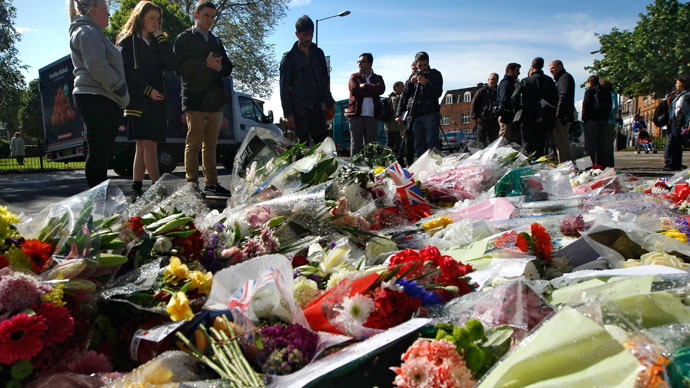 British police have shot and wounded two men after 25-year-old military drummer Lee Rigby was brutally beheaded in Woolwich, South East London. Police continue their investigation into the gruesome attack, which David Cameron called an act of terror.
18:35 GMT: A man from Bolton has been detained on suspicion of posting offensive comments on Facebook about Lee Rigby's horrific murder. The police say the 33-year-old male was arrested on suspicion of inciting racial hatred and bailed until June 20, pending further inquiries.

15:46 GMT: The Metropolitan Police have said that a 29-year old man and 31-year old woman arrested as part of the murder investigation into Army Drummer Lee Rigby have been released without charge. A 29-year old man arrested on suspicion of conspiracy to murder remains in police custody.
May 24

23:00 GMT: A dramatic video obtained by the Daily Mirror, reveals the moments after the first police unit arrived at the crime scene in Woolwich. The suspects apparently planned to attack first responders as the first man immediately rushed toward the police car with a knife while the other was aiming his revolver at the officers.

An expert in firearms tactics and former Det Ch Ins Peter Kirkham told the Mirror that police officers had "no option but to open fire to stop them."
"The instant they spot the police car come around the corner they are on it straight away. The first one is sprinting full speed towards the cops before they have even got out the car. The female officer only has her Taser out and must have been terrified."

19:56 GMT: Through its support for Israel and participation in US invasions of Muslim countries, British MP George Galloway argues "we have spawned across the world maybe tens, maybe hundreds of millions of radicalized Muslims."
Galloway argues that Western support for the Syrian rebels has parallels with "the Afghan experience" which sparked the ongoing war on terror.
"[The attack in London] is the sort of thing that happens in Syria every day, except sometimes they even cut out the heart and the liver of the deceased and eat it on video for the entertainment of their brothers in the barracks afterwards. And Britain is helping to pay for that sickening barbarism in Syria," he argues.
"And so I simply ask David Cameron as I've asked him before in parliament, if he would adumbrate the key differences between the hand chopping, throat cutting fanatics that we saw in Woolwich yesterday, and the hand chopping, throat cutting fanatics we're giving money to in Syria."

18:59 GMT: A British officer anonymously told RT that after the attacks it will feel less secure for service members to wear their uniform in their home country. 
"It makes you feel like you'll think twice now about going out in public in your uniform. That's definitely something the guys will be thinking about."
"You also think this is going to be happening to soldiers abroad you don't think you'll be targeted at home which is obviously something that's now going to have to be thought about in terms of security for the armed forces here."

18:17 GMT:
Here's a still from the footage of Michael Adebolajo. We'll be showing all of it as soon as we can edit it for TV. twitter.com/BBCDomC/status…

— Dominic Casciani (@BBCDomC) May 23, 2013
18:00 GMT: President Barack Obama condemned "in the strongest terms" the attack in Woolwich on a British soldier.
"The United States stands resolute with the United Kingdom, our ally and friend, against violent extremism and terror," he said in a statement.

17:56 GMT: Police arrested two further people, a man and a woman, both 29, on suspicion of conspiracy to murder relating to the killing of soldier Lee Rigby, according to a Scotland Yard statement. The police have not yet released the identities of the arrested, they were both placed under custody at a south London police station.
The 22-year-old man and a 28-year-old man shot by police at the scene and taken into custody on suspicion of murder remain in separate London hospitals and are both in a stable condition.

Search warrants have been issued for the addresses of the six arrested individuals and the searches were ongoing, it was noted in the statement.

16:15 GMT: The Ministry of Defence identifies the soldier killed in Wednesday attack as Drummer Lee Rigby, 25, father of a two-year-old child:
"It is with great sadness that the Ministry of Defence must announce that the soldier killed in yesterday's incident in Woolwich, South East London, is believed to be Drummer Lee Rigby of 2nd Battalion The Royal Regiment of Fusiliers (attached to the Regimental Recruiting Team in London)," reads a statement at the MoD's website.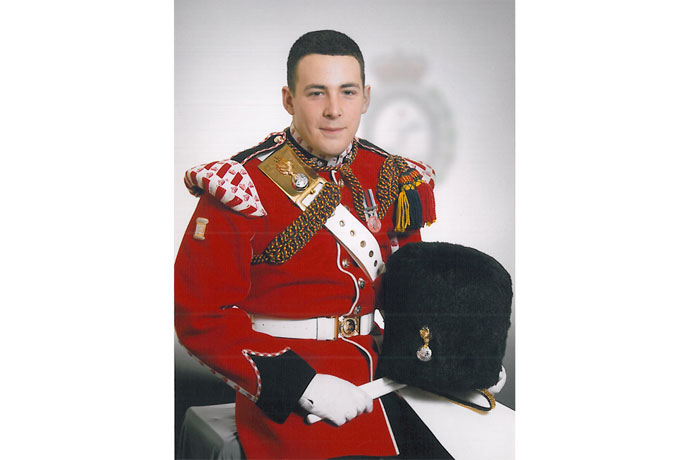 16:04 GMT: Foreign Secretary William Hague told ITV News British foreign policy is "no excuse" for the murder.

15:19 GMT: Mark Rowley, the Met Police Assistant Commissioner for specialist crime and operations, said that the inquiry into the attack is moving fast, and police have already searched a number of locations.

"As you would expect we are also liaising closely with the military to ensure appropriate security measures are in place in relation to military premises and personnel," he told London's Police and Crime Committee.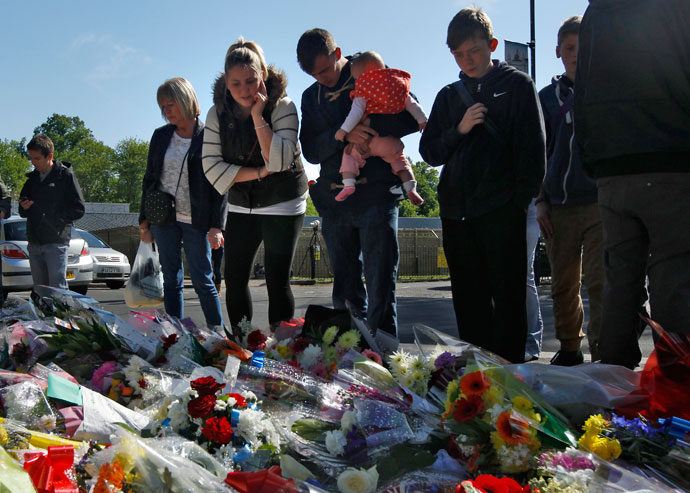 13:59 GMT: Farooq Murad, Secretary General of the Muslim Council of Britain, expressed "outrage and horror" over the attacks during an MCB press conference. He added that there was no justification for the actions of the two suspects, and that they had "insulted Allah and dishonored our faith."

"People may suggest this is about foreign policy, that may be, but nothing at all justifies this action," Murad said.
Woolwich attack absolutely disgusting, savage & barbaric. Totally condemned by Islam. Communities must stand united against these murderers.

— Ibrahim Mogra (@IbrahimMogra) May 22, 2013
13:33 GMT: The two suspects in the Woolwich attack were being watched by MI5, but were assessed as not posing enough of a threat to trigger an "immediate intervention," Sky News reported.

12:57 GMT: Anjem Choudary, the former leader of the banned Islamic group Al Muhajiroun, claims to know one of the suspects who has been speculatively identified as Michael Adebolajo, a British-born Nigerian, Channel 4 News reports.
Choudary says he recognized the suspect who was filmed with bloodied hands, brandishing a cleaver following the brutal attack. Although Choudary says he has not seen the man in two years, he remembers the alleged attacker from meetings and lectures, saying he went by the name Mujahid. As far as Choudary "was aware," the suspect was a "normal, practicing Muslim" who was concerned about Muslim affairs worldwide. The two men allegedly behind Wednesday's beheading in London have yet to be named officially.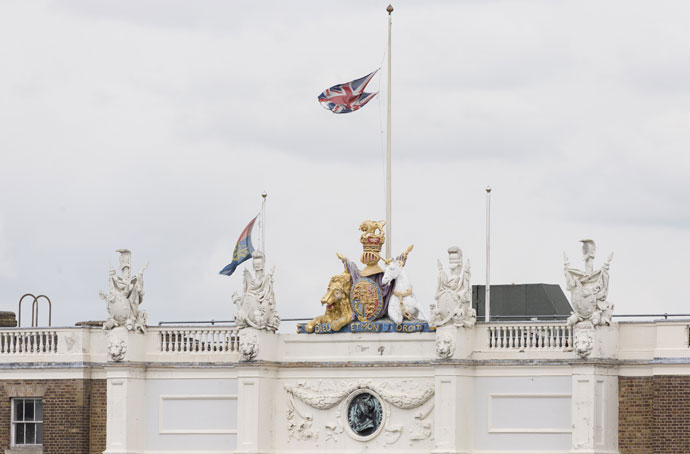 12:46 GMT: Two women who are believed to be sisters were handcuffed and taken away by police from a property in Greenwich after police officers donning balaclavas and armed with machine guns reportedly smashed through their door, ITV News reports. Neighbors said they could hear the police officers yelling "get down on the floor!"
A teenage boy, a toddler and a baby were also taken along with the women. It remains unclear why they have been detained.

12:23 GMT: British Prime Minister David Cameron is visiting the Woolwich barracks in London, not far from where a serving soldier was hacked to death in broad daylight yesterday by two British men of Nigerian descent, Channel 4 News reports.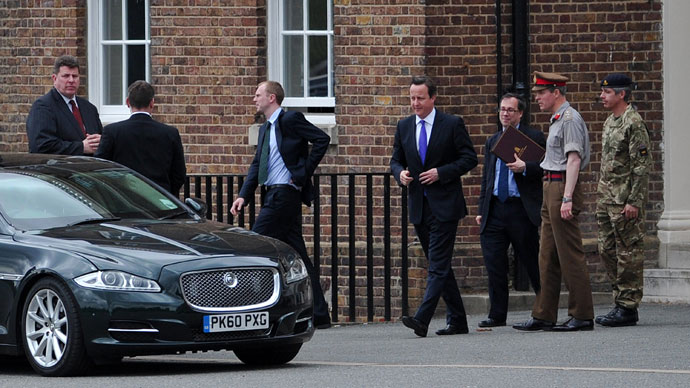 12:11 GMT: British officials have said that both suspects in Wednesday's brutal beheading of a soldier were part of earlier investigations carried out by security services. Details of those probes have yet to be revealed.
British Prime Minister David Cameron said he could not comment on reports that security services had previously been aware of both attackers.
"The point that the two suspects in this horrific attack were known to the security services has been widely reported. You would not expect me to comment on this when a criminal investigation is ongoing," he said.

12:05 GMT:  British authorities have confirmed that one, if not both of the men who brutally murdered a soldier on the streets of London, was British-born of Nigerian descent, various UK media outlets have reported.

One of the attackers has been identified as Michael Adebolajo, 28, who had apparently converted to Islam although his family background is Christian. Police have raided his family home in a village near the Eastern city of Lincoln. Both suspects in Wednesday's brutal beheading were taken into custody after being shot by police. It remains unclear if Adebolajo is the man who was seen in a widely distributed video with bloody hands, carrying cutting implements immediately following the attack.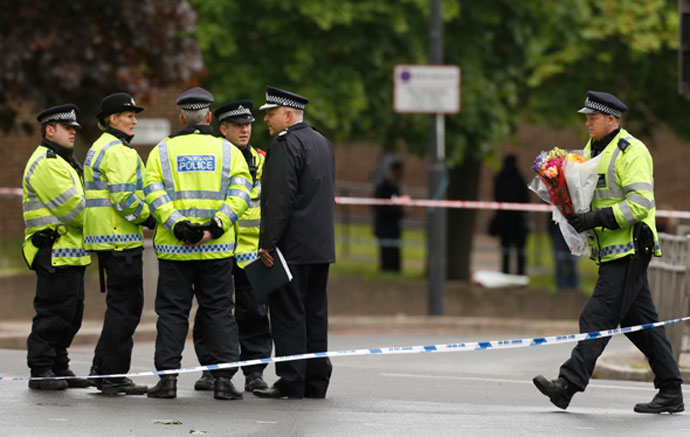 11:56 GMT: An extra 1,200 police officers have been deployed on the streets of London, including places of worship, to give a sense of security and reassurance to the city's residents, Sky News reports.

11:21 GMT: UK Prime Minister David Cameron has slammed the Woolwich killing as an attack on the British way of life and a betrayal of Islam. In a public address Cameron said Britain would not back down in the face of extremism.

"This was not just an attack on Britain, and on the British way of life, it was also a betrayal of Islam and of the Muslim communities who give so much to this country. There is nothing in Islam that justifies this truly dreadful act," said Cameron to press.
10:22 GMT:
Metropolitan police have raided a house in Greenwich in connection with the Woolwich murder and have detained four people, neighbors have told the BBC. Police also searched a property in the county of Lincolnshire, around 200 kilometers northeast of London.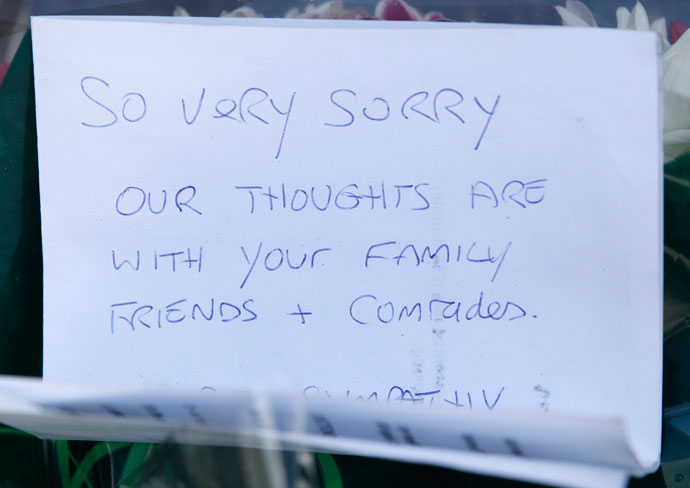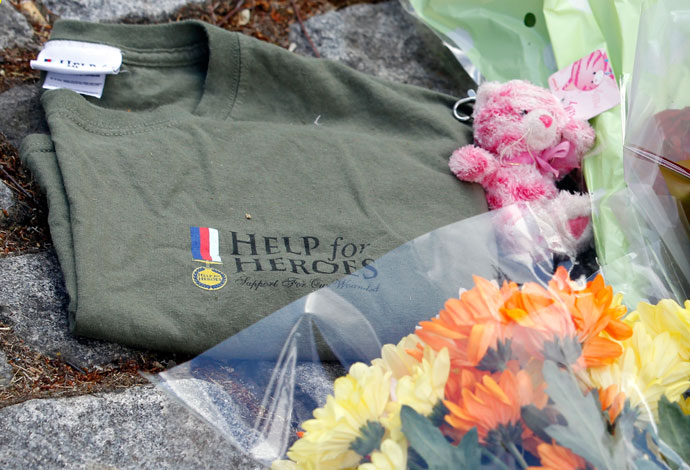 09:27 GMT:Mayor of London, Boris Johnson, has appealed to the residents of the UK capital, calling for calm.

"Everything I am hearing leads me to think that Londoners can go about their business in the normal way and we are going to bring the killers to justice," he said, following an emergency cabinet meeting to discuss the attack.
09:03 GMT: RT correspondent Sara Firth described the "deep sense of shock" in the local community and the "disbelief that such a brutal killing could take place where they live." She also pointed to English Defence League riots during the night, saying there were fears of an imminent backlash against London's Muslim communities following the attack.
08:54 GMT: The Royal British Legion has released a statement expressing condolences at the murder of a member of the armed forces. 

"As with all deaths in Service, but particularly with this terribly distressing incident, we extend our condolences and support to his family, colleagues and friends."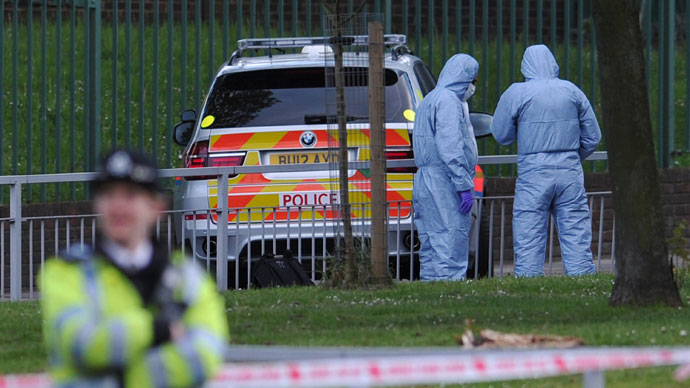 08:34 GMT: UK soldiers have been told to refrain from wearing their uniforms in public until further notice, Sky News reported, citing military sources.

08:27 GMT: Mayor of London Boris Johnson has told press that neither Islam nor the UK's foreign policy were to blame for the Woolwich killing.

08:06 GMT:
I have been updated by the commissioner and will chair Cobra shortly. I will make a statement on this sickening killing this morning

— David Cameron (@David_Cameron) May 23, 2013
07:04 GMT:The Woolwich attack has drawn comparisons in the British media with a 2007 foiled plot to kidnap and behead a UK soldier. Parviz Khan pleaded guilty to conspiring to kidnap and murder a British serviceman and was sentenced to life in jail in 2007. The UK citizen said he hoped to cause panic across the country and discourage people from joining the armed forces.
06:15 GMT:The UK government has confirmed that the man hacked to death by two suspected Islamist terrorists in East London was a member of the armed forces, the BBC reports.
06:03 GMT:British police are looking into a possible Nigerian connection with the two assailants who brutally murdered a man in Woolwich, two anonymous sources with links to the investigation told Reuters. According to figures from the Office of National Statistics, the UK has a population of around 174,000 people from the former African colony.
04:41 GMT: UK Prime Minister David Cameron is to meet with the emergency response committee, Cobra, to discuss the security implications of what has been dubbed 'Baghdad-style violence' by the British media.
02:14 GMT: The New York City Police Department announced it has increased security around the British consulate following the grisly terrorist attack in London Wednesday. Deputy Commissioner Paul Brown told reporters the decision was motivated by "an abundance of caution ," not a security threat.
May 22

23:34 GMT: Police wearing paramilitary garb have restored order to the streets of Woolwich, where a small number of the roughly 100 EDL demonstrators were arrested for lobbing rocks.
22:53 GMT: 
All seems very well managed by police so far. Keeping group of #EDL protestors contained @rt_com twitter.com/SaraFirth_RT/s…

— Sara Firth (@SaraFirth_RT) May 22, 2013
22:50 GMT: Essex police announced they have arrested a 43-year-old man on attempted arson and suspicion of an offensive weapon after he allegedly tried to set fire to a mosque in Braintree, Essex and entered the building with a knife.
"He was shouting and waving, and had something in his hand, I don't know what it was exactly but it was like a smoke bomb, there was smoke everywhere," one witness told England's Channel 4 News. 
Another man was arrested in Kent and charged with suspicion of racially aggravated criminal damage outside a mosque
22:39 GMT: British authorities are investigating a "possible Nigerian link" in the Woolwich terrorist attack, according to Reuters.
22:37 GMT:  A Cub Scout leader and mother of two children is being credited with trying to talk the murderers into put down their weapons before police arrived. Ingrid Loyau-Kennett told reporters the assailant told her, "We want to start a war tonight." She can be seen in images taken at the scene of the crime walking right up to the knife-wielding men and trying to prevent them from hurting anyone else.
"I started to talk to him and I started to notice more weapons and the guy behind him with more weapons as well," she told the Telegraph. "By then, people had started to gather around, so I thought, 'Okay, I should keep him talking to me before he noticed everything around him.'
"He was not high, he was not on drugs, he was not an alcoholic or drunk, he was just distressed, upset. He was in full control of his decisions and ready to do everything he wanted to do," she went on.
22:00 GMT: 
Police in #Woolwich with a gathering of EDL who said they'd reaspond to the attack that took place today @rt_com twitter.com/SaraFirth_RT/s…

— Sara Firth (@SaraFirth_RT) May 22, 2013
21:44 GMT: Dozens of activists in the English Defence League, a far-right organization dedicated to stopping the spread of Islam, have assembled in Woolwich with police not far away. The organization has long been associated with violence and pictures of the demonstrators show them wearing masks, possibly to avoid being identified in the event of a riot.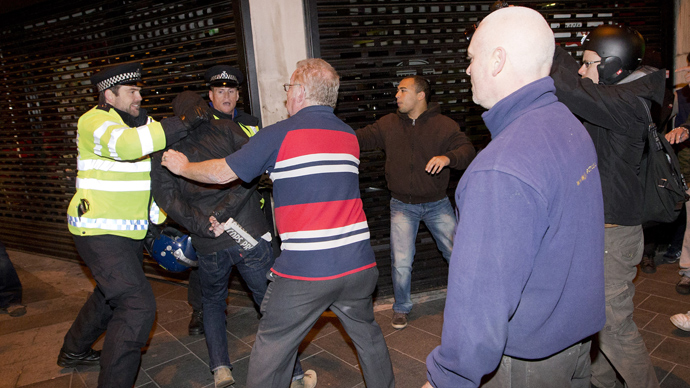 Leader Tommy Robinson announced on Twitter that the EDL was planning to put "feet on the streets" in Woolwich "around 9pm" Wednesday night. A message on the EDL's official feed read "Any EDL members take to the streets in your local town/city take a stand!"

21:32 GMT:  Metropolitan Police commissioner Sir Bernard Hogan-Howe confirmed two men have been arrested in connection with the attack. 
"We have launched a murder investigation, being led by the Counter Terrorism Command. Two men have been arrested in connection with that murder," he said. "We understand concern about the motivation and we will work tirelessly to uncover why this occurred and who was responsible. I understand people want answers, but I must stress we are in the early stages of investigations." 
20:34 GMT: UK Home Secretary Theresa May said that Woolwich attack was "an attack on everyone in the UK." The country has "seen terrorism on the streets of Britain before" and always stood firm against it, so "despicable acts like these will not go unpunished," she said.

20:16 GMT: The Muslim Council of Britain has condemned "unreservedly" what it called a "truly barbaric act" in Woolwich.
"This attack on a member of the Armed Forces is dishonourable, and no cause justifies this murder," council's statement reads. "This action will no doubt heighten tensions on the streets of the United Kingdom. We call on all our communities, Muslim and non-Muslim, to come together in solidarity to ensure the forces of hatred do not prevail.'

20:05 GMT: Help for Heroes, the charity whose t-shirt witnesses say the victim was wearing at the time of his murder, have released a statement in response to today's event.

"Help for Heroes is appalled to hear that a man, believed to be a serving soldier, has been brutally murdered in Woolwich today."
"We are desperately saddened to hear of this sickening attack and offer our thoughts and prayers to his family, colleagues and friends."

19:40 GMT:"We will look at every aspect of security, we will look at every aspect of what you can learn from these incidents," Cameron said during a joint press conference with French President Francois Hollande.
"But we also have to remember that in a free country like ours, the best way to defeat terrorism is to make sure that you continue to go about your life, to live your life and show that terrorists can never win, and that's important."
President Hollande added: "We must fight terrorism everywhere. It requires that we share our intelligence, that our intelligence services work together and that we act everywhere we can."
Full story: Man beheaded in suspected terrorist attack outside army barracks in London
I don't know what to make of this Woolwich attack. It's almost too shocking to put into words

— Thomas Burke (@Thomas_Burke87) May 22, 2013
19:30 GMT: Eyewitness Joe Tallant, 20, saw one man holding a gun and a knife, and another holding two knives, the UK Mirror reports.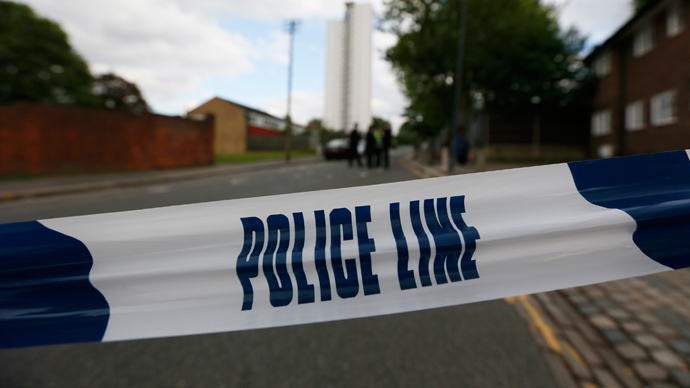 He described how he saw the victim on the ground as the men urged onlookers to call the police.
"I looked on the floor and I saw a dead body and then I saw one of the men walking around the body," Tallant said.
"He was telling people to call the police and then five to seven minutes later the police came." 
"They walked towards the police car with their weapons and a police lady jumped out and shot them both."

He added: "They (the men) had the gun out and they were walking towards them casually with their arms by their side."I think there was a bit of twitching going on and then it all happened in a flash." Tallant also said one of the men insisted that "only women" should approach the victim.

19:13 GMT:  London Mayor Boris Johnson said it's 'overwhelmingly likely' the South London killing was a terrorist attack.
This afternoon's attack in Woolwich is a sickening deluded and unforgivable act of violence. My thoughts are with the victim and his family

— Boris Johnson (@MayorofLondon) May 22, 2013
18:55 GMT:Cabinet Office Briefing Rooms (COBR) – which was set up to coordinate various bodies within  the UK government in response to national and regional crises – has agreed to tighten security around  Woolwich and other military barracks in London after attack, the BBC reports.
Just seen the news of the #Woolwich attack. Truly shocking. Attacker in film appears to have a London accent.

— 1914centenary.com (@georgedegrey) May 22, 2013
18:37 GMT: The suspect, a black male dressed in a grey hooded jacket and black brimless cap, apologized to people at the scene who witnessed the attack before going on to make several more political statements.  

In the video obtained by ITV News, he can be heard saying in clear English without a foreign accent:  "We must fight them as they fight us. An eye for an eye, a tooth for a tooth."
"I apologize that women have had to witness this today, but in our land our women have to see the same. You people will never be safe. Remove your government, they don't care about you.
18:30 GMT: French President Hollande, who is speaking alongside Cameron at a joint press conference in Paris, said the man killed in the London attack is a British soldier.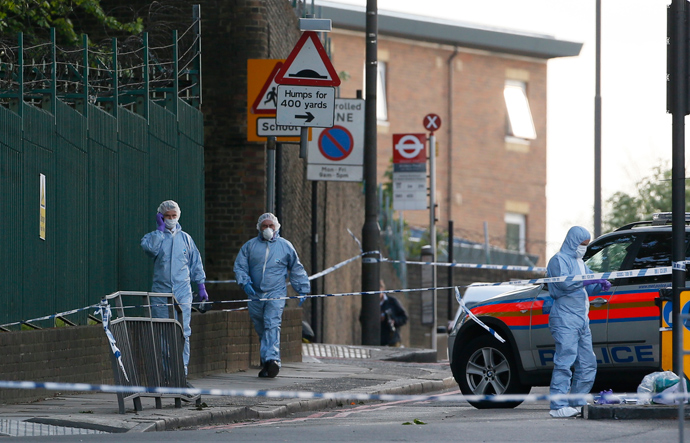 18:25 GMT: British Prime Minister David Cameron said the "barbaric attack" in London could be a terrorist incident, he said at a press conference in Paris after talks with French President Francois Hollande. Cameron characterized the attack as "appalling."
Cameron added: "We have had these sort of attacks before in our country, and we never buckle in the face of them."

18:20 GMT: Footage of a man carrying a meat cleaver with bloodstained hands at the scene of the attack has been broadcast on ITV News. The man made a several politically charged statements, telling the cameraman: "We swear by almighty Allah we will never stop fighting you."
18:17 GMT: British Prime Minister David Cameron has called an emergency meeting following the suspected terror attack in London.

18:15 GMT: A British government official speaking on condition of anonymity said that the details which had emerged so far pointed towards a "terrorist motivated attack."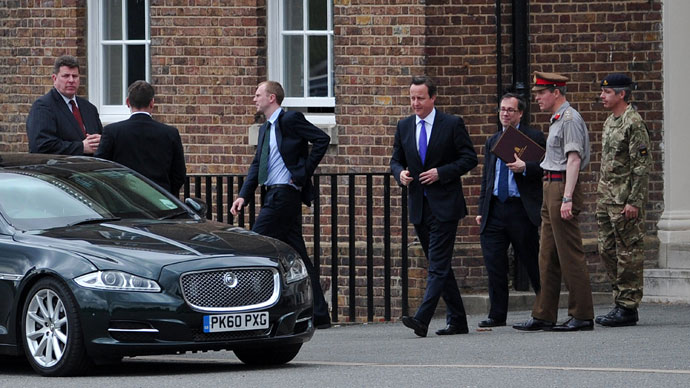 You can share this story on social media: