​Branded like cattle: Report shows hordes of victims, incl. kids, trafficked into UK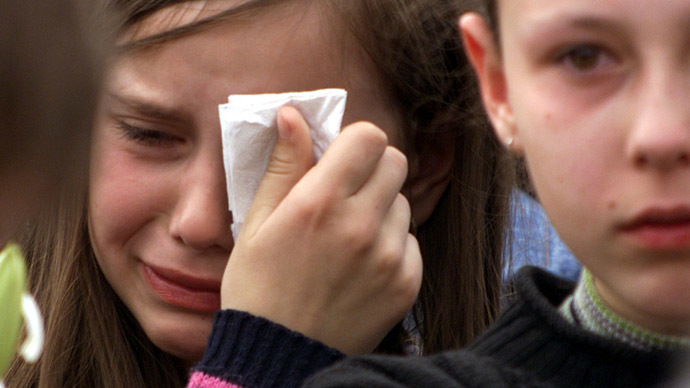 Nearly 3,000 people have been trafficked for slavery and exploitation in the UK, according to a new report produced from the National Crime Agency (NCA), with the internet being one of the biggest drivers in proliferating abuse.
According to the NCA, slavery from the UK has jumped by 22 percent since 2013, as traffickers use online dating, social media and job recruitment sites to lure their victims.
In some instances, victims were lured into trafficking rings under the pretense of meeting someone posing as a love interest online.
The report, published on Tuesday, identified 2,744 people, including over 600 children, being trafficked. More than 40 percent of the victims were involved in the sex trade, while many ended up being used for forced manual labor.
Around 19 percent of trafficking victims were involved in other forms of criminal exploitation.
The report shows that most of the victims being trafficked into the UK are from Eastern Europe, namely Romania, while those forced into manual labor mostly came from Poland. However, the victims identified by the NCA also had origins in Albania, Slovakia and Lithuania.
The NCA also said it had seen evidence of potential trafficking victims being marked with tattoos and insignias that may have been used for 'branding'.
Liam Vernon, head of the NCA's human trafficking team, called the branding act as a way to commodify victims in order to "buy and sell" them "like cattle."
"Human trafficking for the purposes of exploitation is an insidious and complex crime and much of the exploitation is hidden from view," he added.
Karen Bradley, the UK's modern slavery and organized crime minister, described modern slavery as an appalling crime which had "no place in today's society."
"Yet these figures show it is taking place here - often out of sight - in shops, fields, building sites and behind the curtains of ordinary streets" she added.
The NCA said that people had been brought to Britain in trafficking operations, having been bought for sums ranging from 200-6,000 pounds (US$324-$9720). In some cases, victims have been forced to hand over cash from sex work to their 'pimps' for sums up to 50,000 pounds ($81,000) to cover the costs of flights and travel documents.
The report comes in the wake of Britain's Modern Slavery Bill, which is currently undergoing review in Parliament. The bill, designed by UK Home Secretary Theresa May and published earlier this year, was designed to protect victims from being trafficked to and from the UK, and to provide more security to individuals who had been subject to sex trafficking.
You can share this story on social media: