British ISIS recruiter suspect arrested in Bangladesh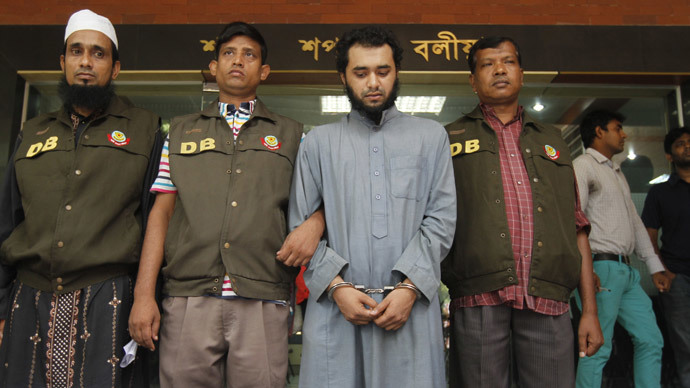 Bangladesh police have arrested a British citizen on Sunday suspected of recruiting volunteers to fight with Islamic State and Al-Nusra Front jihadists in Syria.
The suspect has been identified as Samiun Rahman, a 24-year-old resident of London.
He is believed to have arrived in Bangladesh six months ago to scout for potential recruits for both IS and the Al-Qaeda-linked al-Nusra Front.
"He has plans to recruit and send a team from Bangladesh to fight in Syria," Dhaka police spokesman Monirul Islam said at a news conference. "He also went to Morocco and Mauritius, but we are yet to know the reason behind his trips."
"During primary interrogation, he told police he was staying in Bangladesh to recruit jihadists for the IS and Nusra brigade," Dhaka metropolitan police said in a statement.
It is believed that Rahman travelled to Syria with a friend from Britain to join rebels in their fight against the Syrian President Bashar al-Assad. He became a member of the al-Nusra brigade and "took part in jihadi activities" in Syria between September and December 2013, according to police.
Monirul Islam said Rahman, alias Ibn Hamdan, planned to send Bangladeshi militants to Syria, and also wanted to set up an al-Qaida network inside Bangladesh and neighbouring Myanmar. Rahman had connected with a young man in Bangladesh via Facebook before arriving in the South Asian country, according to the police.
Rahman was born in the United Kingdom, but his parents were from a town northeast of Dhaka, Bangladesh's capital, police said. Rahman had been recruiting potential IS fighters in Dhaka and in Sylhet, in the north of the country, where his family reportedly has relatives.
A neighbour said Rahman had converted to Islam while serving a prison sentence, the Telegraph reports. She told the Telegraph: "Before he went to prison, he wasn't religious at all. He drank all the time and took drugs. He was completely antisocial and always arguing with his older brother about this and that."
The neighbour reportedly said Rahman started going to the mosque frequently and then he left for the Middle East. "I know his mum told one of the neighbours she was worried he'd gone to fight with ISIS. It must be terrible for her."
Bangladesh police arrested three alleged recruits last week, including the son of a retired judge and the other the son of a senior civil servant. The young men had been told they would travel to Syria via Turkey posing as followers of the Tabligh Jamaat, a moderate Islamic religious study group.
Last week, police arrested seven Islamic militants, who are suspected members of the banned militant organization Jamaatul Mujahideen Bangladesh.
The arrests come after Al-Qaeda chief Ayman al-Zawahiri announced earlier in September the creation of an Indian branch of his militant group to "raise the flag of jihad" across South Asia.
This comes amid growing concerns that radicalized UK citizens returning from Syria and Iraq could launch attacks on British soil. Prime Minister David Cameron has called British jihadists one of the biggest threats to national security.
Around 500 Britons have gone to Syria to join jihadist militant groups, according to official estimates. Security officials have said that around 250 British "extremist tourists" have already returned to the UK.