Full Monty: UK minister resigns after falling for journalist sexting sting op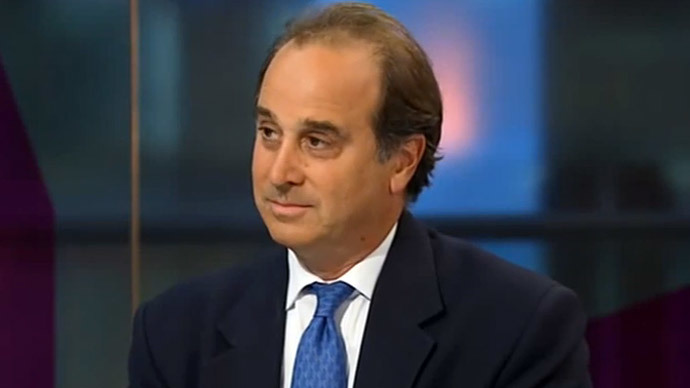 UK Prime Minister David Cameron's Conservative party has accepted the resignation of Brooks Newmark, Minister for Civil Society, who was caught sending explicit photos of himself over social media networks.
Newmark, a married father of five, was the victim of a sting operation in which he was duped by a male freelance reporter into believing he was communicating with a female Tory party activist. The journalist, who sold the story to the Sunday Mirror, was investigating allegations that some MPs were using social media sites to meet women.

Posing as "Sophie Wittams," the undercover reporter created a Twitter account, complete with a photograph of an attractive blonde woman, and began following several MPs. According to the Mirror, Newmark initiated conversation with "Sophie" without being prompted.

Aside from the reportedly more visual "X-rated" material, Newmark asked "Sophie" if she would like to meet him at this week's Conservative Party Conference and asked for a picture of her on Whatsapp "so I know what you look like when I meet you."

After being informed that the story would appear on Sunday, Newmark quickly announced his resignation.

"I have decided to resign as Minister for Civil Society, having been notified of a story to be published in a Sunday newspaper," the MP said in a statement.

"I would like to appeal for the privacy of my family to be respected at this time. I remain a loyal supporter of this government as its long-term economic plan continues to deliver for the British people."

A spokesman for Cameron's office said: "The Prime Minister has accepted Brooks Newmark's resignation from his role as Minister for Civil Society."
Even more embarrassing for the Tory-led government, which has been accused of overlooking qualified women to fill its ranks, is that Newmark has been a vocal advocate for greater female participation in British politics. On Friday, he posted on his Twitter account: "67% of girls 11-21 think there aren't enough female MPs."

US-born Newmark owns the investment firm Telesis Management. In 2009, his wealth was estimated at £3.2 million, the Mirror reported.

The scandal is just the latest setback for David Cameron, who this week is scheduled to make a push for his party's re-election bid. Just hours before Newmark announced his resignation, Tory MP Mark Reckless announced he would be defecting to UKIP, the anti-immigration, anti-EU party.
READ MORE: 'I'm joining UKIP!' Tory MP defects to join Farage's anti-EU crusade

Reckless is the second Conservative MP to defect in a month.

A former vice-chairman of the Tory party, MP Michael Fabricant, referring to Newmark's resignation and Reckless's unexpected move to UKIP, tweeted: "Well, the good news is that Brooks Newmark will not be defecting to UKIP."

Downing Street said Newmark had been replaced by a former aide to Chancellor George Osborne, Rob Wilson.