​'Not some outfit with a few Kalashnikovs': UK journalist held hostage by ISIS warns of another Vietnam in new video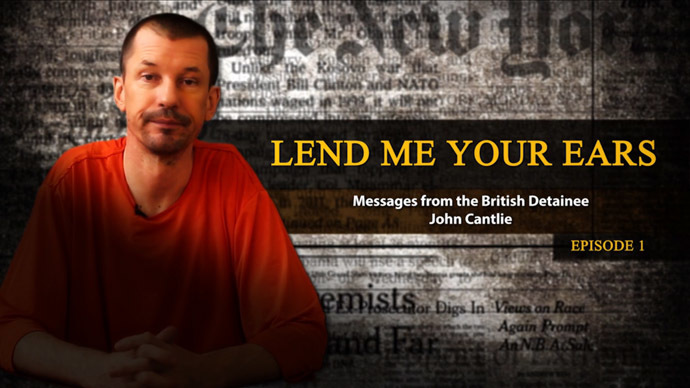 The Islamic State (ISIS, now known as IS) has released a new video in which its hostage, British journalist John Cantlie, criticizes US-led strikes against the extremist group in Syria and warned that western powers should have learnt from Vietnam.
The video, which is the second instalment of its "lecture series," appeared to have been recorded before strikes overnight launched by US warplanes and partners on IS targets in Syria. Cantlie says that Syrian president Assad has been "approached for permission to enter Syria."
He argues that US President Barack Obama is now launching a war he cannot win.
The British journalist calls himself a "long-term prisoner" of IS who has been abandoned by the UK government. Cantlie is seated at a table wearing an orange jumpsuit, in a reference to what Muslim prisoners at Guantánamo Bay are wearing – IS has beheaded three western hostages in recent weeks, who were also wearing orange jumpsuits.
"In this program, we'll see how the Western governments are hastily marching towards all-out war in Iraq and Syria without paying any heed to the lessons of the recent past," Cantlie says. "Not since Vietnam have we witnessed such a potential mess in the making."
"The president once called George Bush's Iraq conflict a 'dumb war' and couldn't wait to distance America from it when he came into power. Now he's being inextricably drawn back in," Cantlie says. He calls air strikes on IS "America's Gulf War 3."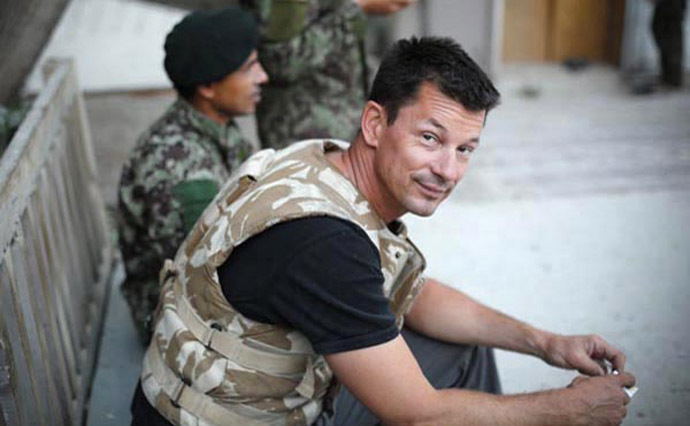 Cantlie adds: "Current estimates of 15,000 troops needed to fight the Islamic State are laughably low. The State has more mujahideen than this. This is not some undisciplined outfit with a few Kalashnikovs."
"It's all quite a circus," he says. "Air strikes, the creation of last-minute puppet governments, advisory teams on the ground, wooing previous enemies to join in [while a picture of Putin and Obama is shown] and trans-border incursions into a country that's been in civil war for the past three years, all the while underestimating the fighting strength and zeal of the opponent."
Cantlie worked as a freelance journalist for The Sunday Times of London and The Telegraph. He was traveling with US journalist James Foley when they were kidnapped in Syria close to the Turkish border in November 2012. Just a few months before his abduction, Cantlie was previously kidnapped in Syria with Dutch photojournalist Jeroen Oerlemans by a group of extremists and was held for a week before the Free Syrian Army secured his release.
The 5-minute, 55-second "lecture" is the second video showing Cantlie in less than a week. The first was released last Thursday.
Cantlie ends the video saying: "Join me again for the next program," indicating that this is the second installment in a series.
ISIS controls large swathes of territory across Syria and Iraq in its self-proclaimed "caliphate."
Britain, like the United States, has a strict policy against ransom payments for its citizens.
US military & partner nation forces have begun striking ISIL targets in Syria using mix of fighters, bombers and Tomahawk missiles.

— Rear Adm. John Kirby (@PentagonPresSec) September 23, 2014
The US, backed by warplanes from Saudi Arabia, Bahrain, Qatar, Jordan and the United Arab Emirates, launched dozens of air strikes against IS early Tuesday morning, killing at least 20 militants.
UK forces are not involved in airstrikes in Syria as of now, but British Prime Minister David Cameron has repeatedly said Britain has ruled nothing out except combat troops on the ground.
Since August, the US has launched almost 200 airstrikes against ISIS targets.
The Islamic State began beheading its British and American hostages publicly in August, starting with US journalists James Foley and Steven Sotloff, and then British aid worker David Haines, in what it said were reprisals for American air strikes on ISIS targets in Iraq. ISIS threatened that another man, British hostage Alan Henning, would be killed if PM David Cameron continued to support the fight against ISIS.