'End intimidation of journalists covering Scottish referendum' – trade union leader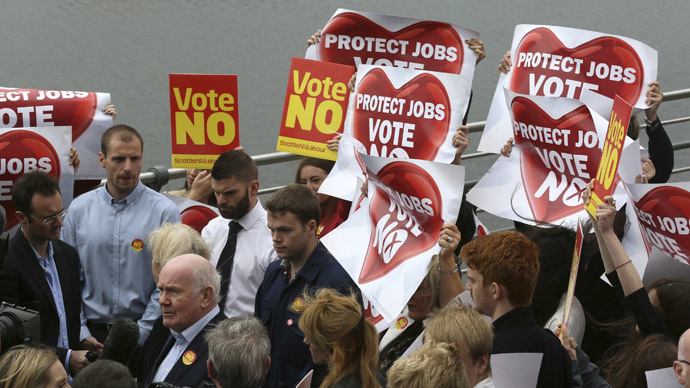 Journalists must be allowed to cover the Scottish referendum debate without fear of intimidation, a trade union leader has said. The remarks follow public outcry against the BBC's alleged anti-independence "bias."
Pro-independence Scots rallied outside the BBC's Glasgow headquarters on Sunday to protest the public broadcaster's allegedly slanted coverage of the referendum and to demand the resignation of political editor Nick Robinson.
The BBC attracted criticism after Robinson produced a report that wrongly claimed Salmond had ignored his question during a heated press conference in Edinburgh last week.
Paul Holleran, Scottish organizer for the National Union of Journalists (NUJ), said that while people had the right to protest, journalists in Edinburgh and Aberdeen had been "abused over the weekend when simply turning up to report on events organized by both sides" of the referendum campaign.
Others in the media had been "on the receiving end of a range of abuse and intolerance on social media, some of which has been logged and may be reported to the police," said Holleran.
"Robust debate is fine. Pointing out when journalists get their facts wrong is expected and welcomed. But NUJ members believe in a free press, a fair media, with journalists allowed to do their jobs free of intimidation," Holleran said.
"We hope the politicians and campaigners, and those who follow politics, take this on board and act with a bit of maturity and understanding of the role of journalists in holding those in power to account.
"What is totally unacceptable is the use of threats of violence. The NUJ has a history of acting on this type of behavior and Police Scotland has been supportive and has intervened when we have previously pursued such action," he added.
The BBC has defended its referendum coverage, calling it "rigorously impartial and in line with our guidelines on fairness and impartiality."
Nick Robinson also took to twitter to defend his integrity against claims he was a "liar."
Here's the BBC's response to those who've complained about my report about @AlexSalmond yesterday http://t.co/UFsLxo0MQG

— Nick Robinson (@bbcnickrobinson) September 12, 2014
Sack the bbc. #indyrefpic.twitter.com/5aR7Rl2jjO

— Indy News 2014 (@IndyNews2014) September 14, 2014
Scottish Secretary Alistair Carmichael claimed "Yes" campaigners were using "intimidation tactics" and called on First Minister Alex Salmond to act.
"You've got a mob outside Pacific Quay, the BBC headquarters in Glasgow, trying to influence their reporting of this referendum. These are serious, serious tactics to be adopted and really, the person who could stop it all and pull the heat out of this is Alex Salmond. But time after time, despite every invitation to do so, he just ignores it."
Salmond has accused the BBC of being "absolutely" biased for the Union. His Scottish National Party (SNP) has proposed replacing BBC Scotland with a Scottish Broadcasting Service after independence.
The Yes campaign, however, condemned the abuse of journalists and urged supporters of independence to dedicate their energy to securing a "Yes" vote.
"We are very clear that Yes supporters should spend the next few days campaigning for something, not protesting. All abuse is of course to be condemned, and we agree with Paul Holleran," a spokesman for Yes Scotland told the Press Association.
"The reality of this debate is that it is overwhelmingly a vibrant celebration of democracy, and we shouldn't allow the few badly behaved people on either side to mischaracterize an event that the people of Scotland are very proud of."
"Cowardly and irresponsible"
Commentator Gail Sheridan, wife of socialist independence campaigner Tommy Sheridan, told the Glasgow Evening Times that threats and intimidation were perpetrated on both sides of the referendum race.
"The term intimidation has been bandied about by the No campaign against the YESers," said Sheridan. "I have witnessed less than acceptable behavior from both sides.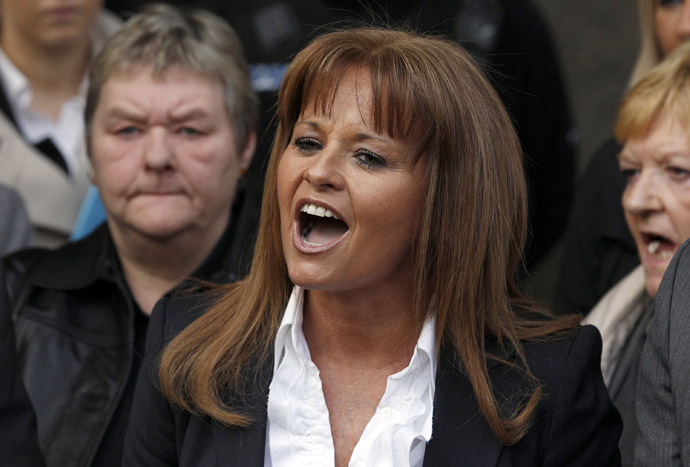 "Tommy, Nicola Sturgeon and other prominent Yes crusaders like Jim Sillars have been subjected to personal abuse in person and online. They have received death threats. But they haven't run off to the police and enlisted a sympathetic media for cheap coverage.
"Whatever the outcome on Thursday we all have to get on with our lives and live together. Bridges have to be mended. Abuse is unacceptable from any side."
Sheridan accused banks, companies and supermarket giants of being "cowardly and irresponsible" in their attempts to "to punish us if we democratically opt to become independent." She accused Prime Minister David Cameron of abetting their threats.
"That is nothing short of intimidation and makes a mockery of his talk of 'fairness'," she said.
"Going to face a bullet"
Meanwhile, Respect MP George Galloway claims he was told he was "going to face a bullet" by a heckler at a pro-union event, just weeks after he was attacked in London.
Galloway, who also presents his own TV show on RT, "Sputnik: Around the World with George Galloway," had been speaking at a rally held by the "No" campaign in Glasgow on Monday.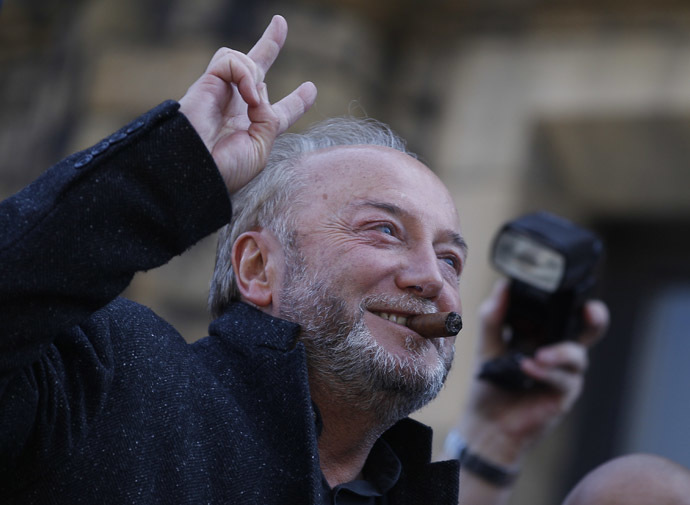 "In the last 30 minutes I have been told I am going to face a bullet," said Galloway. "I take these matters seriously because I am on painkilling drugs and a walking stick when I am not on stage following an attack in London."
As the referendum date approaches, abuse, vandalism and threats of violence have accompanied both the "Yes" and "No" campaigns.
All police leave has been canceled for Thursday's referendum, when 3.5 million Scots are expected to cast their votes. Polling staff have been warned to expect "confrontational behavior."
You can share this story on social media: