Al-Qaeda urged ISIS to release UK aid worker following his abduction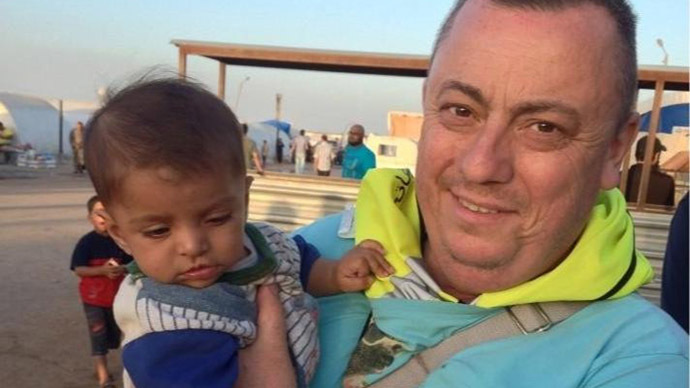 Al-Qaeda made an appeal to the Islamic State (IS, formerly ISIS) to release British hostage, Alan Henning, on the grounds he was an honest and upright aid worker, who genuinely tried to ease the plight of suffering Muslims, it has emerged.
The terrorist organization responsible for the September 11 attacks on the US thirteen years ago told IS its capture of the British aid volunteer, who had traveled four thousand miles to deliver vital medical equipment to Syrian refugees, was simply unacceptable.
Mr Henning, a taxi driver from Eccles in Salford, was so distressed by the plight of Muslims in the crisis-ridden state, he left his home last Christmas with his wife and two children to assist refugees in the Syrian town of Al-Dana.
A local emir or commander of Jabhaqt Al-Nusra – Al-Qaeda's Syrian affiliate, paid a visit to his then-allies in IS several days after Henning had been abducted. The emir reportedly challenged the IS militants who had captured Henning, arguing their actions were "wrong under Islamic law" and "counter-productive," a US journalist alleges.
Bilal Abdul Kareem, an American film-maker who has reported regularly from Syria, told The Independent that "anybody of any influence" – including Al-Qaeda – had made appeals to the Sunni militant terror group when it kidnapped Henning in December, warning such action would almost certainly backfire.
Kareem, who interviewed the Al-Qaeda-affiliated emir shortly after his confrontation with the jihadist militants said the commander strongly challenged IS at the time, warning: "You have no right to abduct him. You have no reason to detain him just because he is not Muslim."
The international community has been shocked and appalled in recent weeks, as two Western journalists and an aid worker were brutally beheaded by the Islamic terror group. In the Islamic State's latest film, a jihadist clad from head to toe in an all-too-familiar black robe stood ominously over the latest hostage wielding a blunt knife.
The masked man in the film, which appeared online on Saturday, claimed Haines was killed in retaliation to Prime Minister David Cameron's pledge to arm Kurdish forces battling against the Sunni militant terror group in Northern Iraq. At the close of the video, the IS militant warned Henning would be next.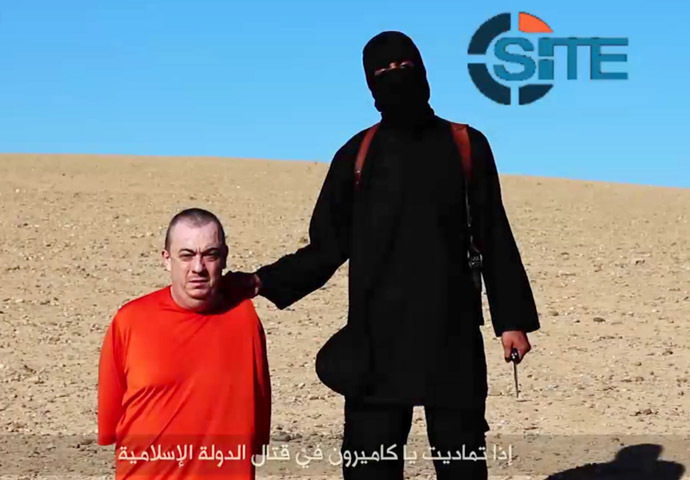 Henning was the only non-Muslim in a group of volunteers who had traveled to Syria in December with a UK Islamic charity. The charity had organized a fleet of ambulances to ferry medical supplies to Al-Dana, situated a few miles from the Turkish border. He was captured on Boxing Day last year.
Kareem claims he spoke directly with the emir from Jabhat al-Nusra after he had tried to reason with IS regarding Henning's fate. "Initially, he was confident that Henning would be released because that is what Isis was saying. But then Henning was removed from his prison in Al-Dana and never heard of again," he said.
Al-Qaeda's apparent attempt to save Henning's life follows numerous reports the terror group, once headed by Osama bin Laden, has been at odds with the way IS has rapidly annexed an area the size of Great Britain across Syria and Iraq.
Professor Peter Neumann, the director of the International Centre for the Study of Radicalization at King's College London, says Al-Qaeda has been extremely critical of the Islamic State in recent months. "Although the two groups' underlying ideology is still very similar, Al-Qaeda is much more strategic. For example, it is not opposed to beheadings but realizes it makes no sense to carry them out in the way that ISIS does because this tactic will lose them a lot of friends," he recently told The Independent.
Following the execution of British aid worker David Haines, who had been held hostage by IS jihadists since his abduction last year, Prime Minister David Cameron said he has an "iron determination" to destroy IS and pledged to "hunt down" Haines's killers.
But Britain's foreign secretary, Philip Hammond, admitted on Monday that UK special forces were struggling to rescue Henning because intelligence officials could not pinpoint exactly where the 47-year-old father of two was being detained.
You can share this story on social media: