Power play: UK leaders pledge further devolution if Scots vote 'No'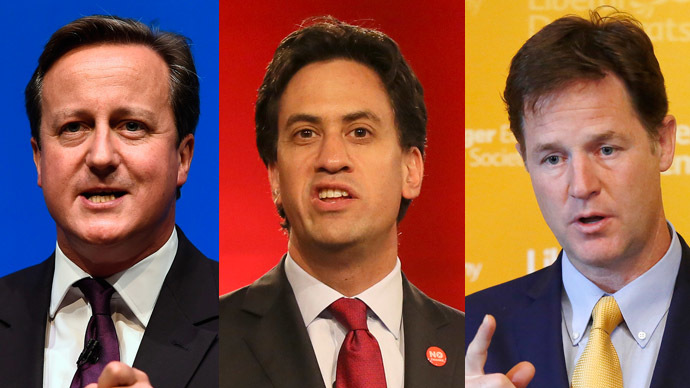 Westminster party leaders have signed a joint pledge promising "extensive new powers" for the Scottish parliament if voters reject independence in Thursday's referendum.
Prime Minister David Cameron, Deputy Prime Minister Nick Clegg and Labour party leader Ed Miliband offered their pledge in a letter published on the front page of Scotland's Daily Record newspaper on Tuesday.
Devolved powers would be "delivered by the process and to the timetable agreed" by the UK's three biggest parties in a deal brokered by Scottish-born former Prime Minister Gordon Brown.
The leaders sought to guarantee greater levels of state funding and to make the Scottish parliament a permanent institution.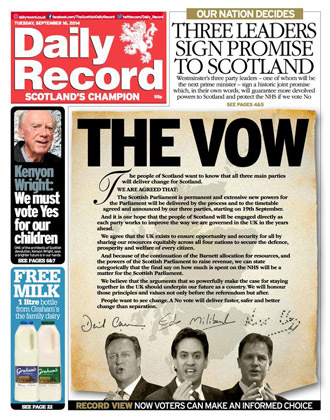 "The UK exists to ensure opportunity and security for all by sharing our resources equitably across all four nations," the letter reads.
"And because of the continuation of the Barnett allocation for resources and the powers of the Scottish parliament to raise revenue, we can state categorically that the final say on how much is spent on the NHS will be a matter for the Scottish parliament."
The Barnett equation is the system by which the wealth and resources of the UK is shared among its constituent nations.
'Project panic'
'Yes' campaigners say a vote for independence is the only way to guarantee Scotland secures the powers it needs.
"It's clear that 'project panic' is willing to say anything in the last few days of the campaign to try to halt the yes momentum – anything except what new powers, if any, they might be willing to offer," a spokesman for "Yes Scotland" told the Guardian.
"The reality is that the only way to guarantee Scotland gets all the powers we need to create jobs and protect our NHS is with a 'Yes' vote on Thursday – so that we can use our enormous wealth to create a better and fairer country."
Only a Yes vote gives us the powers we need to create more jobs and opportunities for people in Scotland #VoteYes#indyref

— Yes Scotland (@YesScotland) September 16, 2014
Speaking on the BBC's Newsnight, Cameron said more powers had always been part of his plan.
"I always said right from the start of this campaign, if Scotland voted 'No' to separation, the rest of the United Kingdom would say 'Yes' to further devolution," said Cameron.
"If Scotland wants more devolution – and I think Scotland should have more devolution – you have to answer the prior question 'Do you want to stay in the United Kingdom?'
On Thursday, Scotland votes - and the future of the UK is at stake. Please help keep our family of nations together: https://t.co/j0JkdjiK7f

— David Cameron (@David_Cameron) September 15, 2014
"And of course that wasn't just my view; that was the view of the leaders of other United Kingdom parties who all thought it was important. Let's settle the question of separation and then look at devolution."
Meanwhile, it has emerged that Britain's banks have been quietly moving millions of pounds worth of banknotes to Scotland over the last week in preparation for a possible run on Scottish banks in the event of a 'Yes' vote.
Brilliant rally in Edinburgh this morning with @DAlexanderMP. Vote No on Thursday to protect Scottish jobs #indyrefpic.twitter.com/NZlu4vAJNA

— Better Together (@UK_Together) September 16, 2014
ATMs could run out of cash on Friday if panicked depositors seek to move their money to English banks, sources told the Independent.
So far, there have been no reports of increased withdrawals from Scottish bank accounts. The daily added, however, that any panic would be unfounded, as the Bank of England has pledged to stand behind all accounts for at least 18 months after the referendum.
Poll accuracy 'danger'
A leading pollster has admitted that opinion polls showing the 'Yes' and 'No' campaigns neck and neck could be inaccurate.
The latest poll of polls, the average of the last six surveys, gives the 'No' campaign a narrow 51 to 49 percent lead.
Martin Boon, director of polling company ICM, told BBC Radio Four the reliance by most companies on relatively small online panels made the final result difficult to predict.
"We are dependent on a pot of people which is defined, but we don't know how big it is and in my view it won't be big enough. In that lies a real danger for the accuracy of the polls in advance of this referendum," said Boon.
Polls may be underestimating a big surge in support for independence among people who rarely vote, underestimating the strength of the 'Yes' vote. They may also be blind to significant numbers of 'shy Nos' – people reluctant to tell pollsters they oppose independence.
"In Scotland now, I believe it could be true to a limited degree there is a kind of patriotism spiral of silence going on," said Boon. "Perhaps some people think it is unpatriotic to say they are a 'No' voter - maybe they are inclined to silence."
You can share this story on social media: