UK to send 1,000 troops for NATO Spearhead Force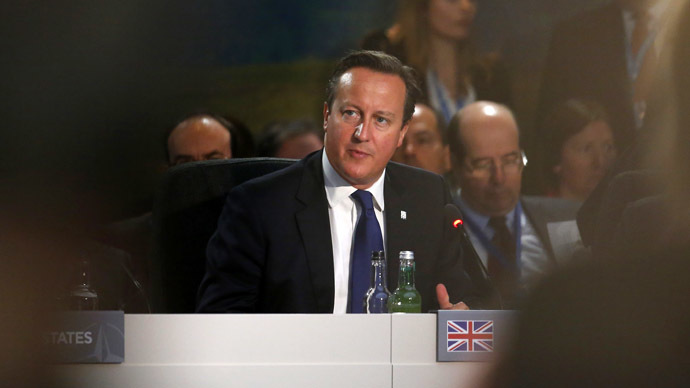 The UK will contribute 1,000 personnel to a new multi-national rapid reaction force, Prime Minister David Cameron has said. He suggested the NATO "multinational spearhead force" could be deployed anywhere in two to five days.
The British prime minister announced the force, to be based in Eastern Europe, will be launched in response to alleged Russian military involvement in Ukraine and instability in the Middle East.
"To the east, Russia is ripping up the rulebook with its annexation of Crimea and its troops on the sovereign soil of Ukraine. To the south, an arc of instability bends from North Africa to the Middle East," Cameron said at the two-day NATO summit in south Wales.
"We must be able to act more swiftly," the British Prime Minister said. "I hope that today we can agree a multinational spearhead force deployable anywhere in the world in just two to five days."
Cameron also spoke about a British contribution of 3,500 troops – but this was a reference not to the spearhead group but to British forces already engaged in exercises in the Baltics and elsewhere in Eastern Europe, Downing Street confirmed.
There are currently 1,500 British troops involved in exercises in Baltic countries and an extra 2,000 will be deployed over the next two years.
The new rapid force would be headquartered in Poland, with bases across "the Eastern allies." It is likely to form the backbone of the new Readiness Action Plan (RAP), which NATO is expected to finalize on Friday. NATO officials said the force could be used anywhere else in the world in a matter of days.
The Baltic States and Romania have already offered to host the force, whose exact numbers have not been agreed upon yet.
The Baltic States have been among the most vocal advocates of NATO strengthening its presence in the region, but the organization is bound by a 1997 agreement with Russia, which bars it from placing permanent bases in Lithuania, Latvia or Estonia. This can be circumvented by staging constant rotations of "exercises."
The new force will be the vanguard of the existing NATO Response Force (NRF) that began operations a decade ago. The 25,000-strong NRF can take up to a month to deploy, reducing its ability to counter any military incursion.
The announcement came while peace talks involving Russia and Ukraine were held in Minsk, the Belarusian capital. The Ukrainian government and pro-Russia separatist leaders signed a ceasefire deal on Friday.
UK's Foreign Secretary Philip Hammond remained skeptical about a ceasefire. He told BBC News, "If there is a ceasefire, if it is signed and if it is then implemented, we can then look at lifting sanctions. But there is a great degree of skepticism about whether this action will materialize, whether the ceasefire will be real."
Cameron also urged NATO members to increase their defence spending to 2 percent of GDP, of which 20 percent should be spent on modern equipment, which is "as important as the overall amount of money" spent.
If NATO wishes to extend its security, the prime minister said, it should export it to allies in Georgia, Jordan and Iraq, in what he described as "the first step in a long-term commitment to help our friends and allies."
You can share this story on social media: