NATO to give Ukraine 15mn euros, lethal and non-lethal military supplies from members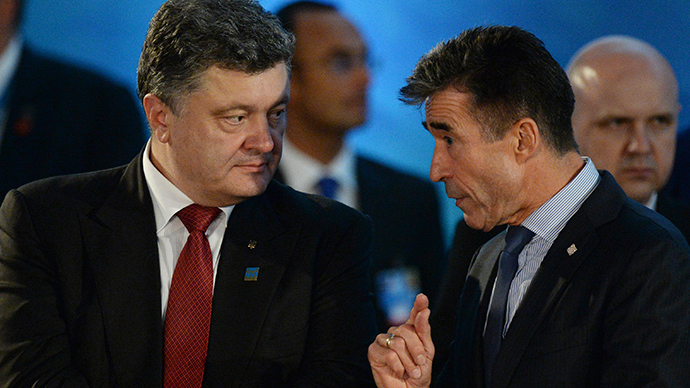 NATO has pledged some 15 million euros to Ukraine, with several of the bloc's member states pledging separate bilateral support and military cooperation, involving medical supplies as well as lethal and nonlethal military equipment.
NATO Secretary General Anders Fogh Rasmussen announced a "comprehensive and tailored package of measures," including the donation of 15 million euros "through NATO" at a joint news conference with the Ukrainian president on Thursday, the first day of the NATO summit in Wales.
He said that this would be in addition to other measures such as advising Ukraine on defense reforms and further bilateral aid.
"This is about improvement of logistics, the improvement of command and control, the improvement of communications, and cyber defense," Ukrainian President Petro Poroshenko said.
Poroshenko claimed that some of the NATO member states said during bilateral consultations they are ready to supply Ukraine with lethal and non-lethal arms, including "high precision weapons," as well as with medical equipment. No official confirmation of the agreement on provision of such weapons has been made by NATO or any of its states.
Poroshenko made careful statements regarding Ukraine's potential induction into NATO, saying that membership criteria need to be met first.
"The new parliamentary election will help us a lot to accelerate the reform process," Poroshenko said, adding that the most significant reforms to be made would be to the economy, and ensuring the rule of law and anti-corruption.
He said that he had some optimism for Friday's peace talks in Minsk, Belarus, after which a ceasefire is expected to commence.
Rasmussen expressed caution: "If recent statements from President Putin represent a genuine effort to find a political solution, I would welcome it," Rasmussen told reporters. He said that recent offers had been a "smokescreen" for further destabilization on the ground.
NATO and Ukraine have also created four trust funds dedicated to military reform and the modernization of Ukrainian army, Itar-Tass quoted a diplomatic source as saying.
"This decision was approved at the meeting of the NATO-Ukraine Commission, contributions to the funds have already been confirmed by more than 10 countries," the source said.
The money will go towards things such as logistics, command and control, cyber defense, medicine and rehabilitation for the army's wounded.
Meanwhile, on the sidelines of the NATO summit, US Defense Secretary Chuck Hagel promised further support for Ukraine's military action during a meeting with his Ukrainian counterpart, Valeriy Galetey.
"Hagel today praised the actions of the Ukrainian armed forces in their current engagements in eastern Ukraine and pledged continued US support for their efforts," Pentagon Press Secretary Navy Rear Adm. John Kirby said in a statement.
In return, Galetey thanked the US for its non-lethal aid, worth millions of dollars.
You can share this story on social media: