​UK doesn't need Assad's permission to launch airstrikes in Syria – Cameron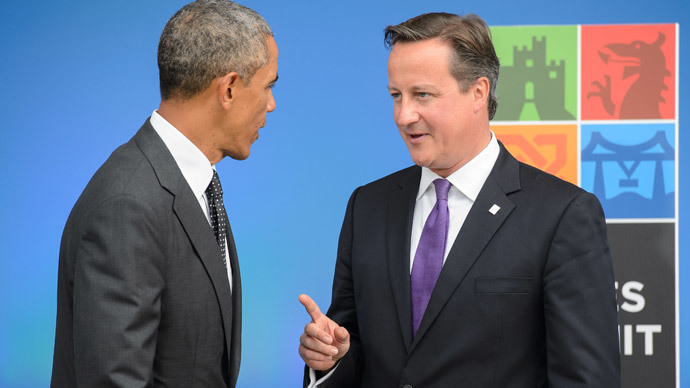 Britain could conduct airstrikes in Syrian regions captured by Islamic State (IS, formerly ISIS) militants, UK Prime Minister David Cameron has said. He added that he did not need permission from Syrian President Bashar Assad.
Speaking at the start of the NATO summit in Wales on Thursday, Cameron said he did not recognize Assad as a legitimate leader, labeling him as "part of the problem."
"We have got to understand that Assad has been part of the creation of IS, rather than part of its answer," he said.
The statement seemingly rejects proposals made earlier this month by MPs suggesting that the UK temporarily ally with Assad to put down the militant Islamist group, who have allegedly killed thousands in Syria and Iraq.
Cameron also urged NATO countries to join the UK and the United States to tackle IS militants. Writing in The Times in a joint article with US President Barack Obama, Cameron said that the West could not be "cowed by barbaric killers."
'Those who believe in stepping back and adopting an isolationist approach misunderstand the nature of security in the 21st century," they added.
Additionally, Cameron said the West often found itself in 'moral quagmires' by taking the position that 'my enemy's enemy is my friend.'
"I don't think it's that complicated because obviously the Iraqi government is a legitimate government ... whereas President Assad has committed war crimes on his own people and is therefore illegitimate."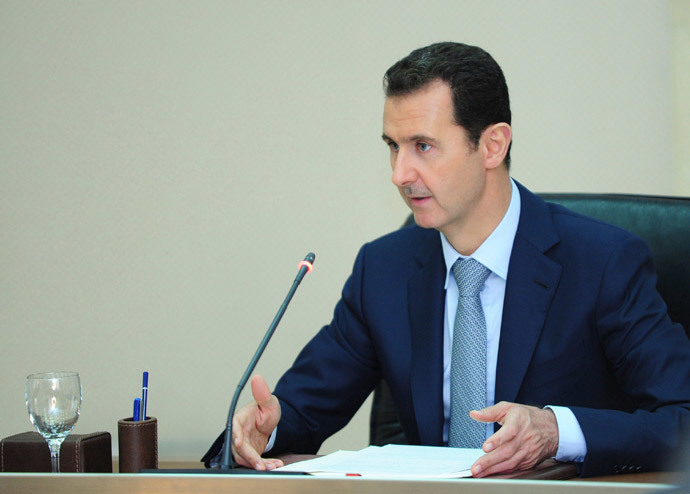 Cameron also defended the need for Western intervention, though he acknowledged that it needed to be aligned to the aims and goals of regional forces currently fighting IS militants.
"I think, in the past sometimes people have seen Western intervention as something that goes right over the heads of the local people fighting these horrors and over the heads of the regional powers and neighbors," he said.
Cameron continued that helping those fighting on the ground, including Kurds and Iraqis, should be the primary focus. He also asked how "regional players" and countries could be brought in to help "squeeze the problem at the source."
The prime minister has come under greater pressure to act in Iraq, following the identification of a British hostage in an IS social media video, entitled "a second message to America", in which American journalist Steven Sotloff was beheaded. Sotloff's murderer, who may have also murdered American photojournalist James Foley, is believed to be a British man from South London.
The hostage is believed to be David Haines, an aid worker who has 16 years' experience working for humanitarian NGOs.
Following the video's publication, Cameron told MPs in the House of Commons that Britain will "never give into terrorism".
''The only way to defeat it is to stand firm and to send a very straightforward message - a country like ours will not be cowed by these barbaric killers," he said, adding: "We will be more forthright in the defense of the values - liberty under the rule of law, freedom, democracy - that we hold dear, and I'm sure a united message to that effect will go forward from this House today.'
Both Cameron and Labour leader Ed Miliband have agreed that more resources are needed to support Syrian and Iraqi forces fighting IS, as well as providing humanitarian aid and surveillance materials. Former defense secretary Liam Fox has also expressed support for conducting airstrikes in Syria, saying that it was necessary to diminish the militia groups' "military capability" so that "countries who are our allies are able to deal with them more effectively on their own."
However, despite a new Yougov poll showing that 47 percent of British people back airstrikes in Syria, senior government figures have not made any public announcement to launch airstrikes, or engage in military combat in the region.
Britain is set to directly supply Kurdish forces battling against IS militants in Iraq with arms, as a more comprehensive NATO-run military operation in the region becomes more likely.
One of the last Western establishments to officially arm the Kurds, the UK government is now following the lead of Italy, France, the US, Australia and several smaller states. Cameron has stressed, however, Downing Street will not channel military wares to Iraq until the besieged state has formed a new government, due to be put in place on September 11.
You can share this story on social media: