British support for military action against ISIS grows - poll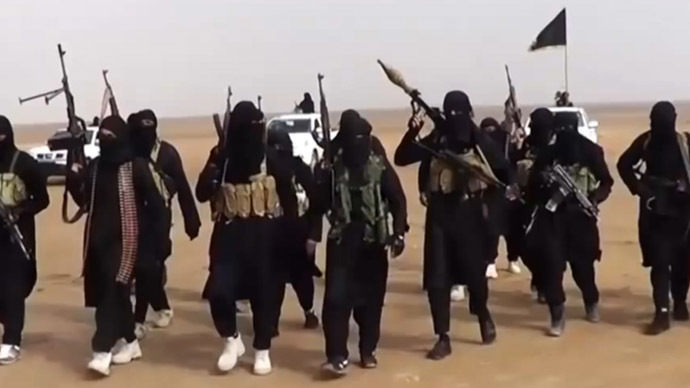 An overwhelming majority of British people said Britain should take military action against Islamic State (IS, formerly ISIS) militants, a Sky News poll showed. This comes as IS warned that a British hostage could be the next victim.
In the Twitter poll released on Wednesday, 81 percent said Britain should take military action, and just 19 percent voted no.
A video, entitled "A second message to America," was posted online by IS on Tuesday allegedly showing the beheading of the American journalist Steven Sotloff. The footage shows a masked militant speaking with an English accent. His voice is similar to that of the man who appeared in a video depicting the beheading of American journalist James Foley two weeks ago.
In the latest video, the IS militant said a British hostage would be killed unless the US stopped air strikes. Relatives of the hostage have asked the media not to release his name.
Foreign Secretary Philip Hammond said the UK government has been aware that IS had a British hostage for "some time."
We asked whether you thought Britain should take military action against IS militants. 81% said yes, 19% said no. pic.twitter.com/4i3odcqyy3

— Sky News (@SkyNews) September 3, 2014
In contrast to Sky News's poll, a poll by the Independent released on Tuesday showed that only one in three people supports Britain launching air strikes against IS in Iraq and Syria.
In the survey, only 35 percent of people said that Britain should take part in air strikes, while 50 percent were against airstrikes. In the poll there was even stronger opposition to sending ground forces, which Cameron has ruled out. Only 20 percent of the public agree that the UK should send armed forces on the ground, while 69 percent disagree.
The survey, however, was released before IS released the Sotloff video and threatened to behead the British hostage.
On Wednesday, Foreign Secretary Phillip Hammond said the UK will look at "every possible option" to protect the British hostage being held by the Islamic State.
"It doesn't make any difference at all to our strategic planning," Hammond told reporters. "If we judge that airstrikes could be beneficial ... then we will certainly consider them. But we have made no decision to do so at the moment."
"You wouldn't expect me to discuss various options that we will be considering, but I can assure you that we will look at every possible option to protect this person," he added, referring to the British hostage being held by the militants.
Britain has not taken military action against IS so far, but earlier this week David Cameron refused to rule out the possibility.
David Cameron chaired a Cobra committee on the UK's response to the lastest threat from Islamic State on Wednesday.
The UK "will not waver" in its aim to defeat terrorism, Cameron said. Speaking at Prime Minister's Questions on Wednesday, Cameron told MPs that "this country will never give in to terrorism and our opposition to Isil (IS) will continue at home and abroad."
A country like ours will not be cowed by barbaric killers. We have faced down threats like this before and we will do so again.

— David Cameron (@David_Cameron) September 3, 2014
BBC assistant political editor Norman Smith said that although Cameron did not explicitly favor or refuse military action, he was "perhaps suggesting that Britain would be prepared to look at joining in with other countries, particularly in the region, and consider air strikes."
Other UK politicians also voiced their opinion on whether the UK should now consider military action against the Islamic State terrorist group.
Defence Secretary Michael Fallon said if the UK did not "act to stem the onslaught of this exceptionally dangerous terrorist movement, it will only grow stronger until it can target us on the streets of Britain."
Former Foreign Secretary Jack Straw said his "instinct" was for the UK to join US air strikes in Iraq. "We should learn from the past, but not be paralyzed by it," Straw told BBC Radio 4's Today Program, referring to the previous conflict in Iraq.
Home Secretary Theresa May called the Islamic State a "group of murderous psychopaths." She also said the government would continue to take steps to adopt powers that would protect national security.
The US launched more than 120 air strikes in Iraq in August to help Kurdish forces stop the advance of IS militants.
Meanwhile, David Cameron has urged people not to travel to Iraq and Syria, amid reports that British Kurds have joined the fight IS militants.
British Kurds traveled from the UK to join Kurdish forces in Iraq and Syria to help fight against IS militants, the BBC reported.
The Prime Minister said, "We want to limit the number of people traveling from here to go to these dangerous parts of the world, whatever they are planning to do."
The UK government previously said around 500 Britons had travelled to fight in Syria or Iraq but there are no estimates for the number of Kurds who have gone to fight.
You can share this story on social media: