Jaw dropping award: GQ names Tony Blair 'philanthropist of the year'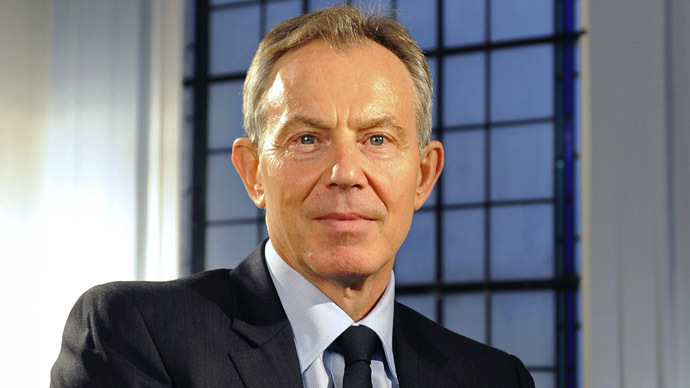 GQ magazine's decision to honor former UK Prime Minister, Tony Blair, with its "philanthropist of the year" award has bewildered and angered UK politicians, celebrities and citizens.
Blair was given the honor at the magazine's Man of the Year Awards on Monday night at an extravagant dinner held in London's Royal Opera House. Many A-list celebrities were in attendance, including musicians, designers and actors.
The former PM and UN Middle East peace envoy received the award in recognition of his "tireless charitable work."
The magazine's editor praised Blair for his noble deeds throughout the globe, particularly his schemes for voluntary sports coaching, distributing mosquito nets, "reconciling three Abrahamic faiths" and working alongside governments in Rwanda, Liberia, Sierra Leone, Nigeria, Guinea, Ethiopia, and Senegal.
Philanthropist Of The Year goes to Tony Blair: http://t.co/7Pq06sqFkb#GQAwardspic.twitter.com/vmQhpo0IAd

— British GQ (@BritishGQ) September 2, 2014
Upon receipt of the accolade, Blair reportedly dedicated it to those who work for and with his charities. "I feel the pulse of progress beating a little harder," he said.
The former Labour leader's philanthropic award has prompted widespread disbelief amongst celebrities and UK citizens, many of whom have taken to Twitter to vent their confusion and disgust. Several social media users were particularly sarcastic, noting that Kim Kardashian was also honored by the magazine as 'Woman of the Year'.
Tony Blair "philanthropist of year"? http://t.co/fPhmJVb00C Should be "PR for autocrats" award http://t.co/ZUYfB6LnMFpic.twitter.com/04ojxVvPI0

— Andrew Stroehlein (@astroehlein) September 3, 2014
Sports broadcaster and former UK footballer, Gary Lineker tweeted: 'Apparently, Tony Blair has won GQ's philanthropist of the year award. Finally these awards have grasped irony!'
The former prime minister's GQ title was condemned by Labour MP, John Mann, who told the MailOnline, "it sends the wrong message. This sort of award should go to an unsung hero who has given up their time for charity."
Tory MP Charlie Elphicke also sharply criticized GQ magazine's decision to honor Blair, saying "It is jaw dropping that he should be given this award given his involvement in spinning the alleged brutal massacre in Kazakhstan."
Reflecting on the magazine's decision, Jack Moore, said on Twitter, "GQ giving Philanthropist of the Year to Tony Blair is like giving Barack Obama a Nobel Peace [Prize]…oh."
I'm really struggling with this one. Tony Blair gets Philanthropist award for what exactly? donating bombs to women & kids in Iraq?

— Farnaz Khan (@farnazkhan) September 3, 2014
As part of his Middle East peace envoy role, Blair recently advised Kazakhstan's autocratic president, Nursultan Nazarbeyev, on how to manage his public image after police killed 15 unarmed protestors. Blair's letter to Nazarbeyev, published in the Sunday Telegraph, was condemned by critics.
In August, the former PM's close links to the Egyptian government also came under scrutiny after it was reported Egyptian authorities were accused of complicity in the systematic murder of over 1,000 protestors. A 12-month investigation, conducted by Human Rights Watch (HRW), found Egyptian security forces "systematically and deliberately" killed hundreds of unarmed civilians who had gathered in Cairo's Rabaa al-Adawiya Square in 2013 to protest former president Mohamed Morsi's ousting.
HRW denounced the massacre, saying it potentially "amounted to crimes against humanity."
As Middle East peace envoy, Blair endorsed the coup against Morsi and openly supports Egypt's new government. He is also an unofficial economic advisor to Sisi.
When the day starts with "Tony Blair, Philanthropist of the Year!", going back to bed seems a sensible option

— Alex Deane (@ajcdeane) September 3, 2014
GQ awards last night- Tony Blair got philanthropist of the year Kim Kardashian got woman of the year Mickey Mouse awards given to clowns

— samira sawlani (@samirasawlani) September 3, 2014
This must be some sort of joke?... "Tony Blair wins GQ Philanthropist of the Year: http://t.co/QghsZMrLox" @georgegalloway

— Respect Party (@ukrespectparty) September 2, 2014
Tony Blair has won Philanthropist of the Year at the GQ Awards, seeing off tough competition from Kim Jong Un, and Abu Bakr al-Baghdadi.

— James Martin (@Pundamentalism) September 2, 2014
Apparently, Tony Blair has won GQ's philanthropist of the year award. Finally these awards have grasped irony!

— Gary Lineker (@GaryLineker) September 2, 2014
I'm really struggling with this one. Tony Blair gets Philanthropist award for what exactly? donating bombs to women & kids in Iraq?

— Farnaz Khan (@farnazkhan) September 3, 2014