'We may consider airstrike': UK confirms ISIS hostage video authentic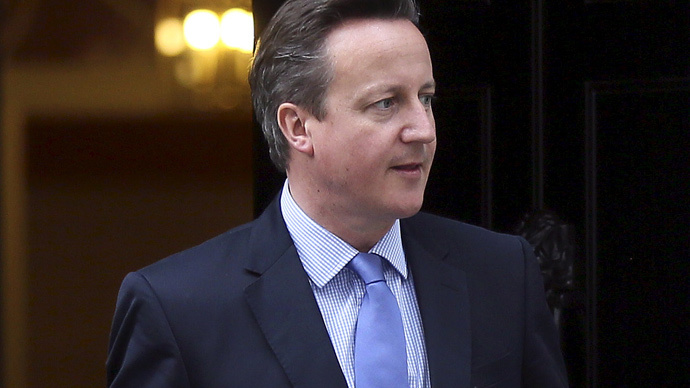 ​UK PM David Cameron is weighing Britain's options following the latest video from the Islamic State (IS, formerly ISIS/ISIL) which reportedly shows the beheading of a US journalist, followed by a pledge that a Briton will be next.
British Foreign Secretary Philip Hammond said on Wednesday Islamic State's seizure of a British hostage did not increase the likelihood of airstrikes on the militants, but said the option was still on the table.
"It doesn't make any difference at all to our strategic planning," Hammond told reporters. "If we judge that air strikes could be beneficial ... then we will certainly consider them. But we have made no decision to do so at the moment."
Hammond gave his comments following a meeting of the government's emergency response committee, which determined that the video was genuine.
He said the IS militant who appeared in the Sotloff video appeared to be the same individual with an apparently British accent who appeared in the video of the beheading of American journalist James Foley.
"You wouldn't expect me to discuss various options that we will be considering but I can assure you that we will look at every possible option to protect this person," Hammond noted, referring to the British hostage.
The video, entitled 'A Second Message to America', opens with the alleged British militant, known as 'Jihadi John,' announcing "I'm back." The extremist stands next to Sotloff, a 31-year-old freelance journalist from Florida who was kidnapped last year.
Second American journalist beheaded by ISIS terrorists
The for-profit monitoring agency SITE Intelligence group, founded in 2002 by Rita Katz and Josh Devon, purportedly has seen a video of Steven Sotloff being killed by an Islamic State militant. Like the Foley video, the beheading scene has been left out.
While brandishing a knife in his left hand, the militant addresses Barack Obama directly, saying that the US president was responsible for Sotloff's death because of his "insistence on continuing your bombings … despite our serious warnings."
Sotloff, wearing a bright-orange jumpsuit similar to the ones worn by detainees at the Guantanamo Bay detention facility, reads out a message that condemns America's foreign policy.
"I am Steven Joel Sotloff. I'm sure you know exactly who I am by now and why I am appearing before you. And now this time for my message.
"Obama, your foreign policy of intervention in Iraq was supposed to be for the preservation of American lives and interests, so why is it that I am paying the price of your interference with my life? Am I not an American citizen," Sotloff says.
US National Security Council spokesperson Caitlin Hayden said US officials have confirmed the authenticity of the video.
"The US Intelligence Community has analyzed the recently released video showing U.S. citizen Steven Sotloff and has reached the judgment that it is authentic," Hayden said in a statement.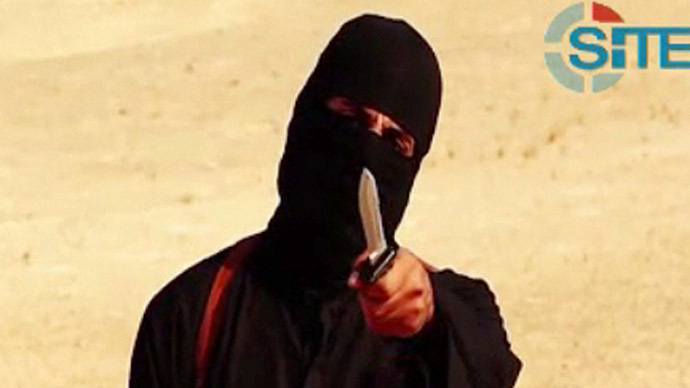 As the video draws to a close, the alleged British hostage is shown on his knees. His identity has not yet been released by the Foreign Office, although it confirmed he is a father in his mid-40s who works in logistics.
A relative told the Guardian last night, "We're not allowed to say anything."
Sotloff also held Israeli citizenship, the foreign ministry in Jerusalem said on Wednesday. Apparently the information was withheld for fear of placing Sotloff's at greater risk.
"We refused to acknowledge any relationship with him in case it was dangerous for him," Avi Hoffman, editor of the Jerusalem Report magazine, which had published Sotloff's work, as quoted by Reuters.
In what appears to be a message to UK Prime Minister David Cameron, the IS member says, "We take this opportunity to warn those governments that enter this evil alliance of America against the Islamic State to back off and leave our people alone."
"As I have said consistently over the last few weeks, ISIL terrorists speak for no religion. They threaten Syrians, Iraqis, Americans and British people alike, and make no distinction between Muslims, Christians or any other faith.
"We have already been working hard to keep British people safe and we will continue to do all we can to protect our country and our people from these barbaric terrorists."
The British PM will determine the government's response following an emergency meeting of COBRA, the cabinet office briefing room, on Wednesday morning. Government sources told the Guardian that Cameron had known of the threat to the British journalist's life for many months so "it will not change his short-term calculations."
However, the situation may place additional pressure on the UK to join US aerial attacks against IS forces in northern Iraq.
The Briton was taken hostage in March last year near the Atmeh refugee camp near the Turkish border.
The latest IS video appeared within days of US airstrikes around the Iraqi town of Amirli, which delivered IS fighters a setback in the region, and on the same day that US forces attacked the extremist Al-Shabaab group in Somalia.
You can share this story on social media: