Hoax terror attack warning for London Tube spreads on social media
Published time: 1 Sep, 2014 10:18
Edited time: 1 Sep, 2014 11:18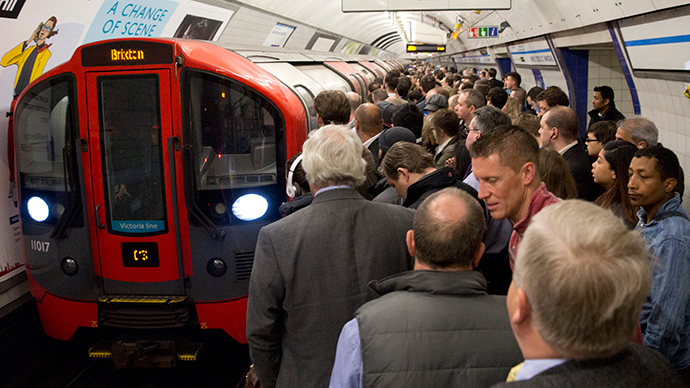 Warnings of an imminent terrorist attack on London's Tube network were a 'hoax', say police. This follows the raising of the UK's terror threat level from 'substantial' to 'severe' on Friday in response to the domestic threat posed by ISIS.
Circulated by text and social media over the weekend, the message claimed to cite leaked information suggesting police were readying themselves for a substantial terrorist attack on the London Underground, which was targeted in the 7/7 attacks of 2005.
The message read, "They think there's a terror threat and that it will happen on the tubes tomorrow around the west end area [sic]. So don't go travelling on tubes!! It's better to be safe than sorry. Please share."
It continued: "every single police officer in the met has been called into work from 4am onwards."
A Metropolitan Police spokesman reassured the public that the message was a "definite hoax" and said that it has been in circulation since Friday, meaning the attack predicted would have occurred on Saturday.
Social media contains lots of rumours regarding threats to tube network tomorrow. There is no specific threat so keep calm & carry on. 1/2

— Ch Supt Paul Brogden (@BTP_B_Division) August 31, 2014
"These rumors are not uncommon," he added. "The only thing that gives them any credence is people re-tweeting them and circulating them."
Prime Minister David Cameron, who will make a statement in the Commons on Monday detailing new anti-terror legislation, said on Friday that the Islamic State (IS, formerly ISIS/ISIL) poses a "greater and deeper threat to our security than we've seen before."
Rumour control: The "alert" doing the rounds on social about all Met officers being called in for 4am tomorrow is a hoax.

— Sgt Nathan Shickle (@MPSBatterseaSgt) August 31, 2014
Britain is thought to be facing an acute risk of such a terror attack in light of ongoing bloodshed in Iraq and Syria. The 'severe' threat level is the second most serious.
The upgraded alert was put in place by the Joint Terrorism Analysis Centre (JTAC) – a subset of Britain's Security Service (MI5) dedicated to analyzing intelligence relating to global terrorism. According to MI5, Britain has not faced such a serious risk of terrorist attacks since 2011.
In a public statement, Home Secretary Theresa May said the "increase in the threat level is related to developments in Syria and Iraq where terrorist groups are planning attacks against the West."
"Some of these plots are likely to involve foreign fighters who have traveled there from the UK and Europe to take part in those conflicts", she added.
While a minority of Britons shared the hoax message over the weekend, many more took to social media to make light of the government's heightened warnings, devising their own threat levels.
Threat Level: Giant Royal Baby pic.twitter.com/oyinwehTkl

— General Boles (@GeneralBoles) August 30, 2014
User @bingowings14 said:"Threat level. Hoping for a knee jerk reaction from the Govt. Might buy wine while I'm waiting."
Meanwhile, @mattmaloney tweeted: "Threat Level: Nominated for the Ice Bucket Challenge."
Threat level: pic.twitter.com/mWVVLBq8yx

— Amy (@mongbow) August 29, 2014
Comedian Al Murray reacted to the British response approvingly.
"Judging by the response to the threat level being raised Twitter is populated by people who'd dance to an air raid siren. Well done all," he said.