Nearly two-thirds of UK adults afraid to help lost kids - study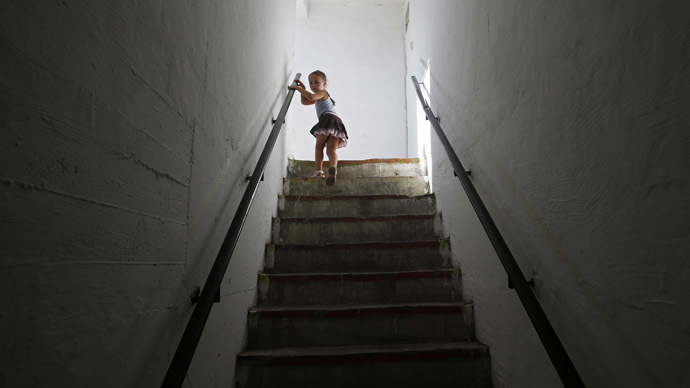 Almost two out of three British adults would hesitate to help a lost child because they fear being falsely accused of something sinister, a new study reveals.
Conducted by the NSPCC, the research shows 64 percent of adults throughout the UK admitted they would harbor concern that their intentions might be misconstrued if they intervened and tried to help a youngster that appeared to be lost.
Roughly 45 percent of the 2,899 participants in the survey said they would remain close and observe such a child, while 47 percent said they would directly approach the child. Over a third of respondents confirmed they had experienced such a scenario at one point in their life.
A fear of being accused of attempting to commit wrongdoing or of someone misreading their intentions was the most commonly cited hurdle to approaching a youngster. This was apparent in 73 percent of men surveyed and 56 percent of women.
Forty-four percent of those surveyed confirmed they would be more likely to bring suspected child abuse to the attention of UK authorities in the wake of high-profile cases such as Operation Yewtree, which emerged following a string of allegations concerning deceased media personality Jimmy Savile.
In cases where a British adult suspected the child of a neighbor was being abused or neglected, 62 percent of those surveyed said they would be concerned about reporting the case for fear they had misconstrued events or may be creating problems for the family with no just cause.
A third feared confrontation from the family in question, while 17 percent stated they didn't want to come across as "judgmental." Young adults aged between 18 and 24 were much more concerned about confrontation from neighbors or being mistaken in their suspicions than those who were over 55.
Reflecting on the survey, the NSPCC's director Peter Watt emphasized that the study's results were positive in many respects.
"People are increasingly willing to act if they suspect a child is being abused or neglected. Sadly though, whilst the right intention is there, people naturally hesitate," he said.
"They fear making a mistake or they want to wait until they have more evidence, which usually never arrives," he added.
Watt said that men are particularly predisposed to worrying in this sense, but stressed that "taking action is always the right thing do – whether it's a lost child in the street or an abusive neighbor."
"This is especially important during the long school holidays as vulnerable children are more likely to need the public's help," he said.
The charity suggests people should call their helpline for advice on such matters if they are in doubt. The helpline is free, confidential and accessible on a 24/7 basis.
Watt says the charity has specially-trained counselors who will take decisive action and ease the burden of concern that may be plaguing callers. Such a simple phone call could potentially "save a child or help a family get the support they need to improve and stay together happily and safely," according to the NSPCC chief.
The charity has experienced a sharp increase in calls since the rise of high-profile child abuse cases in Britain, with over 100,000 children receiving the help they need as a result. The NSPCC emphasize their helpline has proved vital to those who are reluctant or uncomfortable to contact social services or the police if they are concerned about a child's welfare.