Tories bankrolled by shady money – senior Labour MP
Published time: 26 Aug, 2014 15:12
Edited time: 26 Aug, 2014 18:01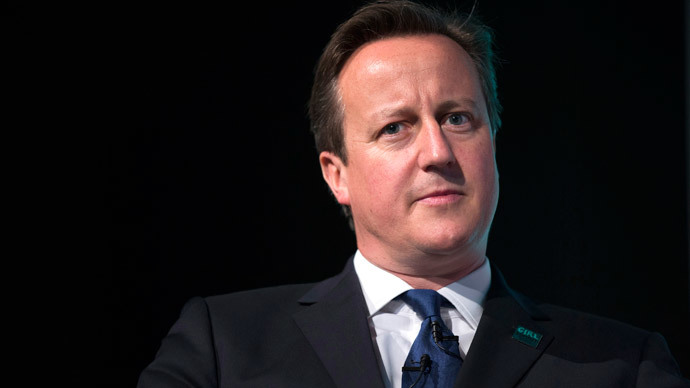 The Labour Party's deputy leader accused the Tories of using "shady money" on Tuesday, as she revealed figures illustrating how reliant the party is on funding from opaque unincorporated associations.
Drawing from Electoral Commission statistics, Labour MP Harriet Harman argued the Tories have received over £5.5 million from such associations since 2010. The figures also reveal more than 50 percent of the funding necessary to sustain 27 of the Tories' key seats emanate directly from these nebulous entities.
By careful legal design, unincorporated associations allow donors in Britain to channel money to political parties in a covert manner without having to declare the root source of the funds. Individuals must declare their identity if they give over £1,500 to a particular party. But if they funnel the funds through an unincorporated association they are shrouded by anonymity, unless the donation tops £7,500.
While this is entirely legal, the process exploits a key loophole in legislation introduced by the Labour Party to cultivate higher levels of transparency in the state's political party funding system. And although each of the main parties has at times sought funding in this manner, the Tories are the main benefactors from these associations.
Speaking in London on Tuesday, the Labour MP said the Conservative Party is reaping benefit from "a steady stream of big donors willing to bankroll their campaign" in exchange for offering convenient tax cuts. Such donors span "hedge funds, bankers [and] millionaires", she cautioned.
"But there's one group of people bankrolling the Tories whose identity is completely secret," she added, referring to high levels of financial secrecy afforded by unincorporated associations.
Two such stealth operations – United and Cecil Club – regularly issue donations to the Tory Party while protecting the anonymity of source donors.The Labour MP stresses the Tories have reaped a lucrative £372,183 in the last three months alone from these associations.
"It's no wonder they need this shady money. In three-quarters of their most marginal seats, their membership is falling", she said. "They want to buy the election. We're fighting to win it", she insisted.
In the second quarter of this year, the Conservative Party amassed £7.2m from donors – almost double the Opposition's level of donations.
A Conservative Party spokesperson sharply dismissed Harman's allegations, however, accusing her of inventing"nonsense."The spokesperson suggested if Labour"spent less time playing politics and more creating some economic policies for the future the public might not hold Mr Miliband in such poor esteem."
Critics say donations channelled through unincorporated associations are vital to the Tories' electoral strategy. According to UK news site, Political Scrapbook, 27 of the party's marginal or battleground seats glean a majority of their funding from these outfits.
16 of these reportedly receive 100 percent of their funding from associations such as United and Cecil Club. The seats in question span Camborne and Redruth, Cardiff North, Cheadle, Chorely, Morecambe & Lunesdale, Newcastle under Lyme, North Devon, Portsmouth South, Somerton & Frome, St Austell and Newquay, St. Ives and others.
According to the report, a donor working directing with Tory party fundraisers could potentially issue up to £3 million to various target seats over the five years of a parliament and remain entirely obscured from public knowledge in the process.
In such a scenario, a question of "special influence" arises according to critics. In a policy paper entitled 'Corruption in UK Politics', anti-corruption think tank Transparency International warns there's a considerable risk"funders will expect gratitude in the form of special influence, and that parties will allow themselves to be influenced in return for much-needed funds".
This creates a scenario whereby"a handful of wealthy individuals and organisations might be able to buy influence or position through making donations",TI UK stresses. The think tank advocates for increased transparency with respect to political donations. Butthe loophole that facilitates the channeling of covert donations to UK parties remains intact under the current coalition, cultivating considerable opacity in its wake.