​UK Islamist suspected of slaying US journalist 'identified'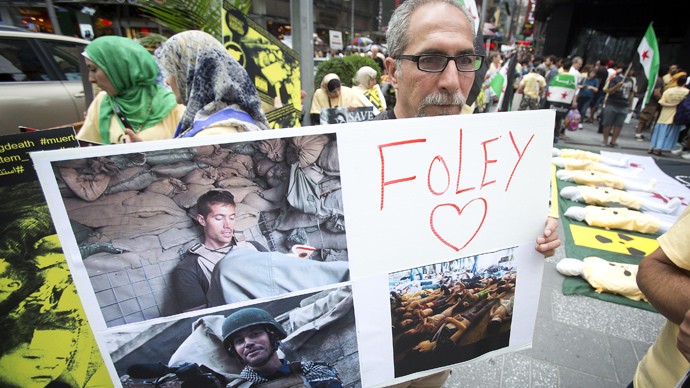 British intelligence forces, MI5 and MI6, say they have identified the Islamic State fighter from the UK suspected of killing US journalist James Foley, according to top government sources, The Sunday Times reported.
The masked man, nicknamed "Jihadi John" spoke with a London accent when he appeared in chilling footage showing him murdering Foley, and then threatening a second captive, American journalist Steven Sotloff.
The Islamic State militant group released the footage last Tuesday. Foley, a US freelance journalist, was captured by militants in Syria in 2012, while Sotloff was kidnapped there in 2013.
Key suspect in the case is currently 23-year-old Abdel-Majed Abdel Bary, according to The Sunday Times. Bary reportedly left his family's home in West London last year and has recently posted a photo of himself holding a severed head.
Foreign Secretary Philip Hammond commented in The Sunday Times, writing "it is horrifying to think that the perpetrator of this heinous act could have been brought up in Britain."
However, talking to CNN, Britain's ambassador to the United States, Peter Westmacott only said the country was "close" to identifying the man.
"We're putting a lot into it," he said on Sunday, adding the means included voice-recognition technologies.
Foreign Secretary Hammond also said the killing showcases not only the threat of Islamism in Iraq and Syria, but signaled "a barbaric ideology threatening us at home."
Echoing him, Westmacott stated in his interview that the problem "goes beyond one horrendous criminal."
"People think maybe as many as 500 British subjects have gone to Syria and Iraq for this cause of jihad," he said.
There is rising concern in Britain about the threat from Islamic extremism. Last year an off duty soldier, Lee Rigby, was killed on a street in a London suburb by two British Muslim converts.
In July 2005, 52 people were killed by suicide bomb attacks on London underground trains and buses carried out by four British Muslims, two of whom had been to Al-Qaeda training camps in Pakistan.
On Saturday, the UK home secretary, Theresa May, pledged to strengthen laws to deal with British Islamic militants traveling to the Middle East to fight for the Islamic State. New laws dubbed "ASBO for terrorists" could be introduced for those who radicalize others, while groups believed to encourage terrorism could be banned.