Can't touch this: PM announces age rating plan for explicit music videos
Published time: 18 Aug, 2014 15:58
Edited time: 18 Aug, 2014 16:07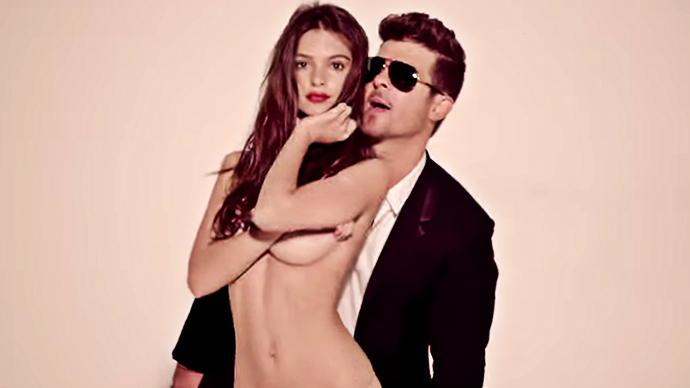 Online music videos could be given age ratings to help protect children from inappropriate content, David Cameron has said.
In line with the plan, online music videos will carry an age rating from October to protect children from sexual content, the PM announced on Monday.
"Helping families with children and parenting shouldn't stop at childbirth. To take just one example – bringing up children in an internet age, you are endlessly worried about what they are going to find online. So we've taken a big stand on protecting our children online," Cameron said.
The government is working with the British Board of Film Classification, Vivo and YouTube to pilot the age rating of online music videos featuring graphic content.
In a speech to the Relationships Alliance on Monday, Cameron said the rules for online videos should apply equally to content bought offline. He did not elaborate what criteria will determine which videos should get an age rating.
He announced that family-friendly filters would be the default setting for all new online customers while existing users can also install them.
Cameron said he has kept his children from watching some content online. He said, "As for my own children, I am sure there are times when they have been disappointed because they haven't been able to do something or see something. But that is part of what being a parent is about – being able to deploy the use of the word 'No,' and sometimes even to deploy the off-switch on the television, unpopular as that can sometimes be, and sometimes ineffectual because they find another screen somewhere to switch on."
Racy music videos such as Miley Cyrus's "Adore You," in which she appears to masturbate, as well as Robin Thicke's "Blurred Lines," have caused controversy and led to calls to restrict what children can see online.
The PM also announced that government policy will be more "family friendly" from autumn onwards. The PM set out measures to help families, including a doubling of taxpayer funding for relationship counseling to £19.5 million.
In July 2013, Cameron announced that internet service providers would start blocking access to all porn, and users would be required to opt in if they want to access adult content. He said family-friendly filters would be automatically selected for all new customers, although they could choose to switch them off.
In a speech about cracking down on online pornography and making the internet safer for children, Cameron said: "I want to talk about the internet, the impact it is having on the innocence of our children, how online pornography is corroding childhood. And how, in the darkest corners of the internet, there are things going on that are a direct danger to our children, and that must be stamped out."
Cameron was criticized by anti-censorship groups for this plan. In a statement, the anti-censorship group Open Rights Group said, "Everyone agrees that we should try to protect children from harmful content. But asking everyone to sleepwalk into censorship does more harm than good."
It added, "Filters won't stop children seeing adult content and risks giving parents a false sense of security. It will stop people finding advice on sexual health, sexuality and relationships. This isn't just about pornography. Filters will block any site deemed unsuitable for under 18s."