​UK unemployment falls, but youth still feeling pinch
Published time: 13 Aug, 2014 13:21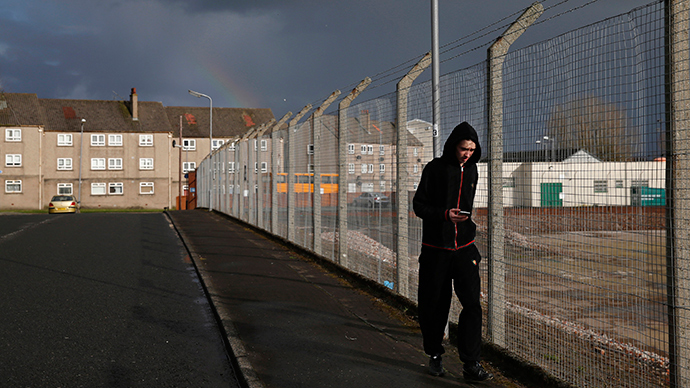 Hundreds of thousands of young people in Britain are likely to remain unemployed, despite the country's ongoing economic recovery, a leading UK think tank has said.
The center-left Public Policy Research (IPPR) says that despite the overall fall in UK unemployment, there are still 868,000 people between 16 and 24 years old unable to find work.
The research comes as the UK unemployment rate falls to 6.4 percent, according to the Office of National Statistics – the lowest level since the beginning of the financial crash in 2008.
Today's UK labour market data consistent with BoE Medium-term equilibrium unemployment rate of 6 per cent (1/2) pic.twitter.com/ThPo1cITeG

— Jamie Murray (@JMurray804) August 13, 2014
According to figures released by the ONS on Wednesday, there are now 2.8 million unemployed people in the country – some 437,000 fewer than in 2013.
The figures also show that youth unemployment fell by more than 200,000 since last year to 16.9 percent, making it the "largest drop since records began" according to the ONS.
As a result, the UK has the eighth lowest level of youth unemployment in the European Union, behind Germany (7.8), the Netherlands (10.5) and Denmark (12.6).
But while youth unemployment has fallen by nearly 2 percent since June 2013, more than 800,000 young people remain unemployed, with 247,000 having actively searched for work for over a year.
According to the IPPR, around 700,000 young adults have never been formally employed in their lives.
The causes of continued youth unemployment include an imbalance between vocational training and available job positions, the report suggests.
Citing data published by the Local Government Association (LGA), the report shows that in 2011-12, 94,000 young people trained in the hair and beauty industry, while only 18,000 jobs were available. In contrast, only 123,000 people trained in construction and engineering, despite more than 200,000 work places being available.
The report also blasts the UK's system of vocational teaching, saying that UK training colleges teach their pupils to pass exams, rather than preparing them for the job market.
IPPR senior economist and associate director of economic policy, Tony Dolphin, says the UK needs to learn lessons from countries like Germany and the Netherlands, by providing a system where it is easy for young people to transition from education to employment.
"Analysis of the experience of young people across Europe shows how a strong workplace-based vocational education and training system, with high employer involvement, contributes more to a smoother transition from education to work and a lower rate of youth unemployment than anything else," he wrote.
Though welcoming the fall in youth unemployment, the Trade Union Congress also said that there were still over 160,000 more young people out of work compared to six years ago, and that the government needed to invest more into training young people for the future.
"It will take more than economic recovery to improve young people's labor market chances. Without more good quality apprenticeships, and a guaranteed job or high-quality training place for any young person out of work longer than six months, too many young people will still be left behind," said TUC General Secretary Frances O' Grady.
Wages slump in line with productivity
Despite the fall in unemployment, the ONS figures also show that Britons are earning less in terms of real income than they did this time last year.
According to the data, average weekly earnings including bonuses fell by 0.2 percent- worse than markets had been expecting and the first time real wages had declined since 2009.
GRAPH OF THE DAY: UK real wages will not recover until productivity does pic.twitter.com/1ecSgd7NZP

— CPS Think Tank (@CPSThinkTank) July 10, 2014
As a result, the Bank of England has halved its forecast for average wage growth from 3.5 percent to 1.25 percent, suggesting it expects the slump in wage growth to continue for the foreseeable future.
Commenting on the fall in wage growth, Secretary of State for Work and Pensions Iain Duncan Smith told Sky News that most of the decline was due to delayed bonus payments from the financial sector, which held off extra pay in anticipation of an income tax cut implemented earlier this year.
He added that industries such as manufacturing and professional services saw an average wage growth of 1 percent.
However, some economists argue that wage depression is the result of declining economic productivity in the UK, which is currently below pre-crisis levels, according to the National Institute for Economic and Social Research (NIESR).
"The productivity performance, therefore, remains abysmal. With output per hour worked still around 4.5 percent below the pre-crisis peak, we expect pre-crisis productivity levels to be regained only in the latter half of 2017 – although, given the continuing puzzle about the causes of poor productivity performance, large uncertainties remain" a NIESR spokesperson said.
Despite the pressure on real wages, the Bank of England have revised up its UK growth forecast from 3.4 percent to 3.5 percent this year, with a further 3 percent growth estimated in 2015.