Advanced cancer drug remains 'unaffordable' for NHS, producer blamed
Published time: 8 Aug, 2014 17:15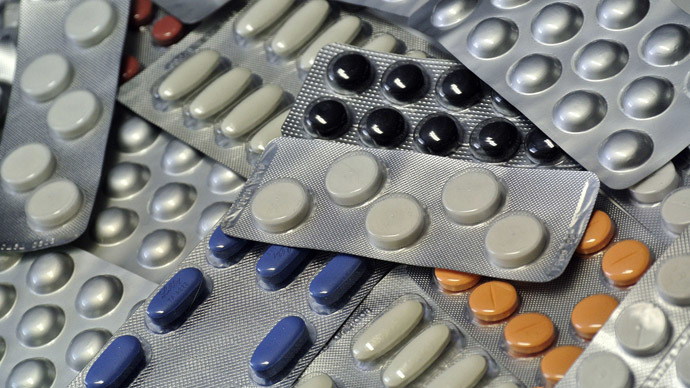 One of the world's biggest drugs companies has come under fire for refusing to lower the price of medication that could significantly extend the life of over 1,000 breast cancer patients.
Kadcyla, a drug produced by the Swiss pharmaceutical giant Roche, currently costs £90,000 per patient - well over the NHS expenditure limit of £50,000.
The drug, which can extend life six months longer than alternative treatments, is recommended for women with HER-2 positive breast cancer who have already gone through chemotherapy. According to figures from the department of Health, HER-2 affects one in five of the 42,000 cases diagnosed each year in the UK.
If available on the NHS, estimates suggest it could help around 1,500 women extend their lives.
Currently, the drug can only be obtained on a case-by-case basis, with few cancer patients receiving the drug because of the limited amount of money available from the government's Cancer Drugs Fund.
Roche was criticized by the UK's drugs watchdog, the National Institute of Clinical Excellence (NICE), the body that decides what medicines NHS hospitals can supply to patients.
According to NICE, Kadcyla is the eighth drug for advanced breast cancer to be turned down due to unaffordable costs.
"We are really disappointed that Roche were not able to demonstrate more flexibility to help us make a positive recommendation. The company is well aware that we could not have recommend Kadcyla at the price it proposed," said Sir Andrew Dillon, chief executive of NICE.
However, Roche has blamed the structure of NICE for the unavailability of Kadcyla, saying that the unaffordability of the drug was down to the NHS's funding system.
Referring to the system as 'broken' and 'not fit for purpose,' Roche general manager, Dr Jayson Dallas, said that the company couldn't realistically bring down the price of the drug to meet NICE's quota.
Dallas also said that Kadcyla was available in countries like Switzerland and Austria because its citizens contributed more per capita to their health costs.
While Roche did not disclose how much it cost to develop the 'extremely powerful' drug, a spokesperson told the Telegraph it took 30 years to develop, with half that time being dedicated to scientific research.
According to commonly cited figures, it costs around $1bn to bring a drug to market, and many pharmaceutical companies argue the high costs of medicines are necessary to invest in future research and development.
Cancer charities have also expressed their disappointment over Roche's decision not to lower the price of the drug, with Cancer Research UK's head of policy Emma Greenwood saying: "We're disappointed that Roche and NICE haven't been able to come to an agreement that would make Kadcyla affordable for routine use on the NHS, despite evidence it could benefit patients with certain types of advanced breast cancer."
Roche has been extensively involved in government decision making regarding pharmaceuticals, and were involved in setting up the Cancer Drugs Fund prior to the 2010 general election. According to The Guardian, it is the biggest beneficiary of the fund, with around a quarter of all applications made requesting Avastin, a common cancer treatment manufactured by Roche.