Heroin addicts to be given free foil on the state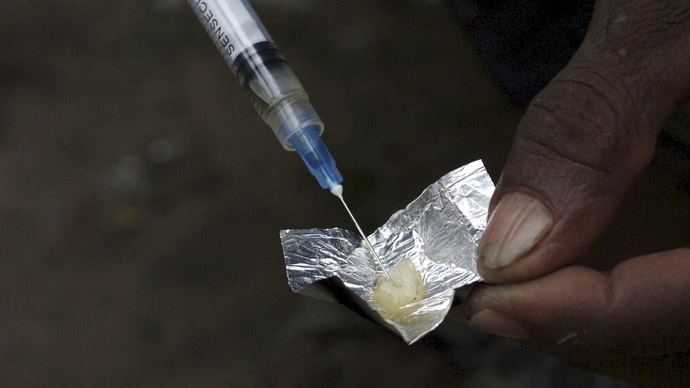 Heroin users will be given free foil by UK healthcare professionals in an effort to help addicts kick the habit and cut the risk of contracting disease.
Both the NHS and privately run treatment centers will be allowed to issue the foil from September, the government announced today.
Smoking heroin instead of injecting it prevents users from contracting blood-borne viruses like HIV and hepatitis B through shared needles, cuts damage to veins and reduces the risk of overdose.
"This is not to say it's okay to use heroin," a Home Office spokesperson told RT. "The idea is to help heroin users tackle the addiction." According to the Home Office spokesperson, there has been a long term downward trend in drug use over the last decade and "people going into treatment today are more likely to free themselves from dependency than ever before."
Addicts use aluminum foil to warm heroin and breathe in its fumes. Crystal meth and cocaine can be inhaled in the same way.
Crime Prevention Minister Norman Baker said: "By allowing foil to be legally provided by healthcare professionals, we are taking another positive step in reducing the number of individuals, families and communities whose lives are destroyed by drugs."
This decision is part of an effort "to get individuals off drugs and will minimize the risk of spreading viruses like HIV, while encouraging more addicts to engage with support services," Baker said.
"It is much safer to be smoking heroin than injecting it. It's still risky but substantially less so than injecting it," said Steve Rolles, senior policy analyst for the Transform Drug Policy Foundation.
"It keeps people alive. You can't get people into treatment if they're dead." Rolles argues that providing services to heroin users helps get them through the door and in contact with service providers, which could ultimately lead to them seeking treatment. This move is similar to providing clean needles to users to cut the risk of spreading diseases.
The independent Advisory Council on the Misuse of Drugs (ACMD) concluded last year that offering foil can help an addict in their eventual recovery. The number of heroin and crack cocaine users in England fell below 300,000 for the first time in 2013, according to the National Treatment Agency for Substance Misuse.
Meanwhile, Liberal Democrat leader Nick Clegg announced on Friday that drug users, even those caught with heroin or cocaine, should be given treatment rather than being sent to jail.
Denying he had gone "soft" on drugs or was pushing for decriminalization, Clegg said putting people behind bars and exposing them to criminal gangs rather than providing them with treatment was "an utterly senseless thing."
You can share this story on social media: