Aye or Nay: Who won Scottish independence debate?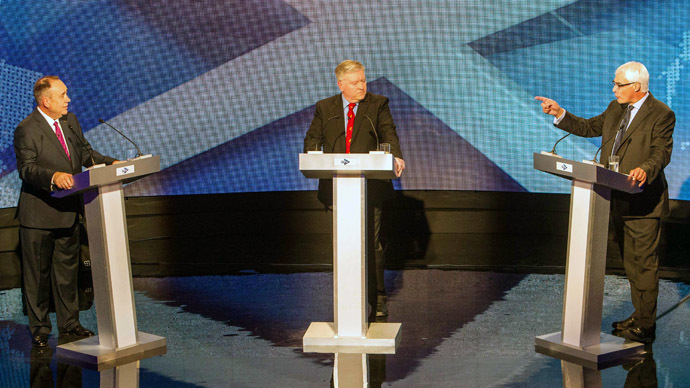 'Better Together' beat 'Yes Scotland' in a live two-hour TV debate on Scottish independence, according to a post-event poll. The Yes camp hasn't lost heart, however, saying it gained ground after the head-to-head between Alistair Darling and Alex Salmond.
The currency question played a key role in the debate, with Darling repeatedly asking Salmond what his alternative would be should an independent Scotland fail to secure a currency union with the rest of the UK – allowing it to keep the pound.
Chancellor George Osborne, Labour Shadow Chancellor Ed Balls and Liberal Democrat Chief Secretary to the Treasury Danny Alexander have all said they would not allow an independent Scotland to use the pound.
"We will keep the pound because it belongs to Scotland much as much as it belongs to England," argued Salmond. "It's our pound as well as your pound."
The two men clashed on the finances of an independent Scotland, with Darling insisting the country was better off in the UK.
"Money has flowed both ways over the last 30 years, but in the last 22 years Scotland has spent more than it has put in, so we have benefited from being part of the United Kingdom," said Darling.
Salmond countered: "In each one of the last 33 years, Scotland has paid more in tax per person than the average of the UK. Over the last five years we have 8 billion pounds more into the Treasury than we have had out of it, in relative terms. That is 1,500 pounds a head for every man, woman and child in Scotland."
Darling questioned how long it would take an independent Scotland to negotiate EU membership and on what terms.
"It's quite clear that Scotland would have to reapply, it's not at all clear what the term and conditions are that we'd have to meet," he said.
Salmond, meanwhile, pressed Darling several times on whether he agreed with David Cameron, who previously admitted Scotland would be a successful independent country.
Glad to hear Salmond won over the undecideds, but was disappointed with both the tone and content of the debate. #ScotDecides

— Thomas Campbell (@thom23) August 6, 2014
The survey found Darling, the former Labour chancellor of the exchequer and chairman of Better Together, won the often-heated debate by 56 percent to 44 percent.
The US-style TV debate – a recent presence in UK politics – come only six weeks ahead of the Scottish independence referendum, held on September 18, where Scots will decide whether they should remain in the UK.
A Guardian/ICM poll conducted immediately afterwards said Darling had narrowly won the debate. But Scotland's Deputy First Minister Nicola Sturgeon told broadcaster STV, which staged the contest, "I definitely think my side ['Yes'] won."
Darling was also ahead in the poll on the question of who made the better arguments, with 51 percent of the 512 people surveyed, while 40 percent gave Scottish National Party (SNP) leader Salmond their vote.
Undecided but leaning towards yes. A more constructive debate would have been useful last night #ScotDecides@YesScotland

— thorbys (@thorbys) August 6, 2014
While various commentators have seized upon the poll figures to indicate a blow for the Yes camp and a boost to the Better Together campaign, Yes Scotland's chief executive Blair Jenkins said the figures offer plenty to be positive about.
He said while the poll put support for Yes on 47 percent, this represented an increase of four points on the previous ICM poll in July. By contrast, support for No fell by four points.
"This was a clear win for the Yes campaign - a positive, optimistic and visionary case presented by the First Minister against another dose of negativity and scaremongering from Mr. Darling. What Mr. Darling presented was the No campaign's bankrupt vision for the future of Scotland. He not only failed to make a positive case for a No vote - he didn't even try," Jenkins said.
For all the undecided #indyref voters looking for clear facts, there aren't any. You'll just have to make a decision.

— Chris Fyfe (@chrisfyfehome) August 6, 2014
"The first minister presented the positive, compelling case for Scotland taking our future into our own hands and using our vast wealth, talent and resources to build a better and fairer country," he added.
Many viewers commented on Twitter, however, that they found the debate uninspiring, leaving them unconvinced either way. It is this pool of undecided voters then two campaigns need to woo if either is to be successful.