Dual citizen burns Israeli passport at Downing Street in Gaza protest (VIDEO)
A British citizen has renounced her dual nationality by burning her Israeli passport outside Downing Street in a protest against the IDF's assault on Gaza, and the British government's ongoing support for Israel.
Sonya Levene, supported by the campaign group Jews For Justice For Palestine, told onlookers she wished to denounce Israel's actions in Gaza, which have killed more than 1,800 people according the official UN estimates.
"Why should I, a third generation British Jew of Eastern European heritage with no link to Israel, accept what the Zionists would have you believe is written in the Bible?" Levene said in a speech at the gates to Downing Street.
The dual citizenship was forced upon Sonya, she claims, after she attempted to leave Israel after a year spent with her family around 20 years ago. She was told she needed to accept the citizenship if she wished to return to Israel. She understands it is now very unlikely she will ever see her family there again.
Over 460,000 Gazans have been displaced by Operation Protective Edge, with over 80 percent of those killed believed to be civilians. Israel has lost a total of 64 IDF troops since the assault began.
UK Foreign Office minister Baroness Sayeeda Warsi has resigned from the government, saying she can "no longer support" its policy on Gaza, suggesting the worldwide protests against Israel's offensive are making an impact on policy makers.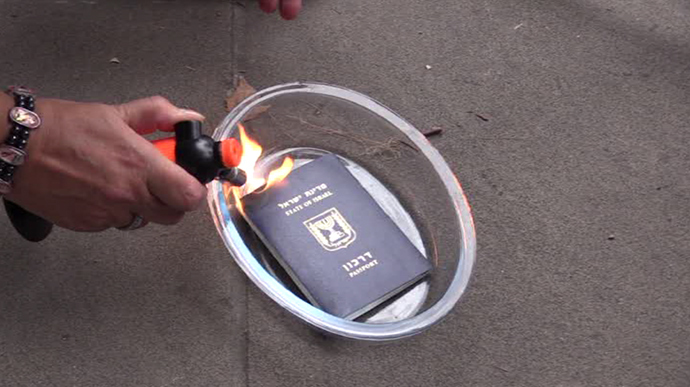 You can share this story on social media: