Clegg attacks EU immigration in policy shift ahead of election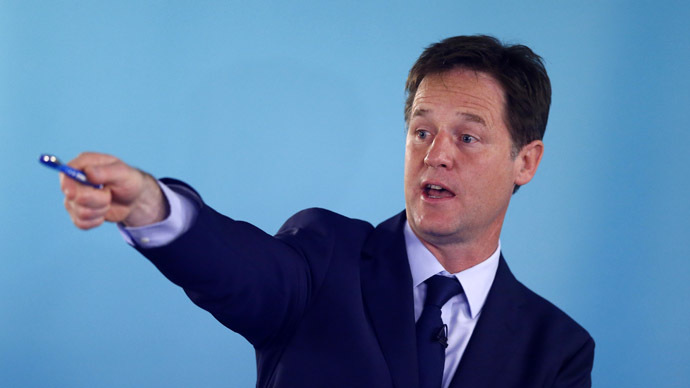 The government's claims that it is tackling immigration do not match what the public sees on the ground, Deputy PM Nick Clegg will admit in a radical shift in his party's stance on border controls.
In a speech on immigration, the Liberal Democrat leader will speak in favor of the free movement of European workers, but urge reforms to ensure fewer Eastern Europeans move to the UK if more countries join the EU in future.
Clegg joins senior figures from across major parties in their hardening rhetoric against immigrants as next year's general election nears – the first election since the anti-immigration party UKIP emerged as a serious political player. Labour Shadow Chancellor Ed Balls said his party could not win the election unless it became tougher on immigration.
UKIP's surge in May's European elections has spooked all the mainstream parties, but particularly the Lib Dems, who were reduced to a single seat. With growing concern that his party could be all but wiped out in the next national election, Clegg will mimic the UKIP formula, saying more needs to be done on migration from Europe.
"I want to be unequivocal: freedom of movement between EU member states is a good thing," Clegg will say, according to a pre-released version of his comments. "It's a cornerstone of European integration; a right enjoyed by around one and a half million British citizens who live on the other side of the Channel.
"It is necessary in order to be part of the world's biggest single market where goods and people can flow between nations. Those who wish to undo it should be careful what they wish for: the blow to UK prosperity would be immense."
Instead, Clegg turned his fire on perceived "benefit tourists" drawn to the UK for its social security entitlements. Freedom of movement requires reform to make it clear it is a freedom to work, not a freedom to claim benefits, he will say.
Clegg will also call for tougher transitional controls so that fewer people from poorer countries can come to the UK in search of work, and he will criticize Labour's lax approach to border control during its time in office.
"In 2004, Labour said up to 13,000 people from countries like Poland and Hungary would come here every year," He will say. "The real figure was around 170,000."
He'll also cite Labour's alleged miscalculation of the number of Romanian and Bulgarian migrants. Labour had claimed no one from those countries would arrive ahead of the transition controls being lifted this year. However, Clegg will argue that 60,000 Romanians and Bulgarians were already working in the UK, registered as "self-employed."
"Is it any wonder – when people have been repeatedly told one thing only to then see another – that so many have lost faith in government's ability to manage the flow of migrants from new EU states?" Clegg will say.
The Lib Dem leader's comments come as a think tank publishes its findings on the negative impact a restrictive immigration policy would have on the UK economy.
The National Institute of Economic and Social Research (NIESR) report says a reduction in immigration to the UK, based on the Conservative Party's migration targets, would result in a drop in GDP and an income tax hike. The research estimates that by 2060, UK GDP would be 11 percent lower than it would be otherwise.
"Achieving [the Conservative] target would require reducing recent net migration numbers by a factor of about two ... The results show that such a significant reduction in net migration has strong negative effects on the economy."
"Moreover, this policy has a significant impact on public finances. To keep the government budget balanced, the effective labour income tax rate has to be increased by 2.2 percentage points in the lower migration scenario."
David Cameron has amplified his rhetoric against immigrants over the past year to win back voters from UKIP. In his own recent policy shift, he announced EU migrants could now only claim benefits for a maximum of three months, down from six.
These legislative changes, which apply to child tax credit, child benefits and job seeker's allowance, will be implemented in November. They follow a swathe of measures to limit migrants' access to NHS treatment, housing and welfare introduced earlier this year.
The European Commission (EC) has made it clear that it endorses the principle of free movement within the EU, where citizens have the right to work and live in all member states. But the coalition's planned reforms to migrants' benefits undermine this principle.
Earlier in 2014, the UK government faced potential legal action from the EC as a result of its efforts to impose restrictions on migrants' benefits.