'Shocking treatment': British MPs call for whistleblower protection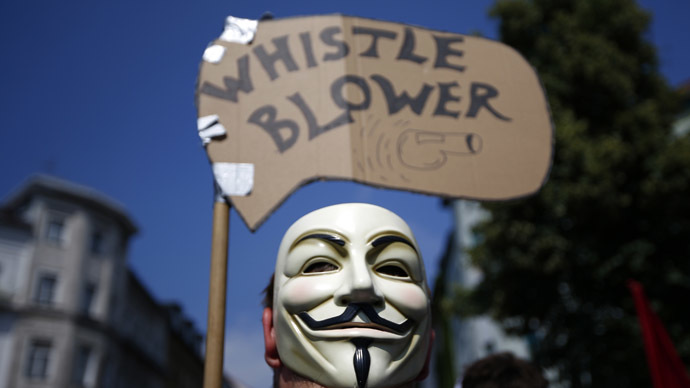 Abusive treatment and rampant victimization of whistleblowers has created a climate in which large segments of defence and health workers would be afraid to report departmental malfeasance, the powerful all-party Public Accounts Committee has revealed.
The report, issued on Friday, said that one in three civil servants didn't know how to raise concerns under the Whitehall code, and warned that fears of punishment would deter employees from exposing wrongdoing.
The statements come following a series of high-profile malpractices exposed by whistleblowers in the public sector, including the Mid-Staffordshire NHS scandal, in which over 1,000 patients died as a result of poor care and mismanagement.
The report also accuses the government of refusing to implement measures that protect whistleblowers, with committee chair Margaret Hodge claiming that ministers were failing to protect the public interest.
"Far too often, whistleblowers have been shockingly treated, and departments have sometimes failed to protect some whistleblowers from being victimised" she said.
The report cited several cases in which whistleblowers were prevented from reporting malpractice, including the case of Kay Sheldon, a board member of the Care Quality Commission, who faced verbal abuse from senior officials when she tried to make complaints.
According to the report, only 40 percent of employees at the Ministry of Defence (MOD) felt they would be safe if they raised a complaint, while at the department of health (DoH) only 54 percent would be confident to expose malpractice.
However, it affirms support for whistleblowers, stating that the practice is an "important source of intelligence to help government identify wrongdoing and risks to public service delivery".
It also said that employees were more likely to take their complaints to whistleblowers because they did not trust their managers to solve problems.
The committee concluded that whistleblowers should be given additional protections, including legal and counseling services, and that individuals attempting to coerce them into silence should be punished.
Charities supporting whistleblowers have supported the statements made by the committee, but argue that more needs to be done to ensure they have the security they need, especially from the judiciary.
"No [government] policy will protect whistleblowers. The only way they can be secure is by having protections affirmed in case law" Eileen Schubb, co-founder of the organisation, The Whistler, told RT.
You can share this story on social media: