UK's poorest families can't afford babysitters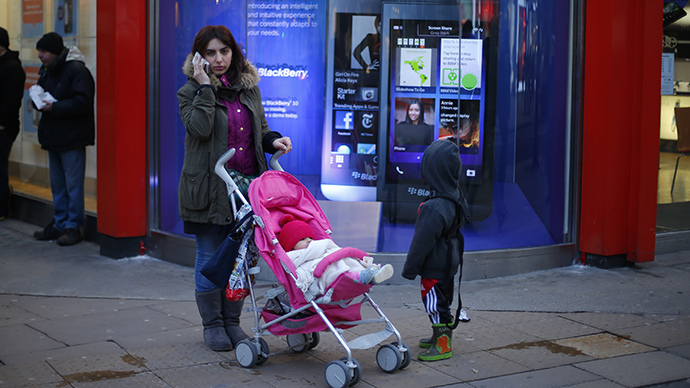 Low income families are struggling to find quality, affordable childcare, according to a new report.
The report, based on a survey of 400 childcare providers across the country, says that working families who earn less than the national average have "considerably narrower" options in finding childcare, especially those working evening hours or on weekends.
Published by the Citizens Advice Bureau, the report found that 75 percent of childcare providers don't operate outside regular working hours, while 57 percent needed a months' notice before arrangements can be changed.
Parents working irregular hours or on shifts have felt the most impact, as the report says 90 percent of childcare providers require a large upfront payment, rather than being paid in weekly installments. As a result, parents who do not receive fixed salaries are often unable to pay for high quality childcare.
90% of UK childcare providers demand payment upfront
75% of providers don't provide childcare on evenings & weekends
60% require 1 month notice for changing arrangements
31% of 'affordable' childcare providers 'needed improvement'
Source: Ofsted
Of the 400 providers assessed, only 18 percent of "good" childcare services accepted weekly payments instead of an upfront fee, while 31 percent of providers that were classed as 'affordable' were judged as 'needing improvement' by education watchdog Ofsted.
The report concludes that finding childcare that fits around work and financial circumstances is "not straightforward," particularly as employers demand their staff to work outside the standard 9am-5pm hours.
"Parents who work in low income jobs like social care, retail and hospitality are also less likely to have control and choice over their working hours, including working outside of standard hours and working to shift patterns," it says.
According to the report, employees on low salaries are more likely to work irregular hours, and as a result of insecure contracts, are more likely to work on weekends and evenings. Coupled with the rise of Zero Hour Contracts, which only employs individuals when they are required, parents are left with few options but to hire babysitters, who often charge high rates on an hourly basis.
According to the CAB, nearly half their clients say the cost and availability of childcare prevents them from working longer hours or taking other jobs.
"Parents who work shifts or irregular hours may find that the lack of availability will be a major block to getting work. A last minute change of shift, or an unexpected meeting could mean parents see their hard work undone by extra costs," said Gillian Guy, Chief Executive of the CAB.
"If parents are unable to access or afford decent childcare then they can be prevented from going out to work. Government has made excellent progress in helping with costs but everyday childcare is at odds with modern working Britain," he added.

Commenting on the report, editor of UK blog network Mumsnet said the cost of childcare was one of the most frequently aired concerns expressed by her users.
"As a nation, we spend more on childcare than almost anywhere else in Europe - second only to Switzerland. This, coupled with stagnant wages, rising food prices and, for many, the loss of tax credits and child benefit, means that many parents are feeling under serious financial pressure; our forums are littered with users seeking advice on how to survive on dwindling budgets and how to make returning to work financially viable after maternity leave" she told RT.
Under current government guidelines, all three and four-year-olds in England are entitled to 15 hours of free nursery education or childcare each week, although nearly half of providers don't offer it.
Meanwhile, statistics collected by the Resolution Foundation shows that last year 4.8 million Britons, more than 20 percent, earned a salary below the national poverty line.
Graeme Cook, researcher at the Institute of Public Policy Research think tank (IPPR) said that childcare needed to be reformed, particularly on parental leave, in order to become cheaper, more flexible and ease the burden on working mothers.
"Reforming our childcare system would help many more families with the cost, improve the quality and allow families to decide how they want to balance work and care," he said.