UK households 'pushed over edge' as personal debt reaches record £1.4trn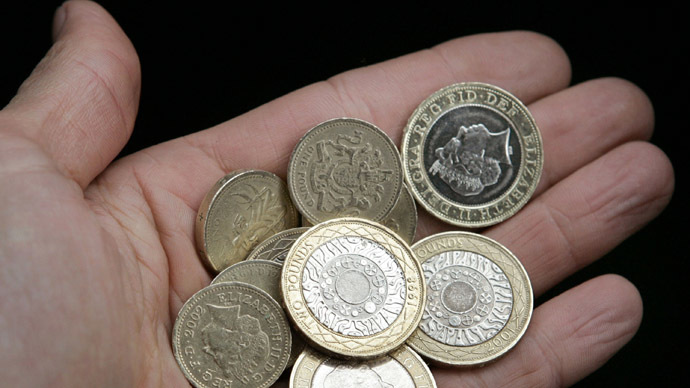 Total personal debt in the UK has reached record highs – 1.4 trillion pounds, a new report has shown. It means that households owe the equivalent of 94 percent of the UK's economic output last year.
An average household debt of 54,000 pounds is now almost twice the level of a decade ago, the report by the Centre for Social Justice (CSJ) think tank has found. Indebted households in the poorest 10 percent of the country have average debts more than four times their annual income.

According to the report, entitled 'Maxed Out', over 130,000 people declare bankruptcy or some other form of insolvency each year in the UK. More than 8 million households have no savings at all, affecting about 50 percent of low-income households. Consumer debt has trebled since 1993, reaching nearly 160 billion pounds in 2013.

"Years of increased borrowing, rising living costs and struggling to save has forced many families into a debt trap that is proving very difficult to escape," director of the CSJ, Christian Guy, explained, warning that problem debt can have a "corrosive impact on people and families," affecting their mental health, relationships and wellbeing.

"Some of the poorest people in Britain are cut off from mainstream banking and have no choice now but to turn to loan sharks and high-cost lenders," he added.

Certain groups are more liable to problem debt than others, such as the unemployed, single parents, the poorest people who have little disposable income and spend a large proportion of their income on basic living costs (in 2013, one-third of unemployed parents had to borrow to purchase their child's school uniform), as well as older people. An estimated 1.1 million people over 50 years old are in problem debt.

Another alarming figure cited in the report shows that over 26,000 UK households have been accepted by councils as homeless in the last five years because of rent and mortgage arrears, with over 5,036 becoming homeless last year. Experts fear that this number is likely to increase should interest rates continue to rise.

In 2011, almost half of households in the lowest income decile were spending more than a quarter of their income on debt repayments.

The CSJ study has come to the conclusion that many people in the UK are forced to borrow loans because of low financial resilience. Nearly 4 million British families don't have enough savings to cover their rent or mortgage for more than a month, however.

The study, led by former Labour Party politician and Pensions Minister Chris Pond, said that problem debt carries a major human cost.

"With falling real incomes and increasing costs of basic essentials, many – especially the most vulnerable – are sliding further into problem debt. The costs to those affected, in stress and mental disorders, relationship breakdown and hardship is immense. But so too is the cost to the nation, measured in lost employment and productivity and in an increased burden on public services."

Meanwhile, it turns out that a large section of society is basically excluded from the mainstream financial sector – some 1.4 million people simply have no transactional bank account, while millions of others do not use their bank account for fear of penalties and overdraft charges, which are often more costly than payday loans.

No wonder the number of people seeking free professional debt advice from charities has been on the rise, reaching 1.7 million people in 2012. Research shows, however, there is an immense gap between the above mention figure and the actual 5.3 million households struggling to meet their credit commitments.

With the rising costs of domestic energy and other major household bills, more households might be pushed into problem debt, the study warns. In 2012 an estimated 1.85 million households were three months in arrears on at least one household bill or payment.

"The 25 percent increase in the cost of living over the past five years combined with job insecurity and low savings mean that many households have been pushed over the edge," the study says.

"Those on a low income are not victims of a housing bubble or an international banking crash, but of a financial system that is rigged against them."

Meanwhile, payday lenders, pawnbrokers and home-collected credit providers lent out 4.8 billion pounds in high-cost credit in 2012, rising sharply from an estimated 2.9 billion pounds in 2009.  

CSJ research emphasizes that young people are the biggest users of payday loans, with one in 10 having taken out a payday loan in the past four years. In particular, the authors of the study have heard from support workers for homeless young people that payday lending is becoming a real problem for this vulnerable group.

"For the most financially excluded, there is often no option but to turn to illegal moneylenders. It is estimated that over 310,000 people borrow money from these criminals each year. Seventy-seven Illegal moneylenders extort money from their victims, often arbitrarily raising interest rates, demanding payments or charging penalties. Their use of violence and intimidation terrorizes people and communities, enforcing a 'veil of silence' that allows them to escape detection. This is an inexcusable crime in modern Britain," the report concludes.

You can share this story on social media: