British defense giant BAE systems to cut 1,775 jobs, stop shipbuilding at Portsmouth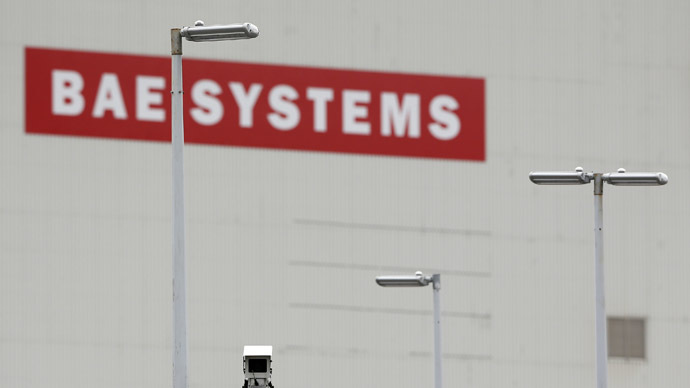 Britain's BAE systems have decided to axe more than seventeen hundred jobs, and end 500 years of shipbuilding in Portsmouth. Prime Minister David Cameron insists the move is in the 'national interest
BAE said it would cut 1,775 jobs across its naval ships business, with 940 jobs lost in Portsmouth and a further 835 in Glasgow, Rosyth and Filton, near Bristol.
The Govan and Scotstoun shipyards on the Clyde in Scotland will continue shipbuilding.
The company says the job losses are primarily due to an overall slowdown in UK shipbuilding, which in case of BAE was coupled with rising costs and a poor order book.
The financial burden on BAE has been rising as the costs for building two new aircraft carriers for the Royal Navy. The price tag for the flagship project has added another £800 million, driving it a total of £6.2 billion.
Local politicians on Portsmouth blame Westminster for putting UK security at stake and choosing Scotland. With the Scottish referendum on the horizon they are suggesting it is expedient for the government to support shipbuilding north of the border.
"Portsmouth is the last place in England that has the ability to build advanced warships for the Royal Navy and I'm very concerned that with a potential independence vote in Scotland, if Portsmouth shipbuilding is shut down, what would remain of the UK would have no ability to build advanced warships", said Gerald Vernon-Jackson, the leader of Portsmouth Council told the BBC.
"It would just mean either that that would have to change, and the Royal Navy would have to buy ships from France or Germany – or we'd have to spend a huge amount of public money re-employing people, re-skilling people here in Portsmouth", he added.
According to a poll by research group TNS BMRB, 47 percent of Scots want to remain part of Britain, 29 percent support independence and 24 percent of people say they are undecided on which way to vote, the International Business Times reports.
Meanwhile, David Cameron's spokesman insisted the decisions were "taken in the UK's national interest".
The Prime Minister said: "We want our Royal Navy to have the best and most modern ships and the best technology. That means we will go on building warships on the Clyde, we will be announcing three new offshore patrol vessels, keeping that yard busy rather than paying for it to remain idle as the last government proposed."
In turn Mike Hancock, the MP for Portsmouth South, characterized the closure as a "catastrophe" for Portsmouth and a "personal tragedy" for each worker.
"It is a big mistake on the part of the government to put all their eggs into one basket and say that shipbuilding in Portsmouth should cease to exist. It is a very, very big mistake and one that they will live to regret," Hancock added.
You can share this story on social media: