Cheese thieves: UK middle classes turn to stealing food they can't afford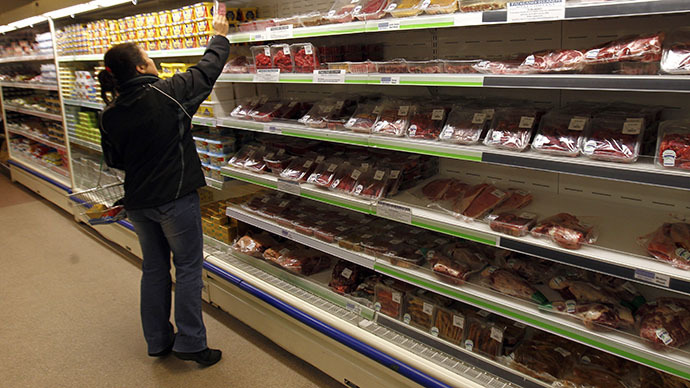 Gourmet cheese and beef joints are among the top stolen items in the UK, a new report has shown. Middle class shoppers have turned to stealing out of need for food, due to the weak economy, with the total cost of retail theft hitting £3.4bn last year.
Shoplifting has proved to be the biggest concern for UK retailers, accounting for 36 percent of total losses, or £1.224 billion, according to the 2012-2013 Global Retail Theft Barometer, conducted by consumer market research company, Euromonitor.

Retail crime losses in the twelve-months 2012-13 were 6.8 percent higher than in 2011. It's believed that food theft has gone up due to the "weak economy" and the growing pressure on average household finances, pushing more and more middle class shoppers to turn to crime to maintain their lifestyles. 
Among the most sought-after goods likely to be stolen are gammon joints, bacon, brie and parmesan cheeses, wines and vodka.
Theft by employees also turned out to be a problem, accounting for 33 percent of the overall crime. 
UK retailers are investing in improved security methods in a bid to diminish losses. The most common methods of protection include installing antennas, tagging or cable alarms. Retailers estimated their future loss prevention investments would increase or stay stable. 
"Over the last year, retailers have certainly been making great strides in the fight against retail crime. However, times are still tough for many families across the country, hence the increase in theft of high value foodstuff such as fresh meat and cheese," UK general manager of Checkpoint Systems, Russell Holland, which carried out the research, said.
Meanwhile, new research released last week showed that the rising costs of healthy foods, combined with growing unemployment rates, are pushing people in the UK towards junk food. UK residents are spending approximately 8.5 percent less on food in real terms than they were prior to the recession.
According to a YouGov survey released earlier this month, 25 percent of British people are eating less meat this year than in 2012. 
Although the economy is starting to display signs of recovery, prices continue to rise more quickly than wages, according to the latest figures from the Office for National Statistics. 
According to Euromonitor, "shrink" (comprised of shoplifting, employee or supplier fraud, organized retail crime and administrative errors) has been on the rise across the world.
The lowest shrink rates, however, were recorded in Japan (1 percent of retail sales), followed by Hong Kong, Australia and Germany (1.1 percent). The US came in at 1.5 percent of retail sales. The highest rates were recorded in Brazil and Mexico (1.6 percent). Global retailers blamed lagging economic recoveries and organized retail crime for high theft rates.
You can share this story on social media: