New York fast-food workers protest Wendy's in latest labor rights demo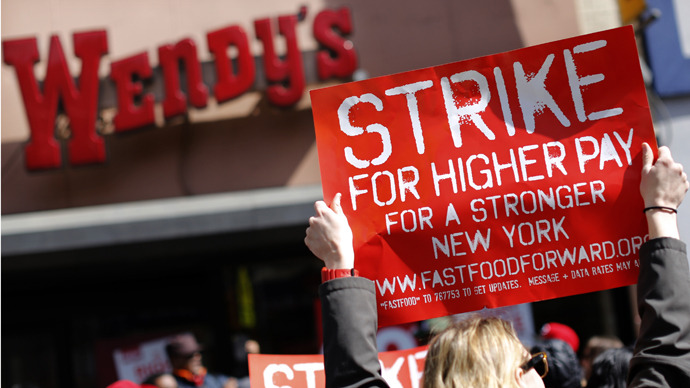 Fast-food workers continued demonstrating for better conditions Friday, protesting a Wendy's shareholder meeting just one week after the New York Attorney General announced an investigation into claims of widespread wage theft in the industry.
Two labor rights groups, Fast Food Forward and the Coalition of Immokalee Workers, organized rallies Thursday and Friday outside the Sofitel Hotel in midtown Manhattan, where Wendy's executives had gathered for an annual conference. The crowd chanted "$15 and a Union," reiterating their basic demand for higher wages and the right to organize without fear of retaliation. 
Hourly workers in the roughly 5,900 Wendy's locations across the US often earn between $7.25 per hour, the federal minimum wage standard, and $7.45, according to the Village Voice. An average fast food worker earns approximately $11,300 annually, a sum far below the national poverty line. 
"I'm tired of working all week, going to cash my check, and the check bounces," Marcus Rose, a Wendy's worker in Brooklyn, told the Voice. "A lot of people have children out here, but don't have enough money to put clothes on their back." 
The Coalition of Immokalee Workers (CIW) also called on Wendy's to join Taco Bell, McDonald's, Burger King, Subway and Chipotle to provide better wages for the Florida farmworkers who supply the major chains with tomatoes.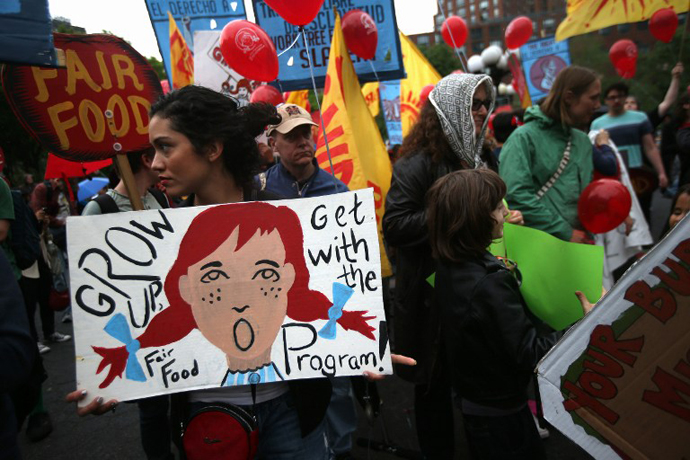 Wendy's released a statement claiming, "All of our Florida tomato suppliers participate in the Fair Food Program, and are required to operate in a way that is safe and lawful for all our workers " — a misleading assertion, according to Gerardo Reyes Chavez of the CIW. 
"Wendy's is not participating in the Fair Food Program but its CEO has claimed in front of its shareholders that it does," Chavez told the Nation's Restaurant News. "Wendy's has not signed a Fair Food agreement with the CIW. Wendy's is not paying a penny premium to increase workers' pay, and Wendy's has not committed to using its purchasing power to eradicate abuses in the fields together with growers and farm workers." 
This week's rallies follow recent protests in Detroit, Chicago, St. Louis, Washington, DC and New York calling on all major fast food brands to boost wages. 
Addressing the unrest, New York State Attorney General Eric Schneiderman announced last week that his office has opened an investigation into at least one chain, which went unnamed, for wage theft. The assertions of abuse, echoed by fast-food workers across the country, allege that many restaurant franchises have forced employees to pay out of their own pocket when the register is short, denied overtime pay, made employees work off the clock, and refused to allow breaks. 
An astounding 84 per cent of New York fast-food workers reported being victims of wage theft and a national poll of 4,500 workers found that two-thirds experience some kind of wage theft at least once a week.  
New York City councilwoman Melissa Mark-Viverito, who represents low-income neighborhoods in New York's Harlem and Bronx sections, told protesters last week the demonstrations were evidence of a "hidden crime wave" that has abused the working poor for years. 
"This is a crime wave that is not being engaged in by petty thieves, but by a multibillion-dollar industry," she said.
You can share this story on social media: