'Means of pain compliance': Point-blank police Taser use under fire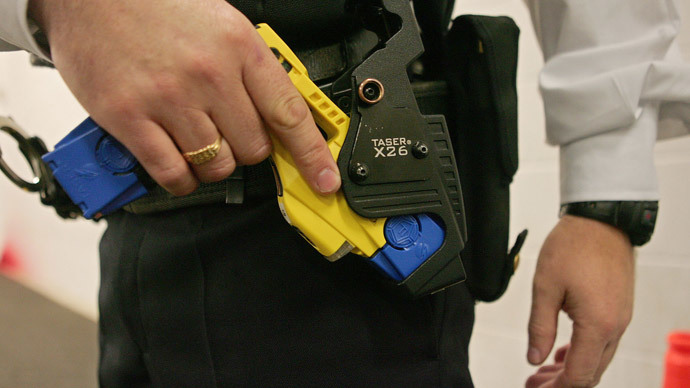 Police Tasers are under scrutiny in the UK after a report revealed they are frequently deployed at point-blank range, contrary to official training, leading to a spike in complaints. The report called the practice "purely a means of pain compliance."
Britain's Independent Police Complaints Commission said a technique known as "drive stun", when a Taser is applied directly to the flesh and the trigger pulled with no probes being fired, is still being used in 16 percent of firings, despite officers no longer being trained to use it in this fashion.
In 2013, Tasers were deployed 10,380 times across England and Wales, provoking 154 complaints, 15 of which related to "drive stun" incidents.
Shocking increase: UK police Taser use doubles since 2009
The report also raises concerns about the use of Tasers on people in police custody, and on vulnerable people such as the mentally ill and young people. It also questioned why some smaller police forces were more likely to use them.
Most Taser shots in UK are aimed at the chest despite "risk of potential serious injury or death."
Tasers were introduced into British policing in 2003 as a non-lethal alternative for firearms officers facing potentially dangerous suspects.
Based on a review of complaints and incidents relating to Taser use from 2004 to 2013, the report acknowledges that the Taser can be a valuable tool in policing difficult and challenging situations.
But with more officers now equipped with Tasers and with the number of complaints rising in-line with the increased use, the IPCC recommends that forces should guard against excessive use.
"The IPCC has major concerns about the use of Tasers in 'drive stun mode', where the Taser is applied directly to the body without a cartridge, rather than fired from a distance," said IPCC Commissioner James Dipple-Johnstone.
"When used in this way it is purely a means of pain compliance. Yet in several of the cases we reviewed, where it was used for the purpose of gaining compliance, it had the opposite effect, stimulating further resistance."
The IPCC report urged stronger and clearer guidance on the use of Tasers in custody, where it should only be used in the most exceptional circumstances, wider safety training, and better monitoring of Taser use by local forces, and a more robust selection process for Taser-trained officers.
"There is a risk, given the increase in Taser use, that police officers could become increasingly reliant on using force to gain compliance," the report added.