IDF tweet depicts Houses of Parliament in rocket attack to justify Israel's invasion of Gaza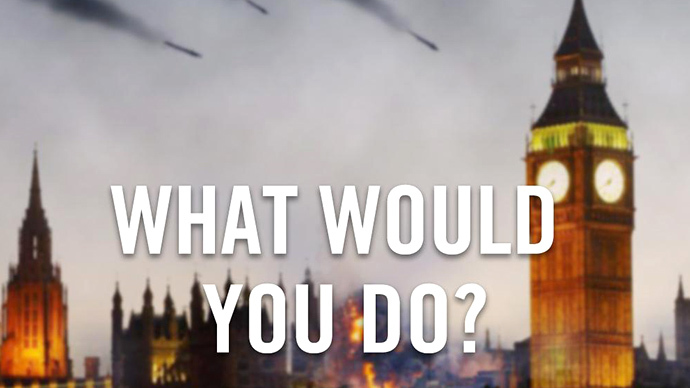 ​Israel's military has tweeted a digitally manipulated image of Britain's Houses of Parliament under assault from an array of rockets in an effort to justify its invasion of Gaza.
The photo-shopped picture, published on Monday on the Israeli Defence Force's (IDF) official Twitter feed, depicts four rockets soaring over the Thames towards the Palace of Westminster.
Flames can also be seen erupting from the building's roof, while a capitalized caption reads: "What would you do?"
The controversial image is allegedly a response to heated UK and international criticism of the IDF's on-going ground invasion of the Palestinian Gaza Strip.
Netenyahu's administration claim the military operation is an attempt to stop Hamas from targeting Israel with rocket fire, but the IDF has been accused of employing a disproportionate degree of force in its efforts to defend its national security.
The fourteen day conflict has been brutal and bloody, culminating in the death of 481 Palestinians and 20 Israelis since its inception. Scores of the Palestinian children were innocent children.
An IDF spokesperson told The Telegraph its controversial image posted on Twitter had been created by the military's "interactive media branch" to translate the reality of Israeli life under rocket fire to a global audience.
Commenting on the picture, the IDF's Captain Eytan Buchman said: "It's an iconic image. When people look at the image they realize what country we're talking about.""If a rocket landed near Westminster, it's not a reality that any country could tolerate", he added.
Hamas terrorists just fired rockets at southern and central Israel. What if they were attacking your home? pic.twitter.com/rFlDV1ZXAL

— IDF (@IDFSpokesperson) July 21, 2014
In an effort to diffuse accusations that Israeli military officials were deploying disproportionate levels of force, Buchman claimed Hamas were deliberately putting Gazan's in the line of fire by "exploiting them as human shields".
Labour MP and secretary of Britain-Palestine All-Party Parliamentary Group, Andy Slaughter, sharply criticized the provocative IDF image, stating: "It seems crass at best. The Israelis are past masters at propaganda. This will bring it home to Members that they have lost all sense of perspective and are out of control."
"It is in very poor taste and I think that it will be entirely counterproductive", he added.
Parliamentary Chairman of Conservative Friends of Israel, James Clappison MP, defended the IDF's decision to publish the picture citing under-reporting of Hamas rocket attacks on Israel as justification for the image.
"For a long time rockets have been fired into Israel that haven't been reported. We would not permit rockets to be fired at our country. We would take action", he claimed.
Failing to acknowledge the IDF's disproportionate use of force throughout the conflict, he added: "This is Hamas' choice. The ball is in their court."
In a public address today, Prime Minister David Cameron urged the Israeli administration to "exercise restraint" with respect to its military operations in Gaza.
You can share this story on social media: