9 times more 'stop & searches' by Scottish cops than NYPD – report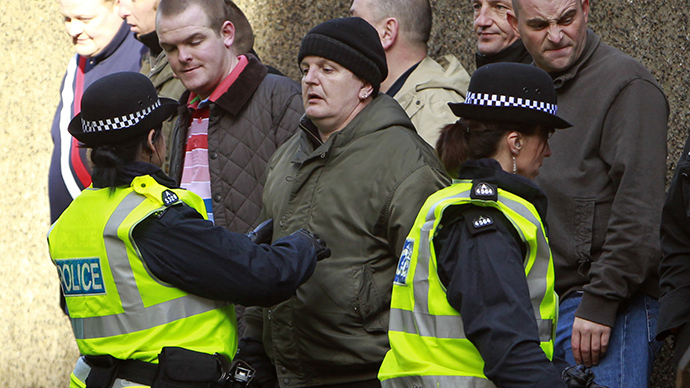 Police in Scotland carry out nine times as many 'stop and searches' as New York cops, figures show. However, the disparity was not included in the police authority's report.
The comparison between the Scottish and New York forces was left out of the Scottish Police Authority's final report as it was deemed irrelevant, causing outrage over the force's lack of transparency.
While the report acknowledged the force's comparison with London's MET Police, it disregarded its share of non-statutory searches, carried out on police discretion and with verbal consent, which are not performed in London and other parts of the UK.
The report reveals that officers north of the boarder carry out three times as many searches per 10,000 people as their London counterparts.
The figures show a 400 percent rise in searches in some parts of the country, including Fife, since the creation of the single national force in April 2013, and a spike in the number of children under the age of criminality being search illegally.
1,000 kids under 10 subject to police stop-and-search in UK - report

A total of 250,000 hours of police time was found to have been spent on stop and searches by the Scottish force each year.
UK Home Secretary Theresa May told MPs in April that as many as a quarter of a million street searches last year were probably carried out illegally. She called for a "comprehensive package" of reforms.
Her proposed reforms include a revised code of practice, making clear what constitutes "reasonable grounds for suspicion" under the Police and Criminal Evidence Act, with disciplinary proceedings for non-compliance.
The policy proposals also aim to open stop and search records to public scrutiny, encourage accountability and make improvements to officer training.
"We are clear that the powers of stop and search are vital in the fight against crime," a Home Office spokesperson said. "However, when it is misused stop and search can be counter-productive and a waste of police time."
Following an extensive consultation, the Home Secretary announced a comprehensive package for reform of the use of stop and search.
"We believe this will contribute to a significant reduction in the overall use of stop and search, better and more intelligence-led stop and search and improved stop-to-arrest ratios. However, if this situation does not improve the Government will return with primary legislation to ensure that this happens."
You can share this story on social media: