'Somebody watching over us': British family cheats death on flight MH17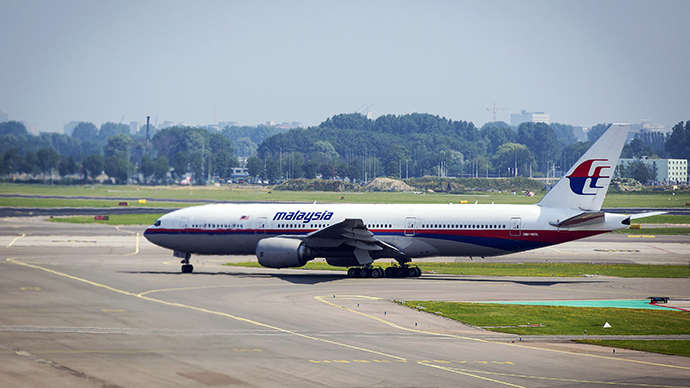 ​A British family narrowly escaped death after airport staff told them there weren't enough seats on doomed Malaysian Airlines flight MH17.
Barry and Izzy Sim, from Scotland, were planning to travel to Kuala Lumpur with their young baby, when they were denied access to the flight by staff at Amsterdam's Schiphol airport.
Izzy Sim told the Daily Telegraph that there 'must have been someone watching over' them as they were switched to another flight, hours before the MH17 was allegedly shot down by a missile in Eastern Ukraine.
The couple, who say they are 'loyal customers' of Malaysia Airlines, said that they were 'so glad' they didn't board the plane, and that they 'felt philosophical' about what happened.
Asked about his reaction to the crash, Barry Sim said "You get this sick feeling in the pit of your stomach... We started getting butterflies. Your heartbeat starts going."
Flight MH17, which was flying to Kuala Lumpur from Amsterdam, lost contact over Eastern Ukraine. It is believed that it may have been shot down by a missile, although both local militia and the Kiev government have denied responsibility.
All 298 passengers on the plane are believed to have died, including 173 Dutch citizens and 10 Britons.
A former BBC journalist, two university students, and two Newcastle United fans are believed to be among the British victims on board the Malaysian Airlines flight, The Independent reports.
Twenty year old Richard Mayne, a Leeds University student studying maths and finance was on his way to Australia when the plane went down. Ben Pocock, was also heading to Australia on the plane to begin a professional placement and study at the University of Western Australia.
Glenn Thomas, a former BBC journalist, was a media officer at the World Health Organisation (WHO) and was on his way to Australia with a delegation of scientists and activists attending an international Aids conference in Melbourne.
Two Newcastle United fans, John Alder and Liam Sweeney, traveling to see their team play in New Zealand were also feared to be among the victims of the tragedy.
Following the crash on Thursday, airlines were advised to cease flights over the region, prompting many planes in the air to reroute away from Ukraine.
The International Civil Aviation Organization suggested pilots consider 'alternative routes' in light of safety risks.
Further warnings were given by Eurocontrol, who strongly advised airliners to avoid the Ukrainian airspace.