Britain could face widespread energy 'blackouts' – leading engineer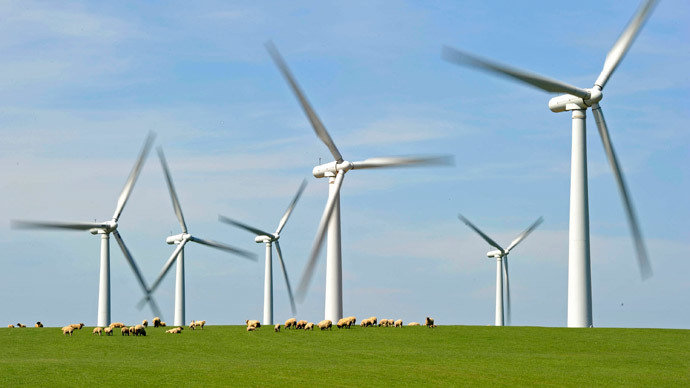 ​The UK risks sweeping electricity blackouts unless it increases the state's capacity to balance infrequent supply from renewable energy sources, a prominent engineer who carried out government-funded research has warned.
While British authorities are under legal obligation to source almost a third of their electricity from renewable sources such as solar and wind by 2020, they require immediately deployable gas-fuelled power stations to cater for inevitable lulls in sun and wind energy output.
Hugh Sharman, a British engineering consultant, was commissioned to work on a government-sanctioned report examining how UK authorities could sustain the nation's energy demands in an era of mandatory renewable energy use.
Tendered to the Department for Energy and Climate Change (DECC) last year, the research went unpublished.
Sharman claims the report revealed that Britain's aging gas-powered stations are simply incapable of speedily "balancing" the state's supply of electricity when wind levels are low. Another energy consultant, Mott MacDonald, worked alongside Sharman on the project.
Sharman is currently engaged in a project to design a more modern and flexible gas-fuelled power plant, but insists his desire to promote this technology is not driven by commercial interests. By contrast, he alleges his research clarified the grave necessity for such new technology within the gas-fired power plant sector.
On the subject of a potential energy crisis in Britain, which could manifest as electricity blackouts, RT asked the Department of Energy & Climate Change (DECC) whether it plans to address the matter.
A DECC spokesperson assured, "The lights will not go out. There are many ways we balance the grid, by sending excess energy abroad through undersea cables for example and by increasing supply and reducing demand if and when needed."
She went on to emphasize that continued state investment in a "diverse energy supply" was the most strategic means of avoiding blackouts, citing wind, solar, oil, gas and nuclear energy as being particularly important.
RT further queried the DECC on why the government-commissioned report went unpublished, despite the fact it consisted of content that broached a matter of public importance.
"The final report was not delivered until November 2013, and was not published because it was no longer relevant," the DECC spokesperson claimed.
The DECC however failed to specify why the government had concluded the research was no longer worthy of publication.
You can share this story on social media: