#J10: Massive nationwide strike strangles UK public services
Up to 2 million public sector workers participated in strike action on Thursday in a massive coordinated action against 'poverty pay', attacks on pensions, heavy workloads and workplace safety.
Read our live updates from throughout the day.
Picket lines were manned by trade unionist and supporters nationwide outside courts, council offices, job centers and fire stations, as well as outside the Houses of Parliament.
Thousands of people took part in marches and rallies in London and other UK cities. Meanwhile, hundreds of schools in England and Wales were forced to close or partially shut, as did many museums and libraries.
The action is the latest in opposition to a four-year public sector pay freeze, an austerity measure enforced at a time when the cost of living has risen substantially. The TUC estimates that public sector workers have been £2,500 worse off a year since 2010.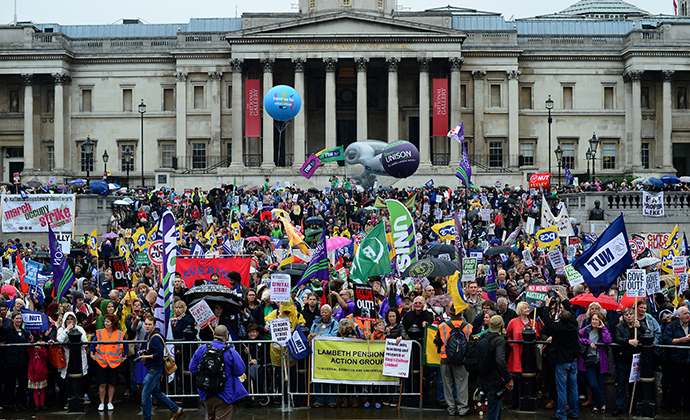 The government condemned the 'disruptive' strikes, with the Department for Education arguing there was no justification for the action while talks with ministers were still ongoing.
Grant Shapps, the Conservative Party Chairman, said: "Today's strikes are disrupting the lives of millions. Schools have been shut, damaging children's education and forcing parents to take time off work or scramble round for childcare. Libraries and other public services have closed, causing difficulties to families across the country."
What a turn out. Well done Birmingham. #J10#J10strikepic.twitter.com/RMdiI8t3cD

— GMB West Midlands (@GMBWestMidlands) July 10, 2014
Commenting on the day of action across England and Wales, Christine Blower, General Secretary of the National Union of Teachers, attacked the government's response to the strike.
"Extraordinarily the government's response to today's action has been to completely ignore the issues and instead seek to reduce people's right to strike," she said.
"There is no point pontificating on the fact that citizens have the right to strike if every time they do so they are vilified. It is a clear indication that this government does not want to listen to our concerns, nor do they want them drawn to the general public's attention."
When they said 1m people were taking to the streets to strike on #J10 day .. They werent lying .. This is #Liverpoolpic.twitter.com/Yi5eY1rATc

— Terry bouch (@terry_bouch) July 10, 2014
Blower went on to blame the government's failure to "engage in any meaningful discussions" about the escalating dispute.
"It is high time that we saw some significant movement," Blower said. "Teachers love their jobs but unless their concerns on pay, pensions and workload are addressed teacher recruitment will certainly become an issue."
Labour, the UK's main opposition party, which draws the majority of its funding from the trade union movement, refused to condone or condemn the strikes, with leader Ed Miliband calling the strikes "a sign of failure on both sides."
His remarks alienated many of the party's natural support base, while allowing the Conservative government to accuse Labour of weakness.
At #J10 demo in #Manchester Piccadilly Gardens with @PaulMoss1971 and @OffertonLabourpic.twitter.com/IPMRVEQheG

— N P M (@left_future) July 10, 2014
"I understand the anger of workers who feel they are being singled out by a reckless and provocative government," Miliband told journalists. "But I believe this action is wrong. Negotiations are ongoing."
"The government's handling of the issue has been high-handed and arrogant."
"My message to both sides is this – what the British people want and expect is that you now get back to the negotiating table and redouble your efforts to find an agreed solution. Put aside the rhetoric and avoid any further disruption to parents and the public."
Workers united for justice! @pcs_union pickets & #blacklisted workers #J10strike@DaveBlacklist@JIBElectricianpic.twitter.com/0bVvXye8YW

— NSSN (@NSSN_AntiCuts) July 10, 2014
A survey of over 1,000 adults conducted on the eve of the strike for the Unite union found 70 percent of the public backed the right to strike. It also found 59 percent thought the government is unfairly targeting public sector workers on pay.
Even among 2010 Conservative voters, support for a pay rise stood at 52 percent, while more than two-thirds overall disagreed the government's below inflation pay cap should remain in place until 2018.