UK wages took bigger hit post-crisis than govt. estimate- report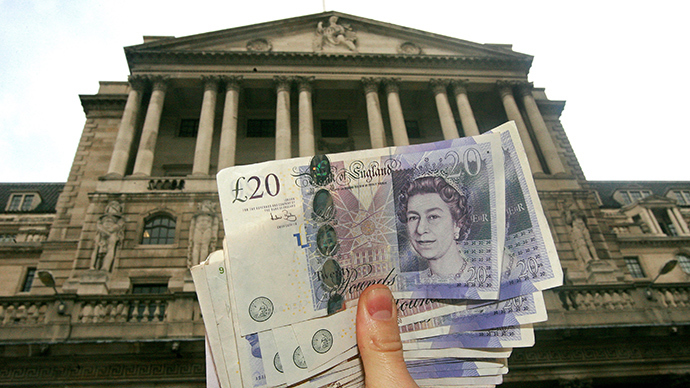 ​UK wages during the financial crisis plummeted even more than originally estimated, new research shows.
Official statistics suggest that wages fell by 8 percent as a result of the financial crash. However, a new report published by Resolution Foundation on Thursday suggests they actually fell by around 10 percent.
The paper, titled "The case for an all workers earnings measure", argues that official figures did not account for the wages of people who are self-employed, which has drastically increased since 2008.
There are roughly 4.5 million self-employed people in the UK, one of the groups hardest hit by the recession.
According to the Office of National Statistics, real wages for self-employed Britons fell by more than 12 percent, a fifth more than those employed in private sector companies.
Laura Gardiner, a senior analyst at the Resolution Foundation, says the way that wages are currently measured is inadequate, as it does not take into account changes in the labor market, such as more people becoming self-employed, or working on a zero hours contract.
"Important economic and policy decisions are informed by the official data on wages, yet, because it does not capture the one in seven workers who are self-employed, it gives a picture that's incomplete at best and sometimes misleading. What we know about earnings is central to our understanding of the recovery and the timing of interest rate rises so it's crucial that we equip ourselves with the best possible wage measure," she said.
The paper calls for government statisticians to use an "all worker" measure, that would take into account all earnings when developing economic policy.
Gavin Kelly, the Resolution Foundation's chief executive said: "If we didn't count the self-employed in our jobs data, we'd have no idea what was really going on in our labor market.
"Yet when it comes to earnings all official measures overlook the plight of the UK's 4.5m self-employed – that's equivalent to almost the entire population of Wales and Northern Ireland. This partial approach means we have an inaccurate picture of what has really been happening to earnings in our economy."
Following the report, officials expressed their concerns that the number of people who are self- employed are not accounted for, noting that they are important in setting future interest rates.
The average wage in Britain is currently £27,000 according to the ONS, although the salary of many new jobs created since the financial crash is significantly lower, at around £14,000 per annum.