Water cannons arrive in London for potential Met deployment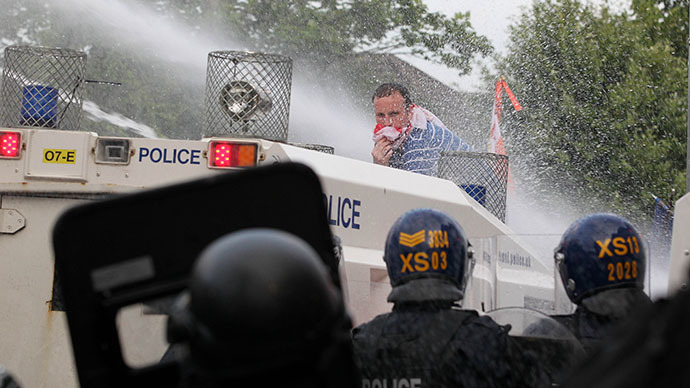 Water cannons have arrived in the UK after being procured by London's Metropolitan Police for the first time. The three second-hand units were sold to the UK by the German Federal Police, despite a lack of government permission for their use.
London Mayor Boris Johnson spent more than US$370,000 (£218,000) on the water cannons, without waiting for the central government's approval. German police confirmed to the Guardian that the water cannons have now arrived in the UK.
Home Secretary Theresa May has yet to give the units the green light.
It is estimated that it will take several weeks before the machines are ready to be used.
Johnson's administration stated that the water cannons can be resold if their use is not approved.
"The impact of a negative decision from the home secretary can be mitigated by maintaining the option to resell the cannon. There is a proven demand for secondhand water cannon and other European forces have expressed an interest in the devices that we are seeking to buy," a document prepared by Johnson's administration says, as quoted by the Guardian.
Johnson stated in the past that he wanted the water cannons to be ready in time for summer, when he anticipated protests to be at their peak.
Jenny Jones, a Green party member of the London Assembly, told London news and scrutiny site Mayor Watch that "the arrival of water cannon on the mainland UK for use on London's streets is a depressing day for policing by consent."
"The Mayor's desire to give the Met Police this weapon has meant he has ignored the Assembly's investigation on this issue, his own consultation where 98 percent of Londoners said they didn't want them, and ignored members of his own team who have concerns," Jones added.
"Water cannon have no place on our streets and I hope the Home Secretary sends them back."
The cannons have previously only been used in Northern Ireland.
At the end of June it emerged that the Metropolitan Police were considering putting ultraviolet "SmartWater" in the water cannons in order to stain the clothes of protesters and make them easily identifiable.
"[Some PCCs] recognize that there is a case for their utility, although they would not want to see them being used," Stephen Greenhalgh, deputy mayor for policing and crime, told members of the London Assembly, Buzzfeed reported.
"I've equally had other PCCs who are vehemently in favour of it and suggesting putting SmartWater into the water cannons so they can identify people. There's a range of views."